Styling A Bush Jacket for Summer: Updated May 4, 2021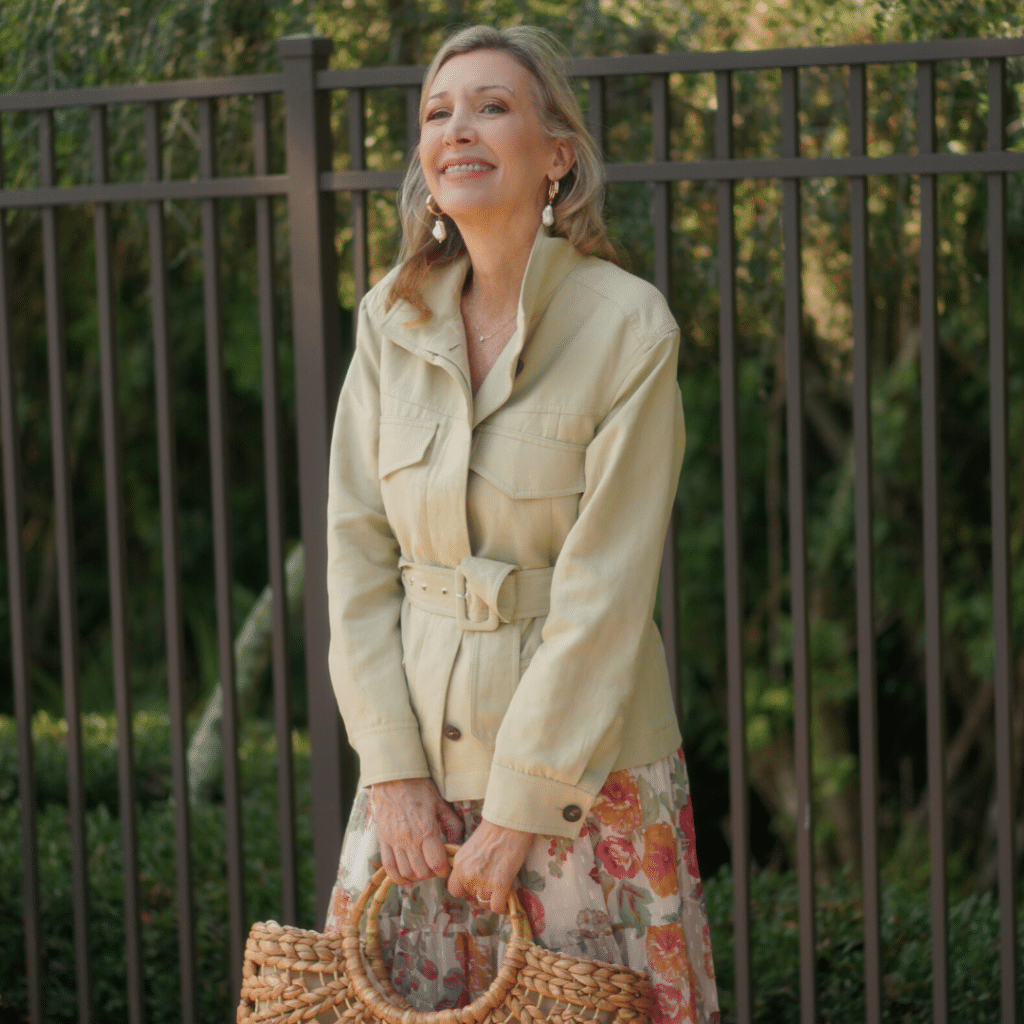 Earlier this spring, as I updated my denim jacket collection, I began to consider other jacket options. I mean, we've all styled denim jackets every which way, and they are still an important part of our wardrobes, but I'm always on the hunt for something fresh.
Bush jackets a.k.a. utility jackets began to show up a few years ago, and while I liked the classic styling, most were shown in camouflage prints, and I am not a camo girl. Last year brought the neutral/khaki trend, and we began seeing bush jackets in neutrals, which began to catch my eye.
Fast forward to spring 2020, I spied a gorgeous utility jacket at Reiss, and put in on my wish list. Each time I visited, I admired the jacket, which is a soft green rather than khaki. I was concerned the shade wouldn't be right for me. But in the end, the jacket kept calling, and finally I placed an order and, when the jacket arrived, I tried it on and fell in love.
Right away, I could see the jacket styled to make so many different looks and, while we have moved into really hot weather here, this jacket will be great all year around and can be worn with anything you'd consider styling a blazer or jean jacket.
What to look for when choosing a bush jacket/utility jacket:
Because bush jackets fall into the "utility" category, it should be sturdy, well structured and lined.
The fabric should be firm but not so stiff that it bunches or doesn't draw in to the waistline properly.
Stitching, and pockets should lay smooth even if they are pleated. Speaking of which, be careful of pleated pockets, as they can add bulk or splay open, which takes away from the crisp look of a classic bush jacket.
I go for lined jackets even though they are a bit pricier. Because I plan to have this jacket for years to come, I don't mind paying a little extra for good quality.
How to style a bush or utility jacket:
The first look is super casual, flair jeans and a white t-shirt allow the attention to go directly to the jacket which, because of its length elongates the length of my legs, as do the flair jeans.
Look number two plays to my romantic side, it evokes a vintage vacation in the tropics vibe. I paired the jacket with a romantic maxi dress with the same green hue as in the jacket. Perfect for a cool spring day or evening.
Bush jackets look amazing with skirts; both a slim line pencil skirt or a classic pleated skirt both of which evoke a 1940's era look. I love the 1940's blend of classic mens wear combined with women's femininity.
For fall, the jacket will look great with knee high boots and a turtle neck, again harkening back to bygone days.