Styling Cardigan Sweaters for Women
Sweater season is now in full swing, and those of us who love fall and winter couldn't be happier. Part of what makes this season special is, well, sweaters. Cardigan sweaters, pullovers, turtle necks…you name it, I am all for cute, cozy sweaters; I just can't get enough. In the cozy sweater department, cardigans can be a chic, stylish way to style an outfit for fall and winter.
Cardigans are having a moment right now, including cropped "grandpa" sweaters, cozy mid-length sweaters, and long cardigans. Cardigans can be worn in many different ways they look great when styled casually for a cozy day at home, elegantly for a date night, or as a part of a sophisticated work outfit.
How should cardigan sweaters fit?
People often ask how a cardigan sweater should fit. A cardigan sweater should be ample enough to button or wrap without gapping or pulling. The shoulder seam should run along the edge of your shoulder unless it is a drop shoulder or dolman style sweater.
In terms of length, traditional cardigan sweaters should fall just below the waist, and thigh-length cardigans should fall, below the widest part of your hip at the mid-thigh and at your mid-calf for a long sweater. These lengths are guidelines, it's always best to try the sweater on and to see yourself from a distance to make sure it fits you properly.
Cardigan sweaters trend season to season, so once you have a collection of basics, adding different styles of cardigans to your wardrobe is a great way to update your outfits.
Choosing the right cardigan sweater for your body type:
Because cardigan sweaters are often made of thick knits, they can add unnecessary bulk to your silhouette. To elongate the body, choose fine-gauge knits, and choose a mid-calf length. Long cardigans are a great way to create a long slimming look.
Mid-length cardigans are cozy and can help add shape to the body especially when worn belted. Take note of the length to ensure it falls below the widest part of the hip. In addition, wearing skinny jeans or leggings with a bulky knit helps balance your silhouette and keep the look sweater from adding unwanted "weight" to your outfit.
Traditional cardigan sweater sets can be very stylish, though care should be taken to make sure they sit properly on the hip and don't create a "boxy" look.
Cropped cardigan sweaters are a great way to balance the top and bottom of your outfit and, to create the look of a tiny waist. This year, we are seeing cropped sweaters worn with high waist pants to create a beautiful hourglass silhouette.
What is the best quality sweater?
Natural fiber sweaters (wool, silk, cotton, and linen) are considered the best yarns for good quality sweaters. These fibers are often blended to create a variety of textures, and improve the comfort and durability of the sweater. In addition, though less desirable is the addition of synthetic fibers which are used to improve the sweater's warmth and durability.
The quality of the yarn, along with other fibers that are blended into the wool play a role in the sweater's quality. The addition of synthetic fibers can help a natural fiber sweater hold its shape and color.
However, a 100 percent synthetic sweater can look cheap and feel scratchy and uncomfortable. 100 percent wool sweaters can be too warm and itchy. Knowing which types of yarns work best for your comfort and budget. Be sure to take some time to figure out what types of textures and fibers work best for you.
How do you take care of cardigan sweaters?:
Taking care of good sweaters can take a small amount of effort. First, be sure to check the sweater's laundering instructions. Most sweaters can be hand washed in mild detergent but some require drycleaning or the use of special detergents. After washing, sweaters should be laid flat to dry. Cardigan Sweaters should never be hung on a hanger; instead, fold your sweater and keep it in a cedar-lined drawer or storage chest.
Sweaters can sometimes develop small balls or "pills" which can be removed with a sweater shaver. Sweaters can also snag, in which case, using a crochet hook, one can pull the snag to the inside of the sweater so it can't be seen.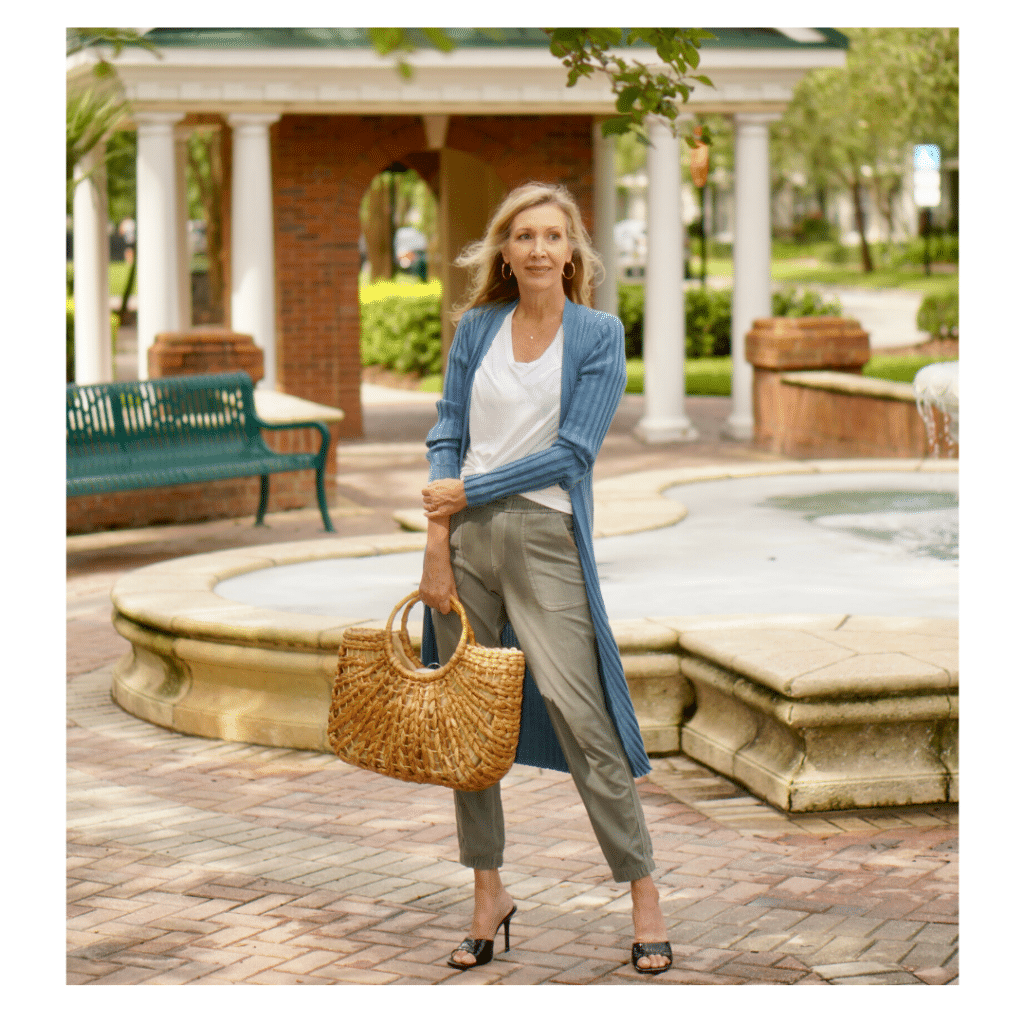 How to style a cardigan for women:
This year we are seeing three main cardigan looks. The first is the oversized "boyfriend" cardigan. This sweater is worn oversized and looks best styled with skinny jeans and boots which help elongate the outfit.
The second look is a long cardigan worn kimono style to create a long lean silhouette. The long cardigan looks amazing with flair jeans, or with a monochromatic look underneath.
Finally, the "grandpa" sweater, a cropped v-neck cardigan with wooden buttons front tucked into high waist jeans. This look looks best on hourglass and pear-shaped figures as it enhances curves.
I love sweaters of all kinds and sharing the season's finds with you.
Tie to Old post: This season's best sweaters over 50
Stylish Monday Link-Up
This month my Stylish Monday sisters are sharing their favorite sweaters along with tips on how to look chic and stylish this fall. I hope you'll stop by and take a look at their posts. Plus, join the link-up party and link your blog post below!
Andy from Pearls and Pantsuits: "Ponchos are such a fun and easy way to add a light layer to an outfit. This plaid one has been one of my wardrobe staples for years. I love the plaid pattern and autumnal colors. I can't wait to pull it out each fall!"
Michelle from Shelbee on the Edge;  I found this cute fox sweater at JCPenney a few years ago and I have never shared it on my blog before. I love the fun geometric graphic of the fox. Foxes are my favorite animal so I added my little rose gold fox necklace, too. This sweater is perfect for the beginning of sweater weather because it is a lighter-weight knit and has 3/4 sleeves. I can even comfortably pair this sweater with shorts for a cute transitional look. 
Nancy from Nancy's Fashion and Style: "I love sweaters because I am always cold. The thicker the better! But I don't like cols, they don't look good on me. This is a pity because they are so much warmer than a v-neck. Ah well, the things you suffer for the sake of fashion!
Julie from Fashion Trends and Friends: Sweater season in Illinois lasts from potentially September through March and sometimes into April. (Last year, we got snow on Halloween!). If you did the math, that's half a year at the least and possibly a full seven months. Therefore, this midwest girl loves her sweaters of all colors, and styles, and of course fun, unique, and embellished sweaters are even better in my book! I first saw this sweater on IG and loved how it was styled plus the fact that it says Rock and Love. Hope you take a minute to read my blog and see all the ways it can be worn and styled both in warmer climates as well as when it gets colder.
Nicole from High Altitude Style: I saw this red cashmere sweater in a consignment store. It was my size, and color, and the price was right. So I gave it a new home in my closet despite already having two other red cashmere sweaters. However, they have a turtle and crew neck, respectively. Thus, a V-neck was different enough. And, for my excuse, one can never have too many neutrals, right?
Suzanne from Ask Suzanne Bell Suzanne is always super stylish and has the best tips.
Emma from Style Splash I love Emma's European style.