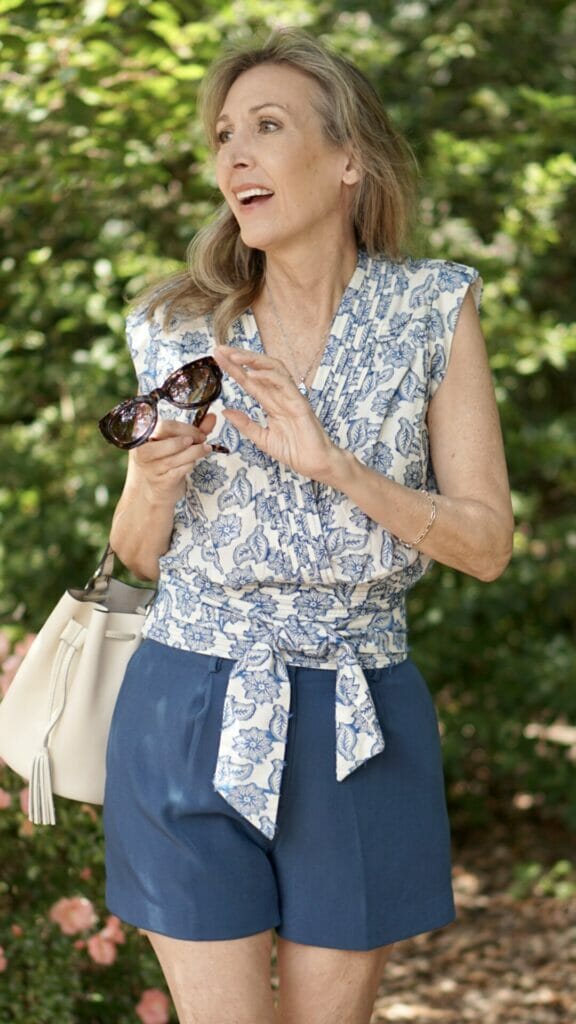 Are you looking for ways to rock this season's fashion trends? One of the best pieces to add to your wardrobe this year is an on-trend denim skirt, and we're here to provide you with everything you need to know about styling them!
From monochrome looks that exude sophistication and timelessness to more statement pieces that make a subtle yet powerful impression, there are plenty of stylish options out there. Keep reading for our ultimate guide on how to style the perfect denim skirt look that is sophisticated yet modern – no matter what your age!  today we are sharing denim skirt outfit ideas that will take you from casual outings to a special occasion like a date night or brunch.  

Choose a Mid-Length Skirt for Versatility – Consider a denim skirt that falls to the middle of your calf for maximum style and wearability
A long denim skirt may just be what you need to add to your wardrobe whether you like a casual look or a classic look. When choosing the perfect denim skirt consider your body shape to determine whether to choose a long skirt, a pencil skirt, or a short denim skirt.  
A denim maxi skirt that falls to the middle of your calf can be paired with various tops to suit your style. This versatile piece can be dressed up or down and worn on many occasions–I've always found denim to be a wardrobe staple, and the good news is that denim skirts come in many different styles, and are a great option for a variety of activities.

When it comes to styling, you can pair it with a tucked-in blouse and some knee-high boots for a chic and polished look. In the warmer months, you can wear a white denim skirt and tank top, for a formal look, you can choose a dark wash and blazer.
Any look you would put together for denim jeans can be used to create jean skirt outfits. The possibilities are endless with a denim skirt, making it a must-have for any fashion-savvy individual.
Select a Classic Dark Wash – For timeless appeal, choose a dark wash denim skirt in a mid-length hemline
When it comes to fashion, some styles never go out of trend. A perfect example of that is the classic dark wash denim skirt. It's a versatile and timeless piece that flatters every body type, providing a sleek and polished look. Pair it with a denim jacket for an extra edgy touch or choose a blouse for an elegant effect.

Styling it with a white t-shirt makes for a perfect casual Friday outfit. This skirt is an excellent choice for anyone wanting to elevate their style. Its mid-length hemline adds a touch of modesty while still keeping the overall look stylish. So, if you're looking to create the perfect look, consider a dark-wash denim skirt for a classic and sophisticated appearance.
Play With Proportions – Balance out the volume of the skirt by pairing it with a fitted top or blazer
Fashion trends are always evolving and there are times when it can be a bit challenging to navigate the latest craze. One style hack that has been tried and tested over time is to play with proportions. For instance, if you have a voluminous skirt, balance it out by pairing it with a fitted top or blazer.
To add a touch of flair to this look, you can slip into a pair of cowboy boots. If you want to keep it simple yet stylish, dark denim combined with a button-down shirt is a classic combination that never fails to impress. The key is to experiment and have fun with your fashion choices. Maxi skirts are perfect for cooler days, while short skirts are great in warmer weather.

Accessorize Creatively – To add interest to your look, opt for unique accessories like statement earrings, scarves, or necklaces
Accessories are like the icing on the cake when it comes to fashion, and they can make or break an outfit. So why not get creative with your accessories to elevate your style to the next level? Instead of sticking to the basics, try making a statement with unique pieces like bold earrings, scarves, or necklaces.
This season, 1990's inspired earrings are trending, layering fine necklaces as well as adding a few interesting chains at the neck are great choices. And don't forget about footwear – knee-high boots, cowboy boots, white sneakers, and high heels can be worn depending on the look you are going for. By approaching accessorizing with a non-traditional mindset, you'll add a personal touch to your look that is sure to turn heads.
Show Off Your Shoes – Denim skirts look great paired with sandals, sneakers, flats, or even boots if the weather permits
When it comes to fashion, denim skirts are always a classic choice that never goes out of style. And the best part? They're versatile enough to be paired with a variety of shoe styles. This means you can show off your shoe collection no matter what the occasion calls for.

Whether you're running errands and want to be comfortable in sneakers or have a dressier event to attend and want to dress up in some cute flats, a denim skirt is a reliable option. And if the weather permits, don't be afraid to even rock some boots with your denim skirt look. With so many options to choose from, you'll never run out of ways to show off your fabulous shoe collection.

Add an Unexpected Element – Incorporate an unexpected detail to make your outfit stand out; think oversized buttons, embellishments, embroidery, etc.
When it comes to fashion, the key to standing out is all in the details! Incorporating an unexpected element into your outfit can take your look from ordinary to extraordinary in an instant. Adding a pop of embroidery or embellishments can give a unique charm to your ensemble.

Oversized buttons can add a playful touch or create a bold statement. Embrace your creative side and have fun experimenting with unexpected elements to make your outfit truly stand out. After all, fashion is a form of self-expression, so don't be afraid to step outside of your comfort zone and add a little bit of sparkle or flair to your next outfit!
If you're over 50 and looking to rock a denim skirt with style, there are endless options for you. Start by opting for a mid-length skirt in a classic dark wash. Then pair it with the right proportions, accessories, and comfortable shoes that will help to finish off your look.
And don't forget to show off your creativity by adding an element of surprise. Whether it's through embellishments, oversized buttons, or embroidery, you can feel good knowing that your outfit is unique and totally you! With all these tips to keep in mind, you can take any denim skirt up a notch and look fabulous no matter what age.