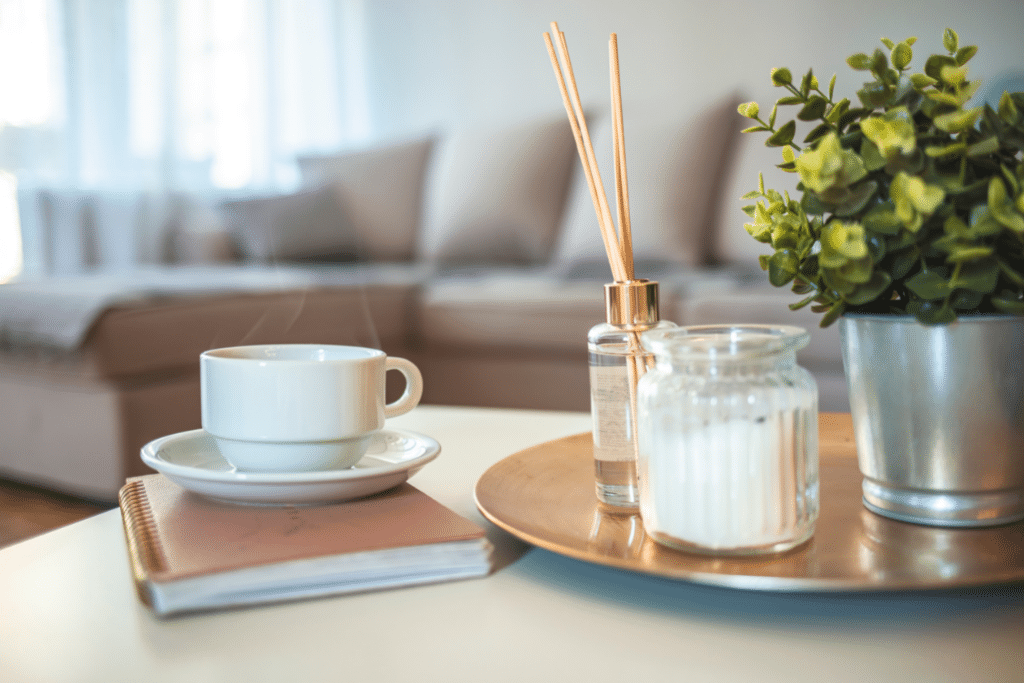 I don't know about you, but I like my house to smell good.  Luckily many ways to make our homes smell good from spray air fresheners,  to an essential oil defuser.  There is no best way to make your house smell amazing, there are actually many ways to eliminate bad smells, and give our homes a fresh scent.   
The home fragrance industry is one of the scariest and unregulated industries out there when it comes to ingredients. Once you start doing the research on the chemicals and toxins in candles and room sprays, you can't look at your $5 candle from Target or the reed diffuser from the Dollar Tree the same way. Most "plugins" and room sprays contain formaldehyde or phthalates, which both disrupt the endocrine system. Cheap candles made of paraffin wax emit benzene (a known carcinogen). Even products that have the words "natural" or "formulated with essential oils" can be deceiving, as the word "fragrance" on an ingredients list could mean thousands of chemicals are used in the formulation of that scent. There are no regulations about what home fragrance chemicals can or cannot be used in products, which is not at all good, considering we're all inhaling the fumes from these sprays and candles all day… and so are our children, pets, and loved ones.
Thankfully, you don't have to stop enjoying candles or give up on air fresheners. There are some great brands out there that are transparent about their ingredients and create all-natural and non-toxic home fragrances and candles. When looking for clean/non-toxic candles and home scents, you want to look for ingredients that are plant-based (derived from plants or flowers), essential oils, and clean-burning soy or beeswax for candles.   
If you don't know where to start, check out the brands we have below that have a great selection of home fragrance options.  We also have a few tips for getting rid of unpleasant odors down below, as candles and home fragrances are not the only way to make our homes smell fresh and clean, and there are many ways to avoid exposing our indoor air to harmful chemicals.
When it comes to choosing pleasant scents for our home, we can create a signature scent for our whole home or choose scents for each of our living spaces.  Which scents we choose are subject to the seasons and our personal tastes.  There are also a number of home fragrance options, from vent s  Candles are probably most popular, followed by

Great Clean Home Fragrance Brands to Try
Grow Fragrance is an all-natural and toxin-free home fragrance brand that has a huge selection of room sprays and candles, all made with plant-based, natural scents. Besides the usual "essential oils" type scents, Grow Fragrance also offers seasonal scents like "pine forest" and "holiday hearth" to satisfy those of us who look forward to lighting our seasonal candles each year (without the toxins!).
Banyan Tree is a very high-end and luxurious home brand that offers a wide range of products from bath and beauty to home fragrances. Their reed diffusers are beautiful, understated, and almost always sold out. They also have products like essential oil diffusers, oil burners, incense, and air freshener sprays. All their products have complete ingredient transparency and use essential oils blends for their fragrances.
Not ready to throw away all your Air Wick plugins? Scent Fill provides non-toxic refills that work with your Air Wick wall plugins. They have a large collection of "100% Natural" scent options on their website to choose from. Scent Fill makes it even easier to go all-natural while still using your pre-existing plugins.
Grove Collaborative is a great place to look for clean and all-natural home fragrance products from home air freshener sprays, essential oil diffusers, and candles. They sell their own "home" brand of products as well as other popular all-natural. Grove Collaborative works in a subscription-box format where you can choose your essentials and have your cleaning supplies and household staples delivered to you regularly. All their products are eco-friendly, sustainable, and all-natural. 
H2
We're all familiar with Mrs. Meyers Clean Day cleaning products, which are easily found at grocery stores like Target or Walmart. Mrs. Meyers also has a huge selection of room spray and candles for all seasons and occasions with a reasonable price tag, which is great for those of us who have a candle burning 24/7. They have scents ranging from warm apple cider to summery scents like lemon verbena or peony— I love this sweet scent-plus these scents 
Tips to make your home smell great
Here are natural ways to eliminate unpleasant smells in your home:  1.  Open doors and windows—nothing is better than fresh air flowing through the house.  2.  Pour a little baking soda down the garbage disposal or grind some citrus to get rid of that musty smell from the garbage disposal. 3.  Avoid putting food in the wastebasket, use the garbage disposal or composter instead.  There are some great small composers available—your garden will thank you.  4.  Bathe your dogs frequently, clean up pet messes thoroughly and clean litter boxes frequently. Sprinkle your carpet with baking soda and essential oils (see recipe below)  5.  Cook with the window open or the exhaust fan going, this helps to disburse cooking smells. Fresh air does wonders with cooking orders and it's the easiest way to eliminate cooking smells. 6.  Put leftovers into sealed containers and place them in the refrigerator as soon as the food has cooled—especially if it has a strong smell. 7. Place a few cinnamon sticks and/or citrus peels into a pan of water and allow to simmer on the stove. 8. If you cook something with a strong smell, rinse and soak with baking soda to help eliminate the odor.  Baking soda is also a gentle way to scour difficult stains from pans.  9.  White vinegar simmered on the stove works well to eliminate strong smells like cooks fish.  10.  Add fragrance to small spaces by placing a few drops of essential oil onto a cotton ball and tucking it into drawers, your closet —it's such an easy trick—but so effective.  11.  An easy trick to get your home smelling like fresh laundry, place Mrs. Meyers dryer sheets in your air vents.  You will have to change them out every month or so as they do dry out.
DIY Home Scents
You can also make your own air fresher sprays, and carpet powder—I often sprinkle baking soda infused with essential oils onto my carpet, then vacuum it up to freshen my carpet. It is a great way to get rid of funky smells with natural products you can easily find in your home.  In my opinion, a natural smell such as cookies baking, citrus, or just plain fresh air is the best home fragrance.
DIY Home fragrance sprays are easy to make at home. You can pour this into a small spray bottle and keep it handy to spray fabric as well as into your living room—or any room you choose.
4 ounces of unflavored vodka
25 drops of your favorite essential oils
1 1/2 cup of distilled water
Place in a spray bottle. This can be used on fabric as well. Great essential oils to try—lavender, citrus, vanilla, or almond. Essential oils made from your favorite herbs and flowers are great too. Try mixing a few scents together and make your own scent.
Here is an easy recipe for stovetop potpourri
Fill a pot with hot water, add cinnamon, clove, and orange peels, allow to simmer. This is a great way to make your kitchen smell amazing.
No matter your favorite scent or form of enjoyment be it candles, steam, incense, or sprays, there are still plenty of options out there for you to choose from at various price points that you can feel good about. No more endocrine-disrupting, carcinogenic, and otherwise toxic scents are allowed in my home! 
What's your favorite home scent? Tell us in the comments.