Leather pants can be a great addition to any wardrobe. They're versatile, stylish, and comfortable to wear. I love wearing faux leather pants in the winter as an alternative to denim. They can be dressed up or down, and are a great option for those who are looking to add a little variety one's wardrobe. Figuring out what tops to wear with leather pants can be tricky, though. Do you go with something casual or dressy? Bright and bold or muted and neutral? The possibilities are seemingly endless! Here are some of the best tops to pair with leather pants that will have you looking stylish in no time.
First thing, let's talk a bit about leather pants: should you purchase real leather or faux? Personally, I am a fan of faux leather and own a pair of faux leather leggings as well as a pair of faux leather pants. I prefer faux leather rather than the real thing mainly because of the fit. As I live in Florida, I tend to invest less in warm clothes as we have a very short winter season. That said, you should invest in a great pair of leather pants if you live in a colder climate and you are looking for a longer-term investment. Take care in choosing the fit as leather pants tend to be unforgiving and are difficult to alter. An oversized fit may be comfortable and is in keeping with current fashion trends, but choosing a classic fit may be better in the long run.
Next, let's talk about color–when I think of leather pants, I tend to think of black leather, however, leather comes in many different colors, and if you have the budget, invest in a pair of red leather pants, or perhaps neon blue–they are great options and add a bit of the unexpected which is great in the colder months. When it comes to leather pant styles, it's important to choose the right cut for your body type and for your lifestyle. Black leather leggings are great for a casual chic outfit and elevate the basic black leggings we all own. Leather trousers send a more formal message, though it depends on what type of top you choose. I think almost everyone can add leather or faux leather trousers to their wardrobes–they make a whole range of casual outfits.
A Simple White Tee
A plain white tee is a timeless classic that goes great with just about anything, including leather pants! It's a perfect way to create a look of sophistication to your look. All you need is a basic white tee and your favorite pair of leather pants for an effortless look. You can also add some fun accessories like a statement necklace or bold earrings if you want to give your outfit some extra pizzazz. Throw on a denim jacket and you have a great casual look, perfect for a casual weekend brunch or errand running. Another great look is to style your leather pants with tank tops and a pair of high heels.
A Graphic T-shirt
The graphic tee is a great way to pay homage to your inner rock stars. Style your favorite graphic tee with a pair of black leather pants, a baseball cap, an oversized blazer, and a pair of chunky loafers or white sneakers for an elevated street-style look. This edgy look is another easy way to create a strong statement while being super chic and comfortable all at the same time.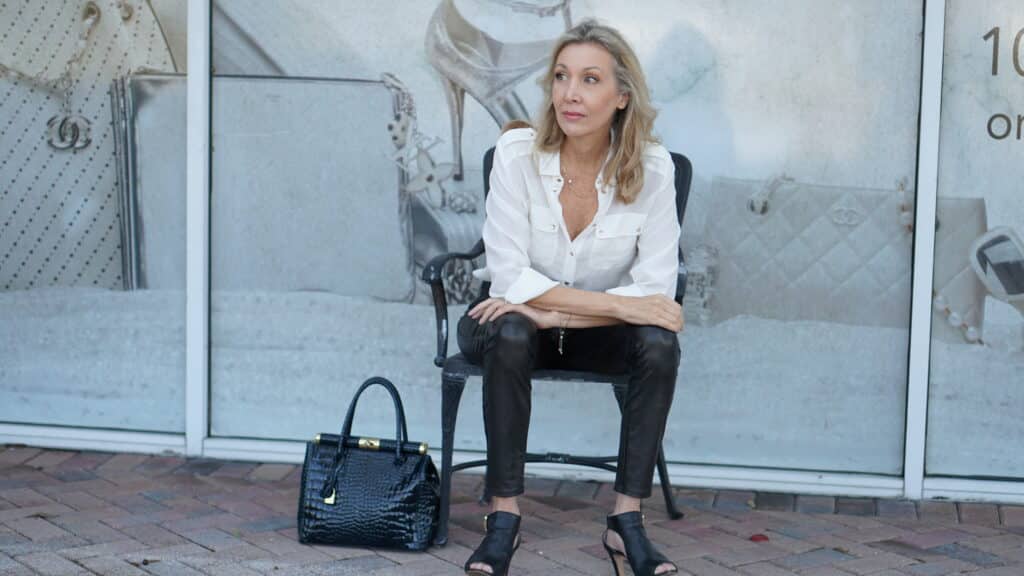 A White Button Down Shirt
For a more polished look, try pairing your leather pants with a crisp white button-down shirt. Add a tube top underneath for additional interest and texture. This outfit would be perfect for the office or an evening out on the town. If it's chilly outside, add an interesting jacket or cardigan over top of your shirt for extra warmth. You could even opt for a patterned blouse instead of a solid color if you want to add some visual interest to your look. Wear a feminine blouse with leather trousers to a cocktail party for a feminine style.
A Statement Sweater
If you're looking for something more casual but still stylish, why not try pairing your leather pants with a chunky sweater? Bold colors and prints are always great options here—think stripes, polka dots, animal prints, etc.—and they'll help make your outfit stand out from the crowd. Add some chunky boots, a pair of sneakers, or booties for an effortlessly chic ensemble that's sure to turn heads wherever you go!
Leather and faux leather can be worn to work with a black blazer or a long coat in the winter months. Add a pair of combat boots and you have a great outfit to wear to a coffee shop, or on date night with a feminine blouse for a chic look, or with a graphic tee for an edgy look. I love that leather pants can be styled in so many different ways and can be worn

Leather pants are one of those wardrobe staples that will never go out of style—and once you find the perfect top to pair them with, they become even better! Whether you're looking for something dressy or casual there are plenty of options available for tops that will look great with leather pants. So next time you pull on those classic trousers, don't forget to grab one of these stylish tops as well!