Review of Every Ilia Product I've Ever Tried
Over the past year, I've been on a mission to change out my skincare and cosmetics to "clean" products. I have researched many products and clean beauty lines in the process. Illia is a brand I quickly gravitated to as it has a whole line of clean products that have been very well received. Naturally, I wanted to get my hands on as many products as I can. We just made a fairly large purchase of products I am working my way through, and boy has it been fun.
Clean makeup, skin, and hair care products have come a long way over the past couple of years. I remember Nina trying products from the health food store and then quickly returning to her non-clean favorites. Forumulations and ingredient combinations have changed a lot. Clean beauty products can be purchased at Sephora and Ulta now, and many of them work just as well as other products.
If you've been reading the blog for a while now, you already know that I love Ilia and Kosas cosmetics. Both of these lines have a full range of products and colors and are moderate in price. Today I'll be reviewing every Ilia product I've ever tried, including some new favorites I just stumbled on.
Showdown: Best Ilia Mascara
I've tried both Ilia mascaras. If you're stuck between the two, here are the highs and lows of each:
Pros
SUPER volumized lashes
Soft, fluffy applicator is easy to use
Cons
Tends to transfer under my eyes
Pros
No transferring or flaking
Cons
Doesn't give a tremendous amount of length
Applicator is hard and spikey, which hurts my eyes to apply sometimes
Not a lot of volume
Overall, I think I prefer the Fullest Volume mascara, but appreciate that I don't have to worry about transfer with the Limitless Lash. 
For the Face
I am in love with the Color Haze blush. Maybe I just really got the perfect shade, (I went with "Waking Up") but this blush is just beautiful. It can be blended in on bare skin, over foundation, or even over the top of powder. It blends beautifully, has a lovely vanilla scent, and wears exceptionally well. My skin looks amazing with this blush on. If you buy anything from this blog, this blush should be it. 
Radiant Translucent Powder SPF 20
I've tried a lot of SPF powders before, many of them come in those packages that have the brush attached, which are great when you're on the go- but not great for setting makeup. I want as many layers of SPF on my face as I can get and be able to add just a little more with this setting powder is great. I've tried a lot of powders, and it's hard to really say that they're that remarkably different from one another, however, If looking to get a clean-brand loose powder with SPF, this is a great one. It does have a bit of an odd smell though, not too bad, but something to be aware of. 
I really needed a new liner, and this one is really nice. I was using a "paintbrush" style liner before, so switching to a felt-tip was a bit of a learning curve, however, I think felt-tip liners are great for people just learning how to do eyeliner. However, I do feel like the more I use it, the more eyeshadow and setting powder the tip is picking up, diluting the color, and drying the tip a bit. This isn't so much an issue with Ilia's product as it is with all felt-tip liners. I think I simply prefer the pot and paintbrush style applicator, so you get a new line with deep color every time. However, this one is easy to use, still has great color despite it picking up a little eyeshadow, and makes a great inner-corner wing if you're into that.
I can't wait to try even more Ilia products as I continue to work my way through the gauntlet of clean beauty brands and products! If you're interested in reading my review of every Kosas product I've ever tried, click here.
Be sure to subscribe to the Sharing A Journey Newsletter you get a free list of my favorite clean beauty brands and products–just click the link below.
On My List To Try
Clean Makeup Set
Whenever I can, I get these sets from Sephora. I love the opportunity to try a bunch of items at a lower price.
Liquid Powder Cromatic Eye Tint
Nina saw this in a video recently–it's a beautiful one and done eye look.
Super Serum Skin Tint SPF 40
If you are looking for a clean all-in-one product for summer, this could be it. It's a tinted serum with SPF. What could be easier?
Our beauty editor, Brooke Bandoni is a beauty devotee from way back who loves sampling beauty products, research, and writing. She is a recent graduate of UCF's Advertising and PR program, with a minor in Writing and Rhetoric.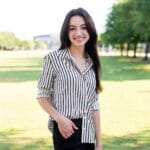 Brooke Bandoni
Beauty Editor