Clean Bath and Body Must-Haves for Summer 2022
The spring and summer always seem to be a major period of growth and change for me throughout my life. In 2021, I graduated college, moved, and started my first full-time job in the span of one month. This year, I'm having my fair share of change brewing as well, as I'm following new paths and feeling the urge to shake things up in my life.
As the days pass, the temperatures are getting warmer and warmer in Florida. Many of us here are already feeling the familiar signs of summer. Weekends at the beach, pool parties, and hot weather are on their way. When it's time to bust out the swimsuits, it also means re-stocking on my body care products like scrubs, body lotions, shower gels, summer scented body washes, and sun protection. Often, I like to switch out the products I use throughout the year, so I always associate certain products and scents with the summertime and others with the fall and winter. Does anyone else do that? Let me know!
It's no secret that caring for our skin in the summer differs from other seasons. We suffer from dry skin, maybe a sunburn or two if we aren't careful, so I like to search for products that will nurture my skin in summer. We may want body creams that keep the skin moist and products that help retain the skin's elasticity. We need to avoid harsh soaps on our sensitive skin. I love to chill my body sprays in the refrigerator to cool me down on hot summer days. I am always looking for amazing scents, and like to find a new fragrance for each season.
As those of you who have followed my clean beauty series know, I love products with clean natural ingredients such as shea butter, sweet almond oil, brown sugar, fresh papaya, and summery scents like day lily, vanilla bean, and sea spray. When possible I try to find organic ingredients.
At home, I look for liquid hand soaps with natural ingredients and summer scents, vegetable wax candles, soy, and beeswax candles. I change my home fragrances with the seasons as well. It's wonderful to come home to bright summer scents that remind me of the beach, especially after the end of a long day.
Below I've compiled a list of my must-have summer essentials for the hot weather, all with clean ingredients for you to try out for yourself. Some of these are new products and I have been enjoying trying them on a daily basis to see how they perform.
Best Clean Body Scrubs
Best Budget
Shea Moisture 100% Coconut and Hibiscus Illuminating Body Scrub $11
Shea Moisture is a winner for all of their bath and body products, and their body scrubs are no exception. They have lots of scents to choose from, all formulated with clean and skin-nourishing ingredients such as coconut oil and Vitamin E, hibiscus flowers, and Songyi mushrooms. Perfect for your whole body and hands. 
Best High-End
Wishful Yo Detox Charcoal Face & Body Enzyme Scrub – $40
This product has nearly 500 perfect 5-star reviews. Vegan, cruelty-free, and part of Sephora's "Clean" line, Wishful's Yo Detox has a cult of loyal users. This "scrub" starts as a cream, but "pills" as you work it in to help remove the dead skin. Yo Detox is great for exfoliating and clearing pores as well as evening skin texture and tone. This scrub is gentle enough to be used on your face and uses chemical exfoliants such as AHA and BHA, as well as charcoal, pineapple, and papaya enzymes to improve radiance and clarity.
Best Clean Shaving Cream
Best Budget
BULLDOG Original Shave Cream – $8
Don't be scared by the packaging and "FOR MEN" on the front, who said women can't use men's shave cream? This gel formula is organic and vegan, made with camelina oil, green tea, and aloe vera and essential to hydrate your skin and get the closest shave possible. The upside to the shaving gel is that you can see exactly what you're doing so you won't miss a spot. This shave cream is also affordable and easily found at your local supermarket.
Best High-End
Ursa Major Stellar Shave Cream – $26
This shave cream is ultra-concentrated and doesn't lather. It provides a smooth glide to avoid razor burn and nicks while moisturizing the skin. It also has a natural botanical scent that isn't overpowering. Ursa Major's shave cream earns a score of 4 on Think Dirty (with many of their other products scoring a 0). Definitely a great high-end clean brand to consider.
H2
Best Clean Body Butter/Lotion
Best Budget
Pacifica is the old standby for a great smelling and clean formulated bath and body products. With so many enticing tropical scents at an affordable price, it's a no-brainer. The Island Vanilla scent is a fan favorite with hundreds of five-star reviews.
Best High End
Biossance Squalane + Caffeine Toning Body Cream – $28
If you're looking for a firming body that's a fully unscented body cream that's jam-packed with skincare ingredients, you've found it. Absolutely perfect for mature women looking for a body lotion that addresses dry, dull skin and helps with loss of firmness and elasticity. This is a lightweight cream that is perfect for daily use, formulated with caffeine for its firming properties, niacinamide to improve skin texture and support the moisture barrier, and squalene to deeply hydrate the skin. In a clinical study, 97% of participants agreed their skin appeared more toned and firmer, with 95% of participants agreeing the product delivered lasting moisture.
Best Clean Sunscreens
Best Budget
Hawaiian Tropic Sheer Touch SPF 50 – $8
Hawaiian Topic is my current go-to sunscreen. It smells amazing and fruity, doesn't leave streaks or pill, isn't sticky, and has a lovely shimmer to it to make you look like a tan, glowing goddess. It scores a 5 on Think Dirty, so it's not 100% clean, but definitely much less toxic than many other options out there. If you need to grab some sunscreen off the shelf of the drugstore or supermarket on your way to the beach, this one is your go-to.
Best High-End
COOLA Classic Body Organic Sunscreen Spray SPF 70 – $25
If you're interested in a high-end sunscreen, COOLA's classic body sunscreen is a fan favorite. It has a score of 3 on Think Dirty and 4.5/5 stars on Sephora.com. It's reef safe, vegan, cruelty-free, and gluten-free, and has a fresh peach blossom scent.
Be sure to let us know your favorite products and your thoughts if you try any of the ones mentioned here. Looking for more clean product recommendations? Check out my full clean product column on Sharingajourney.com. HAGS! (have a great summer!)
Our beauty editor, Brooke Bandoni is a beauty devotee from way back who loves sampling beauty products, research, and writing. She is a recent graduate of UCF's Advertising and PR program, with a minor in Writing and Rhetoric.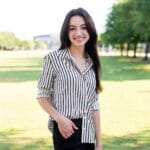 Brooke Bandoni
Beauty Editor