Body wash is one of those products you use on your skin every single day, maybe even twice a day, depending on your lifestyle. If you're looking to swap to more clean beauty and bath products, your body wash is a great place to start. I recently ran out of my usual body wash, which allowed me to shop my options to swap to something from a reputable brand with clean ingredients. Read on to learn more about five great body wash options if you're interested in making a switch.
Ingredients to look for:
When choosing a body wash, especially if you have sensitive skin, you will want to study the ingredient list. As much as possible, you will want to choose natural ingredients. However, depending on your skin's needs, you may choose ingredients that help loosen dead skin cells, such as lactic acid, glycolic acid, or salicylic acid. However, if you have sensitive skin, you will want to avoid those ingredients. Choosing a gentle nourishing body wash is key. Here are some ingredients to look for: Essential oils, shea butter, coconut oil, aloe vera, vitamin e, avocado oil, olive oil,, salicylic acid, amino acids, jojoba oil, lactic acid, vitamin c, green tea, cocoa butter, organ oil, brown sugar, volcanic rock, glycolic acid, fatty acids, rosehip oil, organic coconut oil, and spring water.
Ingredients to Avoid:
Artificial fragrances, synthetic fragrances, harsh detergents, synthetic dyes, and any item with a synthetic preservative in the ingredient deck. These ingredients are known to cause skin irritation and are not the best choice for your beauty routine. Many of these chemicals strip the body's natural oils, cause itchy skin, allergic reactions, and can irritate acne-prone skin—thank back acne.
What's Your Skin Type?
Also, consider your skin type, is it oily, sensitive, or dry? In which case you will want to take care to choose the best body wash formula for your skin type and needs. In addition, it is important to consider the product type—do you like a creamy cleanser, a gel, bar soap, or something with a luxurious lather? A word to the wise, many organic products do not suds well.
Brands to Consider
a few Brands with Clean Ingredients
Dr. Bronners-Dr Bronners can be found at many stores now, including Walmart. Their soaps can be used for a wide range of applications.
Body Shop-Once a really cool brick and morter shop–now can be found online
Method-From cleaning products to the bath, this brand can be found at Target
Kiels going back to 1851, Kiels has natural skin care down to a science.
Our Beauty Editor's Favorites:
Native
You've probably heard about Native's natural deodorants, but they also have a full line of body washes, hair care, sunscreens, and even toothpaste. When I ran out of my usual body soap, I chose to switch to one of Native's body washes. Every one of their products scores a perfect 0 on Think Dirty, and they're easy to find at my local Target. They use natural fragrances and are phthalate, sulfate, and dye-free. I chose the largest bottle Target had in stock, which was a 36oz Coconut Vanilla body wash which cost $12, the 18 oz bottle costs about $9 for reference. It smells great, sweet and beachy, but isn't too overpowering. This scent will perfect throughout the summertime, and I figure I might switch it to one of their muskier scents in the fall out later this year.
Burt's Bees
Yes, Burt's Bees has body wash too! They have a few different scents, all of which score a 3 on Think Dirty. They generally use natural fragrances, however, they mention on their website that occasionally, they have to incorporate synthetic fragrance to ensure the product is stable. Burt's Bees is a great budget option, with their 18oz body washes coming in around $10. Burt's is also readily available at drugstores and supermarkets, making it a super convenient option if you don't want to spend a lot on a clean brand, and don't want to make extra stops to pick up household staples.
Pacifica
Another great option readily available at places like Ulta, Target, and Walmart is Pacifica. They have such delicious scents for all their bath and beauty products, all of which earn an average score of 3 on Think Dirty. If a scent is your thing, Pacifica has the greatest range of strong tropical scents. Plus you can get sets of body wash, lotion, body scrub, and perfume in the same scent, so you can ensure you're always smelling great. Their prices are also really affordable, with products ranging between $5-$10 on their website and in-store.
Kosmatology
On the higher end, Kosmatology has a best-selling body wash. However, you'll have to order this brand online. Their body washes go for about $12 for an 8oz bottle, so significantly more expensive than the products mentioned above, however, they have a perfect score of 0 on Think Dirty and use all organic ingredients. If organic is really important to you, then you may want to give them a try. They also have skincare, lotions, bug repellants, scrubs, and more!
Tropic
Tropic is a great online-only option if you don't mind waiting a couple of days to receive your items. Tropic is a European-based all-natural and plant-based brand. Their products score perfect 0s and are verified on Think Dirty for providing full disclosure of their ingredients list. You can only order Tropic online because their products don't have any preservatives in them and aren't shelf-stable for as long as other bath products. Their scents are more sophisticated, so it would be great for those who like earthy, tea-like, and herbal scents. According to their website, they don't formulate with any SLS or ALS, which are the detergent ingredients that leave your skin feeling "squeaky clean", tight or taut. They run for about 10 pounds (roughly $13.50 US dollars at the time of writing) for about 8 oz, plus international shipping. Definitely the pricier and more luxury option, however their rave reviews speak for themselves.
Swapping out your body wash for a cleaner product is much easier than you think. Once you know what brands to look out for, you'll find swapping to be easy. We hope that this brand breakdown takes some of the stress and anxiety away from choosing a new body wash product, and helps you feel more confident about the purchases you're making on the regular.
To check out more of our articles on clean beauty, makeup and lifestyle, click here.
Our beauty editor, Brooke Bandoni is a beauty devotee from way back who loves sampling beauty products, research, and writing. She is a recent graduate of UCF's Advertising and PR program, with a minor in Writing and Rhetoric.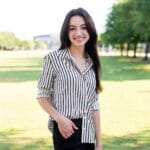 Brooke Bandoni
Beauty Editor