Best Natural Anti-Aging Hair Care Products
Haircare is one of the hardest beauty categories to find clean and non-toxic product alternatives. So many great beauty products and skincare brands have come out with clean products that give the tried-and-true non "clean" favorites a run for their money, but haircare formulations are much more complex, making it harder to find high-quality products that are also toxin-free. However, there have been some great new product launches that we are excited to share, so if you want to move into using cleaner hair care products, you are in the right place
As women mature, we have additional hair concerns such as hair loss, and the reduction of natural oils on the scalp and in hair which makes hair strands appear dehydrated and lacking in shine. Hair dye and heat cause further damage to hair, along with product buildup that can leave gray hair and white hair looking dull and yellowed. In addition, poor diet, medications, and health problems can lead to brittle hair and split ends.
Natural ingredients don't always do the best job combating these concerns, so manufacturers turn to additional ingredients to help with these problems. Here at Sharing A Journey, when choosing hair care products, we opt for the cleanest possible, with the understanding that we may need to compromise to achieve our hair care goals. The best part is that good shampoo and conditioners are available as are a number of clean haircare products that are great for all hair types. This is definitely good news.
To help our hair look its best, and encourage healthy hair growth, we need to maintain a healthy scalp so that hair follicles are not blocked, especially for those concerned with thinning hair. By keeping your scalp clean and healthy, and by taking care of your hair, you can avoid hair breakage, and improve hair strength, and hair dryness.
When choosing the best hair product, you must consider your specific needs. Shampoos, conditioners, and treatments often cater to specific hair types, such as fine hair, curly hair, and so on. You should also know how dense your hair is, as well as its general condition. If, for example, you color your hair, your hair may be more porous and would benefit from fatty acids and wheat protein. If you have natural hair, that is in good condition, you may go for natural shampoos and occasional deep conditioners.
A healthy diet is also important for beautiful hair. Make sure you get a mixture of proteins, fruits, and vegetables, as well as healthy fats.
Hair Care Routine
A few tips to help your Tresses Shine
To keep your hair in good shape, handle it gently.  Wet hair is very fragile, so be sure to use detangling spray and a wide tooth comb when working with wet hair.
Before washing hair, used a scalp massager to loosen build-up on the scalp.  Brush through hair to get rid of any tangles, and massage hair oil to the ends of hair.  
Clean shampoos don't always lather up as well, so make sure your hair is soaking wet before beginning.  We are often in a hurry and start adding shampoo before our hair is completely wet
Avoid dry shampoos–we only use them in emergencies. They are heavily scented, and can build up on the scalp and block hair follicles.
We wash our hair every other to every third day to keep the scalp clean and free of product buildup, and excess oil.  If you have a dry scalp, you can go longer between shampoos.  Wash your hair when your scalp and/or hair is dirty.  Using dry shampoos to tide your hair over to a weekly hair wash is very popular right now, but isn't great for your scalp. Oily hair is an indication that you need to wash your hair more often.  
I've done loads of research and have compiled this list of the best clean(ish) haircare products to try out if you don't want to compromise on great quality haircare.
Shampoo and Conditioner
Vegamour GRO Revitalizing Shampoo for Thinning Hair – $48
Vegamour is a great option for mature and thinning hair. It is color-safe and contains B-silk protein that protects and restores your strands. It makes hair appear more full, and dense and reduces shedding. This product is vegan, cruelty-free, and gluten-free as well as "Clean" at Sephora. It is important to note that Vegamour does formulate with phenoxyethanol, which is a preservative that is restricted in Europe for use in cosmetics.
BrioGio Scalp Revival – $42 
BrioGio RosaArco Milk Shampoo – $38
I have used both Scalp Revival and the Rosarco Milk product lines off and on for years and finally came back to it after doing my research on all the scary ingredients in Olaplex (not to mention the product recall on Olaplex No3, yikes). Scalp Revival is a gritty scalp scrub that feels amazing if you have an itchy and oily scalp. It doesn't lather up quite like other shampoos, so it can take some getting used to. If you prefer a traditional shampoo, their Rosarco Milk shampoo and conditioner have a more normal shampoo and conditioner texture. Both product lines use natural fragrances and earn Sephora's Clean designation, meaning it is formulated without harmful chemicals such as phthalates, sulfates, formaldehyde, and more.
This product has both Sephora's Clean Beauty award and the Allure's Best award. This is a powder to lather shampoo that gently cleanses—leaving hair soft and full of body without being over-drying. While we haven't tried it yet, it's in Nina's Sephora cart so she can give it a try. It's designed for all hair types. Because it is not a liquid, it's great for travel, and a little goes a long way, according to reviewers. Currently, it's a stand-alone product—there is no companion conditioner. However, most said that they
Heat Protectants/Styling
Rossano Ferretti Parma Dolce 16 Protective and Detangling Spray – $46
The only "clean" heat protectant at Sephora is this Rossano Ferretti Parma leave-in conditioner and heat protectant duo. It eliminates frizz, moisturizes, and adds protection from breakage, heat styling, UV, and color loss. It does, however, contain proteins from wheat, so it is NOT gluten-free for those of us that are sensitive to it.
Kevin Murphy Ever.Smooth – $38
Kevin Murphy Anti.Gravity.Spray – $34
I got turned on to Kevin Murphy products from my hairstylist Ari. She exclusively uses his products and I usually pick one up from her each time I go. I use the Anti Gravity spray every time I do my hair. It's intended to be more of hairspray for setting your style, but it works great as a primer before heat styling that makes your hair super shiny and helps to hold the style. My stylist uses Ever. Smooth on my hair when she does blowouts, and it really is amazing. I highly recommend trying it out if you want to softest, smoothest, shiniest hair of your life. Kevin Murphy's products aren't 100% clean or toxin-free, but a good number of his products get a good score on Think Dirty (between a 3-5). However, some of his products score an 8 and up, which you want to avoid. Like with most brands, we have to do our research!
Hair Masks and Treatments 
JVN Complete Hydrating Air Dry Hair Cream – $24
The JVN Air Dry cream is a great leave-in product if you rarely break out the blow dryer. It softens, moisturizes, smooths down frizz, and helps to define curls and waves. It contains squalene, one of the beauty community's biggest skincare obsessions. It also contains Chia Seed Extract and Moringa Seed Oil which adds hold and shine respectively. This product is Clean at Sephora and is vegan, cruelty-free, and comes in recyclable packaging.

K18 Biomimetic Hairscience Leave-in Molecular Repair Hair Mask – $75
This deeply reparative leave-in treatment is great for all hair types. It will reverse hair damage in four minutes with its peptide technology that reverses hair damage from coloring, bleach, and heat. It is color-safe and adds softness, strength, and bounce to damaged hair.
Hi! Nina here—I absolutely LOVE K18.  In the spring of 2021, I sustained significant damage from over bleaching.  My hair broke off in clumps around the front where the stylist had used bleach multiple times.  I used Olaplex with every wash for two months, but I wasn't seeing much progress, when I came upon K18.  The improvement was immediate, and after the first six uses, most of the damage had been repaired, though I still had to grow out the parts that had broken off.  I am still using the original package I purchased in July of 2021-so the product lasts a long time if you have fine, medium-length hair.  If you have dry or damaged hair, I strongly recommend this product.
Hair Oils
Nina became a hair oil lover a few years ago and has several going at any given time. Hair oil can be applied to the length, about three inches from the scalp to the ends of your hair, prior to shampooing. This helps protect the dry ends from breaking off. Hair oil can be used before and after blow-drying, and to keep hair moisturized between washes.
A favorite in the clean category is Olaplex 7 Bonding Hair Oil $28, I have used this product for a year now, and I love it. I use hair oil before washing, blowdrying, and as needed after. Bread Beauty Supply's Hair Oil Everyday Gloss is great for curly hair-though it's listed for all hair types. If you love a gentle scent, while still enjoying the benefits of clean hair care, DAE's Prickly Pear Hair Oil might be just the thing for you.
Hair Care Essentials
Silk Pillowcase
Towel
Silk Scrunchies
Be sure to let us know which products you love best, or if you decide to try something new from our blog this week. Check out sharingajourney.com for more clean and toxin-free beauty and home product roundups!
Our beauty editor, Brooke Bandoni is a beauty devotee from way back who loves sampling beauty products, research, and writing. She is a recent graduate of UCF's Advertising and PR program, with a minor in Writing and Rhetoric.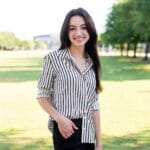 Brooke Bandoni
Beauty Editor