Luxury Clean Beauty Brands
Luxury brands are finally catching on to the benefits of clean beauty. In my recent posts, I showcased many popular and quality products from stores that offer great selections at affordable prices.  But now it's time to turn our attention towards luxury brands-the high-end cosmetics companies dedicated entirely to natural ingredients as their signature style point (think Westman Atelier and Merit Beauty for example).  In these higher-end cosmetics, you will find higher more concentrated doses of active ingredients, rare botanical ingredients, and the finest textures with lasting staying power.
The beauty industry is always looking for the next big thing: The latest trend, or magical ingredients that will take your skincare routine from good to great.  But what about those of us who have sensitive skin? What if you cannot use skin care products because they cause irritation and allergies – how does one get a flawless face without causing problems?  Further, what if you want the very best of the best–premium ingredients, luxurious textures, natural scents, and elegant packaging.
We have compiled some high-quality brands specializing only in natural products so everyone can enjoy healthy gorgeous looks no matter their skincare concerns.  Luckily, in recent years, we have found lots of natural makeup brands and great natural skincare brands. With luxury brands now coming to the table, there is a lot to choose from—so we can avoid harmful ingredients in our favorite products and personal care products.  Plus many of the clean beauty and skincare products are going with sustainable packaging which lessens the environmental impact of packaging and waste, but the products still look luxe on our shelves.
We have looked for brands that use the purest ingredients, avoid animal testing, (cruelty-free), and when possible offer refillable packaging.  
As we compiled our list, we always look for natural ingredients, makeup artist quality, and brands that are tops in the beauty industry.  We found products that have turned the beauty world on its side in the clean beauty space.   Naturally, these clean products have to be void of synthetic fragrances,  synthetic dyes, or synthetic ingredients and must be packed with non-toxic ingredients like essential oils, and organic ingredients. We have searched the isles of stores like Neiman Marcus, Nordstrom, and Saks and are pleased to say that health food stores aren't the only place to find the best high-end clean makeup brands. 
Before we go too far down the road, let's answer a few frequently asked questions:
How do clean luxury makeup and skincare brands differ from their less expensive counterparts?
When it comes to active ingredients, luxury brands are able to pack in a much higher concentration because they don't have to worry about costs as much. This means that you're getting a more powerful product that can actually make a difference in the appearance of your skin.
It's not just the concentration that's important, but also the quality of the ingredients themselves. Luxury brands are able to source the most potent and purest ingredients due to their connections and higher budgets. They can afford to make their products in small batches, and the rigorous safety and performance testing to ensure ether product meets the highest standards. With our skin being the largest organ, choosing clean options to help with our overall health, offers an important reduction in skin irritation and longevity.
We also looked for brands that invested in sustainable packaging— in addition to the good things inside the packages. The results? Products that are truly effective and luxurious. Here are a few products to add to your beauty routine, no matter your skin type.
How can I add Clean Beauty products to my skincare routine?
You can create a clean beauty routine by learning about the needs of your skin type and skincare concerns, and knowing the results you would like. For example, if you have oily skin, you may want to use products that will help control oil production. If you have dry skin, you may want to use products that will increase moisture levels. If you have sensitive skin, you may want to avoid products with harsh ingredients. Once you know your skin type and concerns, research different products and ingredient lists to find those that are right for you. This will help guide your product selection.
You can also create a clean beauty routine by following some simple tips. Make sure to cleanse your face daily, both in the morning and at night. Use a gentle cleanser that won't irritate the skin. Follow by trying one product, a moisturizer, or something to reduce oil production. Give your skin a week or two to get used to the new product, then add another. This way, you will know which products are working and which irritate your skin.
What should I look for when choosing products for mature skin?
When choosing beauty products for mature skin, there are a few key considerations you should keep in mind. First and foremost, you want to look for formulations that address concerns such as firmness, fine lines, texture, and reduction of dark spots. Additionally, it's essential to make sure your products are packed with moisture-boosting ingredients like hyaluronic acid and glycerin.
What should I avoid when choosing clean makeup products as a woman over 50?
To avoid looking older than you are, choose light and sheer makeup. Avoid anything that is thick or dry, as these products will only settle into lines, wrinkles, and texture, accentuating the look of wrinkles and texture on your skin. Also, try to stick with products that have a luminous finish; these will help to disguise any imperfections and give you a more healthful appearance.
 These are our favorite luxury products for healthy skin that glows. You may note that we don't say "anti-aging" here. Nina and I both want to look our best, and be healthy.
Coola Sunless Tan Firming Lotion
This product is packed with natural ingredients with the added benefit of firming mature skin.  It won the Allure Beauty award in 2020. It's a rich body lotion that helps improve uneven texture, dark spots, and loss of firmness and elasticity.  This is a huge favorite of Nina's as she loves the firming qualities and has always worried about the chemicals in sunless tanners–this one is natural!
This brand is high on our list, and the Super Loaded Tinted Cream Highlighter is on our list of things to try. The highlighter comes in three universal shades and offers a luminous glow—great for mature skin tending on the dry side.
Tubing Mascara won the Allure clean beauty award in 2021. If you have never tried this type of mascara–you should. It creates tiny tubes around your lashes making them appear thicker and longer. If you have problems with mascara collecting under your eyes or want to avoid chemicals around your eye area, this mascara is super great. Plus, clean-up is a breeze. 
Nina is currently testing this sunscreen after enjoying Tatcha's beautiful primer. If you love clean products with a light feel, Tatcha is the brand to try.
Tata Harper
Daily essentials kit—a great way to try this line
Tata Harper is known for her botanical formulations and stunning results.
Tata Harper earns Sephora's Clean and Planet Positive denotation, meaning not only are their products good for your skin and body but don't harm the environment either. Their most popular product is the Super kind Fragrance-Free Bio-Barrier Serum. Their serum is perfect if you're looking for a pro-aging serum that also provides relief from dryness and helps improve the appearance of dark spots. It contains sugar leaf flower, which reduced the appearance of fine lines and wrinkles, a tri-algae complex that firms the skin and brightens dark spots, and a volcanic postbiotic complex that supports the skin's microbiota and microbiome.
Dr. Sturm's products have been featured in many of Vogue's "get ready with (insert celeb name here)" series, with many celebrities endorsing her product line. Dr. Sturm's highest-rated product is her The Better B Niacinamide Serum. This serum includes Vitamin B3 which reduces and smooths the appearance of pores for a radiant complexion, marine plankton extract which supports the skin barrier and provides hydration, and panthenol (also called provitamin b5) which provides even more intense hydration and soothes the skin.  If you want to try the line, this kit is great and offers a significant discount.
Guerlain has a huge range of products, from skincare all the way to every makeup product you could need. One of their popular products is the Abeille Royale Advanced Youth Watery Oil. It contains dynamic black bee repair technology, which is comprised of sustainably sourced honey from protected islands' biospheres and "Blue Zones" that help skin look healthier and visibly younger, royal jelly that contains nutrients and vitamins to nourish the skin, and Commiphora oil which melts on contact with skin to deliver a unique sensation. Their products also come in recyclable packaging.
Dr. Dennis Gross is another cult favorite skincare line with clean ingredients. One of their highly-rated products is the Advanced Retinol + Ferulic Overnight Wrinkle Treatment. It contains retinol, bakuchiol which supports collagen production and helps with fine lines, wrinkles, and photodamage, and rambutan, which is a gentle botanical active that targets fine lines and wrinkles and improves skin elasticity. It is also vegan, gluten-free, and comes in eco-friendly packaging.
Probably easily the most popular skincare line, as it is luxury but has a price point that's a little more attainable for most budgets. The A-Gloei Retinol Oil is one of their most popular products and contains .05% retinol, 95% virgin marula oil which is high in antioxidants, and omegas 6 and 9 which help to moisturize and nourish skin and ceramides which help fill in the spaces between cells to strengthen the skin barrier, maintain the moisture balance and provides elasticity.
Have you tried any of the luxury clean beauty brands we've mentioned? If not, be sure to check them out and let us know what you think. We love trying new things, especially when it comes to skincare and makeup so stay tuned for more posts on this topic in the future. In the meantime, if you want affordable options for clean beauty products, make sure to check out our previous blog posts on this subject. We've got you covered!
Our beauty editor, Brooke Bandoni is a beauty devotee from way back who loves sampling beauty products, research, and writing. She is a recent graduate of UCF's Advertising and PR program, with a minor in Writing and Rhetoric.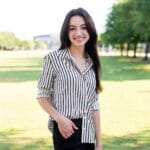 Brooke Bandoni
Beauty Editor