I have been a fan of microcurrent devices for several years, but have to confess, while I have two, the Nuface and the Myolift, I haven't used them in quite a while. While I liked the results, they were both time-consuming and a bit messy. When I was given the opportunity to try the Ziip Halo Microcurrent device, I was curious whether I would like it better than the other two devices, and whether I would continue to use the Ziip, unlike the other two devices.
Why I Am Interested in Microcurrent Facials:
I wanted to try at-home microcurrent facials to improve sagging skin, focus on specific areas of my face, and hopefully improve their appearance using electric currents.  I like the idea of being able to do various facial treatments at home and have been excited to try at-home devices.  Before purchasing the first device (I bought the Nuface in 2020 on sale through Sephora) I did a little research on low-intensity current.  
Microcurrent is said to offer skin tightening, muscle lifting, collagen stimulation, and a total smoothing treatment, with few side effects. That's a lot of goodness in a small package. For best results, you have to use the devices daily for a month, then reduce the treatments to a few times a week. It is important to keep microcurrents away from your thyroid, and they may be contraindicated for people with migraines. You should not use microcurrent if you are pregnant or have a cardiac pacemaker.
To be honest, I have not seen instant results like some people.  What I have found using now three microcurrent tools is that the improvement builds over time though some experience instant gratification–I have seen enough youtube videos where people have done full facials and have very good results right away.  Let's take a look at the three microcurrent devices–their pros and cons and see which one might be best for you.
The Ziip Halo
The Ziip Halo is a state-of-the-art microcurrent device designed for at-home skincare treatment. Crafted with a sleek design and easy-to-handle size, it fits comfortably in the palm of your hand. The device utilizes nano and microcurrent technology to deliver tiny electrical pulses to your skin. This game-changing device comes with a smartphone app (the Ziip beauty app) that allows you to customize your treatment based on your skin needs. Ziip is capable of delivering eight different electrical treatments, tackling various skin problems such as acne, pigmentation, and anti-aging. Its power doesn't stop there; it also stimulates collagen and elastin production, resulting in plumper, more youthful skin over time. I like that through the app you can do a variety of different treatments and can change your treatment on any given day. I really like the Ziip app.  It links to the device with ease and offers a variety of sophisticated waveform combinations to improve your skin on a cellular level. Shop the Ziip Halo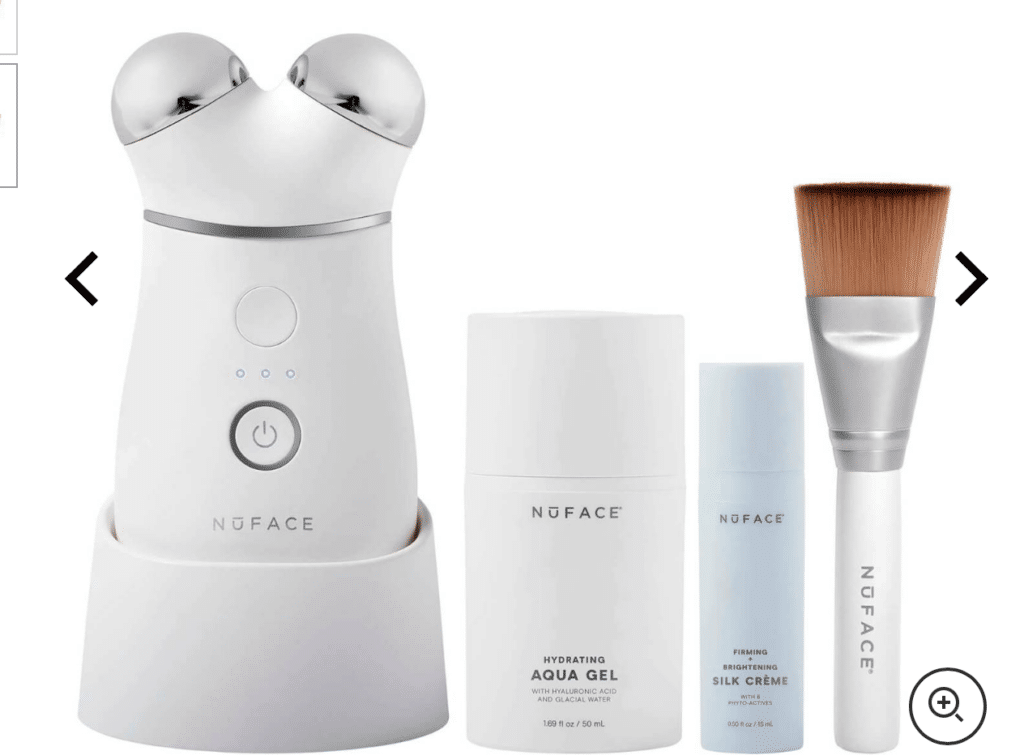 The NuFace Trinity
The Nuface Trinity is another player in the world of at-home microcurrent devices. Its compact design, with interchangeable treatment attachments, allows for a variety of skin therapies that can be tailored specifically to your needs. Like the Ziip, the Nuface device also uses microcurrent technology to send low-level electrical currents through the skin, mimicking the body's natural current and stimulating the production of collagen and elastin.
This results in improved facial contour and skin tone, reduced wrinkles, and a more vibrant, youthful appearance. The Nuface Trinity also boasts an FDA-cleared status, providing users with an extra layer of confidence in the device's safety and effectiveness. Despite these advantages, the Nuface was time-consuming, adding twenty minutes to my morning skincare routine.  
It is important to note that the NuFace has received rave reviews, and I was happy with the results I experience using the lift treatment the Nuface offers.  Since I purchased my Nuface Trinity, they have come out with the Nuface Mini which is smaller, less expensive, and easy to use. Shop the Nuface Trinity Here.
Both the Ziip Halo and the Nuface Trinity devices require the use of conductive gel as a part of the treatment.  While you can use a plain conductive gel, each handheld device company offers a variety of gel formulations that have skincare ingredients like hyaluronic acid, and copper gluconate, both of which are great for the skin.  Be sure to check out the gels to determine which type is the best option for your skin's needs.
The MyoLift
The MyoLift is yet another entrant in the microcurrent device marketplace. It's a true microcurrent machine that leverages advanced technology to stimulate the skin and facial muscles. With a professional-grade build and aesthetic, the MyoLift is often hailed for its ability to deliver a comprehensive and targeted facial treatment.
Much like the Ziip and Nuface, it uses low-level currents that mimic the body's natural frequency, promoting the production of collagen and elastin, key components of youthful and vibrant skin. Perhaps one of the most distinguishing features of the MyoLift is its suitability for sensitive skin types, offering adjustable intensity levels to cater to individual skin sensitivities.
The Myolift has several interesting features, it has two "hands-free" options, essentially what looks to be a patch that you attach to the device and then place on your lips or eyes to deliver the treatment. You can also use the device's special gloves which is another interesting option. I liked using the gloves because you can use water rather than conductive gel for your microcurrent therapy treatment. Shop the Myolift Here
Comparing the Devices:
The Ziip device, unlike the other two devices being reviewed here, delivers variable microcurrent strengths, ranging from 300 to 400 microamps, depending on the chosen treatment. This flexibility allows you to customize treatments to target specific skin issues with optimal current strength. On the other hand, the Nuface device delivers a consistent microcurrent strength of about 335 microamps, which is suitable for general facial toning and anti-aging treatments.
Lastly, the Myolift stands out with its professional-grade output offering two modes: a 400 microamp mode for deeper wrinkles and sagging skin, and a lower 175 microamp mode for sensitive areas or those new to microcurrent treatments. This range offers greater customization to cater to different skin types and issues.
Treatment time is another consideration when choosing the right device. The Ziip offers the quickest treatments and is very user-friendly, followed by the Nuface which is also very easy to use but the basic treatment takes twenty minutes. Both devices are easy to travel with and I have traveled with both–though I prefer the Ziip because it is very small and the treatments are very quick.
The most complicated is the Myolift–it was made for professional use and has a variety of settings and treatment modalities. It is also the most time-consuming, and if you use the two wands that the device comes with, it does take a bit of time to learn how to use them–that's why I gravitated to the gloves. I also liked using the two masks–though the eye mask broke easily.
It may not come as a surprise that I like the Ziip Halo the best of the three devices. I have been using it daily since I got it and find it folds easily into my skincare routine. At the end of the day, you have to go with what you are most likely to use daily–otherwise you won't be able to achieve or maintain the desired results. Do you have a micro-current device? If so, which one and what do you like about it?