My current spring to summer makeup look
My makeup routine has changed a lot over the years, during 2020 and 2021.  Previously, I almost never wore any makeup except for special occasions, and when I did decide to get ready for the day, it was a very minimal makeup routine.
Lately, I've been waking up early and doing full hair and makeup every day. I recently started at a new job, and although it's fully remote, I still love getting completely ready in the morning. It's become part of my ritual that makes me feel ready to work and take on the day.  This is a ten-minute makeup routine, and best of all many of the products I use double as skincare.
If you've been reading the blog for a while, you know I'm always looking for products that are a clean alternative to favorites that we all know and love. Finding clean makeup swaps are actually much easier than you'd think, especially with so many great clean makeup brands out there.
I recently got a ton of new makeup products, so I figured I'd talk about what's in my makeup bag, how I'm using all my new products, and discuss my absolute favorites. There are so many great products that you could work into your routine!
The Base:
First things first, I start off with my DRMTLGY Broad Spectrum SPF 45 as a makeup primer and moisturizer. I've been using this sunscreen as part of my morning skincare routine for years and love how it doesn't have that strong "sunscreen" smell or cause a white cast. I usually put this on right after I wake up and let it sit for at least 30 minutes before I start my makeup (I usually do some chores and eat breakfast before I start my makeup).
Then I go in with my Kosas Revealer Foundation on a Real Techniques Makeup Sponge I love this product because it blends so beautifully with my skin tone. I've talked a lot about this foundation, and it's just amazing. I love how it makes my skin look and I truly believe all the skincare ingredients they've infused into the formula have improved my acne and my skin texture. I've never had such clear and smooth skin in my adult life. It has nice coverage that is natural-looking. I would describe it as medium coverage, however, it is definitely buildable. It's absolutely one of my new favorite products in my everyday makeup look. I usually avoid putting any foundation under my eyes because I will do concealer next, and the less product you put under your eyes the less chance you have for creasing.
After the foundation is done, I will go in with the Kosas Revealer Concealer under the eyes to cover any under-eye circles and to provide some extra coverage over any acne spots (I have some hyperpigmentation from old acne on my cheek that I always cover).
I always do my blush and bronzer before I do my powder because I feel like it really gives that natural glow from within type of look. Also, the setting powder over top helps to blend and meld everything together beautifully. For blush, I use the Illia Color Haze cream blush on my cheekbones, almost all the way to my temples. I blend the color forwards towards my nose and up towards my eye with my fingers to diffuse the color. I like to keep the majority of the color concentrated back on my upper cheekbones. I used to love how Beverly Crusher's blush was placed in Star Trek Next Generation and that inspiration has influenced how I place my blush to this day.
I then go in with the Kosas The Sun Show Bronzer. My trick here is that I use a super huge fluffy brush and tap it into the product and tap it onto the skin instead of swiping. This diffuses the color, even more, gives you more control, and looks super natural. I "brontour" meaning I'm kind of using the bronzer for contouring purposes but am still blending the bronzer up onto the cheekbones and my nose. I also tap bronzer onto my temples and forehead.
Then I lock everything in with the Illia Radiant Translucent Powder SPF 25. This helps to take down any harshness and the saturation of the blush and bronzer so it looks very blended and natural.
The Eyebrows
For the eyebrows, I use the Benefit Cosmetics Goof Proof Eyebrow Pencil. Once this runs out I'll probably swap over to a clean brand, but I do love Benefit and a lot of their products. I try to go pretty light on the brow pencil most days and blend it with the included spooly. Then to fluff and set the brows, I do the Kosas Air Brow Gel which also looks amazing on its own without the pencil.
The Eyes
For the eyes, I've been using the Tarte Clay Play Vol 1 for nearly a decade. Has it expired? Definitely. Does it still work? Absolutely. They discontinued this exact palette (the new Clay Play has different colors despite the packaging being exactly the same), however, essentially it's a matte-only eyeshadow and bronzer palette. I start with putting a light base shade all over the lid to help with blending. Then I do a soft warm orange color all over the lid and crease avoiding the inner third of the eyelid, diffusing upwards towards the brow bone. Then I grab a super dark shade and define the crease and outer corner, creating a winged effect with the eyeshadow. I also will dip a small smudge brush into this darker color and get my lower lash line and flick upwards, further defining the "wing". I'll diffuse this line with the same brush I used for the crease color.
Then I grab a highlighter or shimmer to put on the inner third of the eyelid and inner corner. Depending on the day, I'll either call it a day here or put some winged eyeliner on to define my eyes further. When it's an eyeliner day, I use the Ila Clean Line Liquid Liner.
Then I curl my lashes and do my mascara with the Ilia Fullest Volumizing Mascara. I've tried both the Ilia Limitless Lash Mascara and the Volumizing one, and I love both, but I just can't resist the effect the volumizing Ilia mascara provides.
Final Touches
In the home stretch now, I highlight my face with the Becca highlighter in Opal (nolonger available, unfortunately) with a soft highlighter brush. I also get this on the tip of my nose.
For lips, I'll either do the Merit Lip Oil, or the Bite Lip Mask. Either product looks amazing.  If I want a little more, I add lip gloss over top.  I love lip balms and lip oils because they add just a touch of color and are packed with natural ingredients.  
My last step if I really want to lock everything in for a long day or if I'm going to a special event, I'll mist on some Morphe Setting Spray for insurance. I still use a few non-clean products I haven't found a duplicate for.  I am pretty happy to have reduced the number of toxic ingredients I use every single day.  I know taking care now will pay off in the long run.
I've been loving this look lately and have gotten compliments from complete strangers when I've worn it in public. I think it's so clean, fresh and sophisticated! It's amazing how a simple routine can make such a huge difference to how I feel each day.
If you liked this blog please make sure to subscribe to see more beauty posts from me!
Our beauty editor, Brooke Bandoni is a beauty devotee from way back who loves sampling beauty products, research, and writing. She is a recent graduate of UCF's Advertising and PR program, with a minor in Writing and Rhetoric.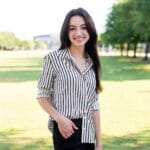 Brooke Bandoni
Beauty Editor