Beginner's Guide to Clean Beauty Products
This is a guide to help you learn more about clean products and how to incorporate them into your skincare routine and lifestyle. This post will help you choose cleaner products from natural sources. This will also help you make informed decisions and perhaps avoid skin conditions, cancer, or damage to your reproductive system. The good news is that there are many great options out there and it's worth taking the extra step to find safe cosmetics.
I started becoming interested in researching clean beauty products a few months ago when I accidentally bought the wrong Neutrogena Rapid Wrinkle Repair. It turns out, Rapid Wrinkle Repair has two versions, one with fragrance and one without. This got me wondering about what the difference was, and why so many dermatologists and skincare "experts" on the internet were recommending fragrance-free products. The more I researched, the more I focused on the product's ingredient list and began looking for natural ingredients, clean beauty brands, and natural products. I want to avoid toxic chemicals in my personal care products. and improve my beauty routine.
I ended up going down a rabbit hole of research learning about artificial and natural fragrances, which spiraled into articles about fluoride, aluminum, phosphorus additives, emulsifiers and preservatives, and food colorings. I quickly realized this was a much bigger topic than just my Rapid Wrinkle Repair. I learned that synthetic fragrances have been linked to breast cancer, reproductive system issues and cause problems for people with sensitive skin. I have had an allergic reaction to cleansers in the past, and now want to find safer options.
When you go down these research rabbit holes, it's easy to get overwhelmed, confused, or just abandon it altogether. All of a sudden all your skincare, haircare, cleaning products, candles, and perfumes are being labeled as "toxic" or that they contain "hazardous additives". This can be disappointing as well as a daunting task to find new products that are healthier.
On an interesting note, many of the products we use in the United States have been banned by the European Union because the ingredients are known to cause skin cancer. This was a real eye-opener to me. Nina wrote an article a few years ago about Micellar water and found that the most popular brand in the United States contained carcinogens among the active ingredients. The product was banned in the European Union. It's so important that we read the product labels!
You might ask "I've lived this long and using these products, why change things now?"
After doing lots of my own research, I decided to go ahead and start the journey to start transitioning my products to cleaner alternatives. I wanted to impart some of that knowledge I gleaned through my research so that you don't have to. This article will list out great apps to use to research products and clean brands to try to help simplify the process of switching to clean(er) alternatives to conventional products. While a am a total beginner, it hasn't taken long to find great natural beauty products.
You may not feel a huge difference in your quality of life after making these swaps, but I feel better knowing that the products I'm putting on my skin, inhaling, and ingesting are healthy and safe. I also feel empowered to make determinations about what products and ingredients I am comfortable with and which ones I am not. Overall, you'll never live completely "toxin-free", so just knowing I'm making a concerted effort to reduce the amount of toxic, endocrine-disrupting, allergenic, and irritating products helps me breathe easier (literally and metaphorically). The more I learned, the more natural beauty became important to me.
The beauty industry has a few dirty secrets–harmful ingredients are found in all sorts of makeup products Products notorious for harsh chemicals and toxic ingredients include lip balm, facial cleansers, body washes, hair care products, and nail polish. Over the coming months, I will be sharing the products I have tried and enjoyed.
Interesting Note:
On an interesting note, many of the products we use in the United States have been banned by the European Union because the ingredients are known to cause skin cancer. This was a real eye-opener to me. Nina wrote an article a few years ago about Micellar water and found that the most popular brand in the United States contained carcinogens among the active ingredients. The product was banned in the European Union. It's so important that we read the product labels!
Best Apps for Finding Clean Products
One of the easiest ways to learn about products is by simply downloading an app you can use to check products. I simply scan the item in the store and check it before buying. This is super convenient and sort of fun. Though it wasn't so fun when I scanned my facial cleanser for many years and found it didn't make the grade. Both Nina and I will be changing facial cleansers.
Think Dirty
For beauty, lifestyle, and home items, I use Think Dirty. This app ranks products out of a scale of 10, with 0 being the best score possible and 10 being the worst. I really appreciate how easy it is to see each product's ranking and get a suggested alternative if the ranking is above a 5. It also shows the ingredients list and highlights the questionable ones, which you can then tap to read more information about the ingredient and find sources to the studies backing up their claims. This helps me make my own determinations about some controversial ingredients, such as fluoride, as there is a lot of discourse about whether it is good for you to ingest.
My only gripe with Think Dirty is that they do have some featured brands that seem to get an extra spotlight on their app. In addition, the search function doesn't always list products in order by relevance, which can be annoying when you're searching just to see how a product ranks. I think it's a great tool, but definitely take their suggestions with a grain of salt and be wary of paid product placements on the app.
Yuka
Yuka is more geared towards foods, however, you can also scan beauty and cleaning products in the app as well. They use a different scoring system out of 100, with 100 being the best score. Yuka is independent, so no brand or manufacturer can pay to be featured or have influence over their ratings. Yuka also doesn't take any advertising either. With the free version, you can scan labels and see their scores. The paid subscription lets you use the search function, as well as highlight other ingredients to highlight for special diets such as gluten, nuts, or soy. Besides highlighting food additives in ingredients lists, Yuka also lets you know how nutritious the food is based on the macros and label information. So those Oreos may be free of harmful additives, but that certainly doesn't make them a healthy choice.
Yuka doesn't give as much information as Think Dirty does in the ingredients department in terms of details and sources for their claims on "hazardous" additives. However, it's incredibly fast and useful when you're trying to scan items on the fly at the store. I also trust its recommendations more, since I know the app is independently funded.
Clean(ish) Brands
Through all my research, here's a list of mostly clean brands to look out for when you're shopping. Generally, some products in the line have better ingredients than others. Be sure to do your own research on individual items to see how they stack up. The brands listed below had most of their product line score 5 or below on Think Dirty.
Skin Care
a few great clean skincare options
Drunk Elephant
The Ordinary
Farmacy-Nina's Favorite Makeup Remover
Supergoop!
Glow Recipe
First Aid Beauty
Closing Thoughts
Making the switch to clean products is a slow process, it's not going to happen overnight. It's also important to note that switching to clean products is not for everyone. Clean alternatives are less accessible and can be more expensive than their mainstream counterparts.
You may want to start with the products you use most-like for Nina and me, finding good face and body wash, and body lotions are top of the list because we use these products daily and on our whole bodies. I don't think I could ever pry Nina away from her luxury makeup! But if the majority of the products we use are clean, it's better than nothing.
I encourage you to spend a couple of hours doing some research and start by slowly replacing items with new alternatives when you run out. It may take a bit of trial and error to find your new favorites, especially when it comes to beauty products, but I find the peace of mind it brings to be worth it.
I hope you found this guide to be helpful as you begin your journey researching and transitioning to a clean lifestyle and beauty products. Always keep an eye out for new blogs on SharingaJourney.com and for more clean product reviews!
Grab A Copy
Of our complete list of Clean Beauty and Home Products
We've done the work, and pulled together a list of makeup, skincare, haircare, bath and body, and home care products to get you started! Plus you get access to Saturday Updates-a weekly email packed with more goodies.
Our beauty editor, Brooke Bandoni is a beauty devotee from way back who loves sampling beauty products, research, and writing. She is a recent graduate of UCF's Advertising and PR program, with a minor in Writing and Rhetoric.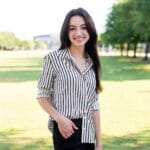 Brooke Bandoni
Beauty Editor