A Full Face of Koasas Beauty: The Products You Need
I've become a huge fan of Kosas cosmetics over the past year. Kosas is my favorite clean beauty brand! They do a great job of formulating their products without PFA, Parabens, Phthalates, Sulfates, fragrances, and include many natural ingredients. I now have quite the collection of Kosas products and have had the chance to try them out over the past few weeks. Here I've listed out all the Kosas products I have tried with my unfiltered and unbiased thoughts. We purchased the makeup products with our own money and do not have an affiliation with this brand.  
My mom got me started on Kosas and since have seen lots of good reviews on the products.   I was immediately interested because their color options work with any skin tone so you will not have a problem getting the perfect match for your skin, the products are packed with natural ingredients, such as jojoba oil, avocado oil,  red raspberry seed oil, and are great for people with sensitive skin.  It also tops among cruelty-free products. The brand uses simple packaging to reduce environmental damage and makes its products in small batches. This line is great for people using clean products for the first time.  Here is the full review:
Kosas Revealer Skin Improving Foundation
Highlights:
Satin Finish (not dewy, but not matte)
Medium-Full Coverage (is buildable)
Contains SPF and Skincare Ingredients
The Kosas Revealer foundation has become super popular on Sephora and with the beauty content creators. I picked out my color from the Kosas website and did a pretty good job with the color match without being able to swatch in store. If you're worried though, they provide samples on their website you can order to make sure you grab the right shade. The foundation has SPF, hyaluronic acid, squalene, niacinamide, Vitamin B5, peptides, and caffeine, all powerhouse skincare ingredients. I've noticed my skin looking and feeling smoother and more nourished since I started using this foundation.   I love that this foundation has skincare benefits, in addition to making my skin look great.
Foundations are usually a death wish for my ultra-oily and acne-prone skin, but this one hasn't clogged my pores or caused any acne or roughness on my skin. I'm still getting used to the look and feel of wearing foundation again after only using concealers and occasionally a BB cream for the last couple of years, but the finish is best described as "satin", meaning it's not dewy, but it's also not completely matte. I'd call it a natural finish. It has decent wear, I do notice it breaking apart a bit around my mouth by the end of the day.  It's perfect for an everyday look.
However, you can only see that if you're looking closely. I usually set it with some loose powder for staying power, and I bet with a spritz of setting spray or a dusting of pressed powder,  it'll be budge-proof. The only con to this foundation is that it has a kind of funky smell. A lot of the clean beauty products have an odd smell since they don't cover any of it up with artificial fragrances. I've become so used to that floral or vanilla scent so many cosmetics add to their products, so the odd smell from the foundation was a bit off-putting at first. Thankfully, the funky smell doesn't last on the skin, you only notice it when you're first applying it.  I've noticed the scent being an issue with many natural makeup brands.
Highlights:
Satin Finish
Medium-Full Coverage
Contains Skincare Ingredients
This is the matching concealer to the Kosas Revealer foundation. I got the Kosas concealer before buying the foundation and accidentally got myself one shade too dark. It was great for spot concealing on my face, but not great for brightening under my eye area. This concealer is a  creamy product, and very bendable. Easily my favorite concealer I've tried in the last 5 years, and I've gone through a lot of concealers in that time. It contains similar skincare ingredients to the foundation, Caffeine, Pink Algae, Arnica, Vitamin B5, Peptides, and Hyaluronic Acid. I will absolutely continue to repurchase this concealer repeatedly (and perhaps get myself the correct under-eye shade for myself).  It's definitely a top pick from this line.
Highlights:
Powder Bronzer
Comes in 3 Shades
Contains Shea Butter and Meadowfoam oil
Another new-to-me product, the sun show bronzer is a gorgeous, shimmery, buttery formula. I replaced my tried-and-true Physician's Formula Butter Bronzer with this one, and I won't be going back. I will miss the lovely tropical scent PF adds to their products though. I chose the medium shade since I can get pretty tan in the summer, and it may have been a little too advantageous. The lighter shade might've been a better choice for me, but I apply my bronzer with a super fluffy brush and diffuse it out with setting powder, so it doesn't look too dark. Just keep in mind if you've got a not-pale-but-not-tan complexion, the light shade is probably best for you. I was worried that the bronzer was shimmery since I don't always want to look super dewy, but on the skin, it's so subtle and just makes the skin look really moisturized, plump and natural. 
Kosas Air Brow Tinted Brow Gel
Highlights:
Has 10 tinted shared plus an un-tinted option
Contains skin/hair care ingredients
Creates super full and fluffy brows
I wrote about the Kosas Air Brow in my clean brow gels blog a while back, but this brow gel is truly remarkable. It creates this beautiful Kara Delavigne eyebrow look that is so full but also very polished. I often don't even fill in my brows anymore, since the tinted gel does a beautiful job of fluffing, tinting, and providing structure to my eyebrows. It contains plant-based fibers, castor oil, panthenol provitamin B5, and biotinoyl tripeptide-1, all of which help with brow fullness, and hair growth. I switched from using ELF's Wow Brow, and ELF's version really just doesn't even hold a candle to Kosas. ELF's packaging and applicator were so teeny tiny, Kosas's applicator is fluffy and the perfect size. It's not too big nor too small. 
Kosas Sport Hylouronic Lip Balm
Nina has this lip balm-its a hybrid lip treatment that keeps her lips moist.  It has a slight peppermint taste and a creamy texture.  
I have found that clean brands such as Kosas offer great value for the price point, with several of their products hitting holy grail status.  Clean products are here to stay and have rocked the beauty world, especially those products that combine makeup and skincare.
I'll be continuing to do more of these makeup brand lineups, so be sure to subscribe to SharingAJourney.com so you don't miss out on any other product reviews. What are your thoughts on Kosas? Let us know!
Our beauty editor, Brooke Bandoni is a beauty devotee from way back who loves sampling beauty products, research, and writing. She is a recent graduate of UCF's Advertising and PR program, with a minor in Writing and Rhetoric.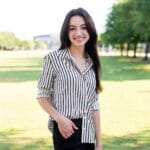 Brooke Bandoni
Beauty Editor