Best Concealers for Women 50+
By the time you are 40, you may n notice a few changes around the eye area—dark circles, dark spots and even dry skin. My friend, you need a good eye concealer. We spend lots of time looking for the best foundation, but the right concealer often eludes us. Whether you want to cover age or acne scars, broken capillaries or those dreaded dark circles under the eyes, finding a good concealer is really a necessity. Today, Brooke took a deep dive into concealers. I asked her to find products that provide great coverage, a creamy texture and a product that provides a flawless finish. The last thing we want is for our concealer to make fine lines into huge caverns like some do. So here's Brooke with the full rundown.
For women over 50, a good concealer can be tricky to find. The number of options available is simply overwhelming, and it can be hard to know what products are worth the money.
what makes a great Concealer?
The right opacity to cover dark circles.
Does not accentuate fine lines and wrinkles.
Blends into skin and adjacent makeup.
Looks natural; matches skin tone and makeup.
For mature skin, you want to avoid ultra-matte formulas or concealers that will cake or crease throughout the day. Moisturizing, longwear formulas are going to be more flattering for long wear and give you that youthful and illuminated glow. Read on to find out the best concealers for older women for every price range and skin type!
What we looked for were products that impart a flawless look with a natural finish. We wanted excellent coverage and something that would work as well on both under eye circles, and age spots. Before we get started, we should talk a bit about application techniques. To prepare the skin, professional makeup artists use a tiny amount of moisturizer and allow it to melt into the skin. Primer is then applied, and, in the case of dark discoloration, a color corrector is applied to dark circles and spots. Then concealer is applied with a concealer brush, and is carefully blended to ensure excellent coverage and a natural finish. Taking time to find the right color match is very important. Too light a color will cause dark spots and eye area look grey—too dark a color will not blend with the foundation.
You may want to consider purchasing different concealers-one to reduce the appearance of dark circles and another to cover age spots and acne scars. You may also want to consider collecting different shades to work with different foundations. A great concealer will work well with powder and creamy liquid formulas, and will help even out the skin tone even if you are using a foundation with sheer coverage,
Best Luxury Concealers
Clé de Peau Beauté Concealer Broad Spectrum SPF 25 – $73
Clé de Peau Beauté's stick concealer is a cult classic, and comes in 12 shades of buttery, high-coverage goodness. You know it's a great product when it's won the InStyle Best Beauty Awards 15 times. It's illuminating, hydrating, refines texture, and provides SPF protection without a thick or heavy feel on the skin. It's also touted to be creamy and extremely blendable. The downsides are the price tag and the limited shade range for deep skin tones. However, if you prefer high-coverage stick concealers, you're going to love this one.
Armani Power Fabric Concealer – $34
A favorite of Nina's, the Armani Power Fabric Concealer is a strong competitor for the Clé de Peau Beauté as the price point is more attainable and the shade range is much larger, with a greater range of mid-tones. The coverage is buildable, from medium to full, and has a natural matte finish. If you prefer a liquid concealer with a small dough foot applicator, this one is great for the under eyes and spot concealing imperfections. Plus, it's formulated to stay smooth all day and not settle into fine lines or crease.
Best Budget Concealers
E.l.f. Cosmetics Hydrating Camo Concealer – $6
E.l.f. is really stepping up their game with their super popular makeup products. At only $6, this drugstore concealer gives Shape Tape a run for its money. The coverage is medium to full, and it doesn't appear cakey, crease, or settle throughout the day. It's very blendable, but on the "dry" side (aka, not very buttery), but is great for those with oily skin types. This is an amazing concealer for travel, and it works great as a standalone product or on top of foundation.
Maybelline Instant Age Rewind Eraser Dark Circles Treatment Multi-Use Concealer – $5
Another cult favorite, Instant Age Rewind definitely competes with E.l.f. in terms of buttery-ness. However, I personally found the sponge applicator a bit annoying and that it dilutes the coverage a bit. However, the formula is smooth, hydrating, and easily blendable. If only they would make a dough-foot option too!
Best Mid-Range Concealer
Benefit Cosmetics Boi-ing Cakeless Concealer – $24
The Boi-ing Cakeless concealer is supposedly the #1 anti-cake concealer out there. Benefit has a lot of great products, all with fun retro packaging. The reviews seem to speak for themselves, tons of happy customers who say this concealer makes their skin looks natural and flawless. However, there are only 14 shades, and don't have a great range for medium and deep tones.
Best Illuminating Concealer
It Cosmetics Bye Bye Under Eye Illumination Full Coverage Anti-Aging Waterproof Concealer – $28
Bye Bye Undereye has been a cult favorite on the internet for years, with tons of YouTube beauty gurus singing its praises. It is an extremely high coverage, longwear and waterproof liquid illuminating concealer. It's chock full of great skincare ingredients too, such as hyaluronic acid, collagen and peptides to keep your skin looking plumped, hydrated and firm. It's also clean from lots of yucky ingredients such as parabens, sulfates, formaldehydes, and more. Be warned that this concealer has a very odd texture, it's quite sticky and squeezes straight out of the tube. For best results, you'll want to apply this one with your ring finger instead of a brush or sponge.
Best Photo-Friendly Concealer
Too Faced Born this Way Multi Use Sculpting Concealer – $30
With a whopping 33 shades, Too Faced did the work to ensure everybody can find their perfect shade. Additionally, this concealer is non-comedogenic for those of us with acne-prone skin, is hydrating and weightless, long wearing, and is great for photos as it does not cause flashback or a white cast on your skin in flash photos. It has a decent sized diamond shaped doe-foot applicator making it easy to spot conceal and cover undereye circles.
How To Apply
Concealer like a pro:
Moisturize under eye area and allow the moisturizer to absorb for a few minutes.
Use primer under your eyes
Build coverage in layers to avoid creating a heavily made up look.
If your under eye area is dark, try a color corrector under your concealer.
Make sure the concealer is gently tapped in place and blended into your makeup.
With so many concealer options out there, you don't want splurge on a concealer that ends up not being great for mature skin. Rest assured, we did the research and testing for you to save you the headache. Be sure to check out our other blog posts about best makeup products for mature skin and let us know if we skipped over any of your favorites!https://youtu.be/BXEZAzSJl5M
Meltproof Your Makeup: Secrets From a Southern Belle
Our beauty editor, Brooke Bandoni is a beauty devotee from way back who loves sampling beauty products, research, and writing. She is a recent graduate of UCF's Advertising and PR program, with a minor in Writing and Rhetoric.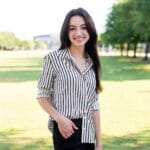 Brooke Bandoni
Beauty Editor