*This post on the best cozy chic at home outfits contains affiliate links
Cozy Chic at Home Outfits
If you read my work from home post (here) you will already know that I'm an advocate for getting dressed in clothes every morning unless you are sick. Whether you have an agenda for the day or plan to do chores, there is something about getting dressed that starts the day right.
If you've read my blog for a while, you will know that I love fashion and getting dolled up and am often "over dressed" by some people's standards. However you will also know that I was a "Yoga Pant" mom; I wore the straight leg yoga pants and a cute top a lot of the time when I was raising my daughter. So much so, that Brooke threatened to turn me in to What Not To Wear, not because I looked bad, but because my yoga pant look had become a uniform.
The thing is, it was super practical for the life I was living at the time. If I were going to a meeting, I'd wear jeans or trousers, but I always chose fashionable tops rather than a T-shirt or workout top.
For this post, we are going to talk about how to put together current, comfortable, home to errands outfits that look presentable going out and are comfortable and practical at home.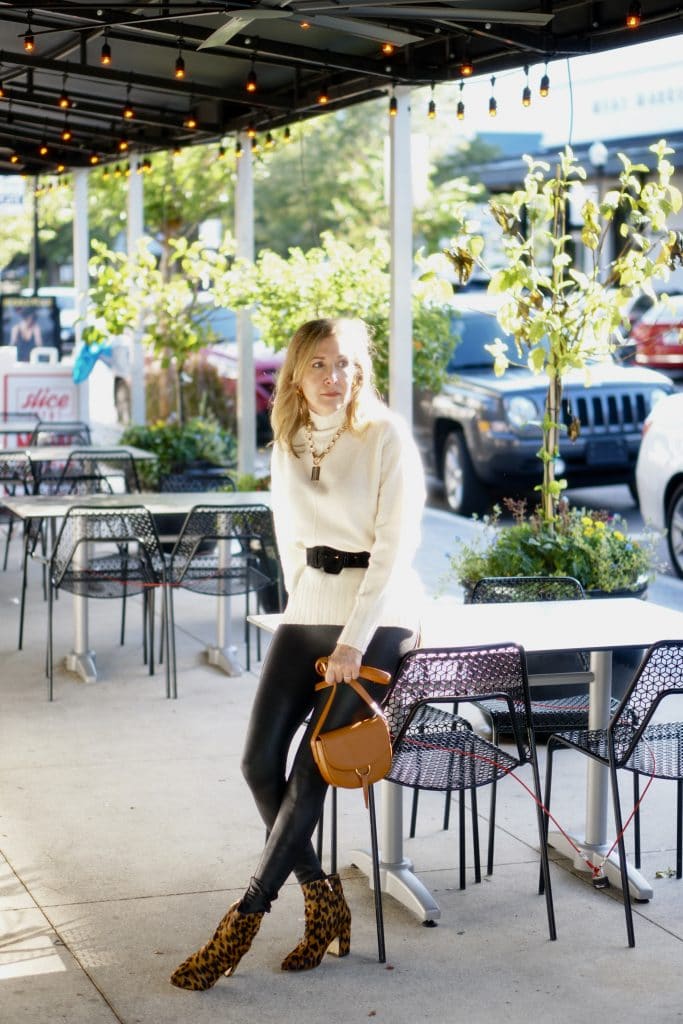 Easy Leggings Look:
I love leggings and a good sweater. This look was taken last fall, I was wearing my Spanx faux leather leggings and a Reiss sweater. At home, you will definitely find me in fuzzy socks, and no jewelry, this is definitely a go-to look for me at home.
The worlds most comfortable trousers: The look above appears pretty "formal" but let me tell you, those trousers by Reiss are amazingly comfortable! They are perfect for one of those days you want to be comfortable yet "presentable".
What to look for in cozy chic tops:
For cozy at home looks, I love a longer tunic style top, preferably a cozy cashmere or non scratchy knit. I like to pair a larger, and softer piece on top and have sleek leggings or trousers on the bottom.
Adding the "third piece" to take your look on to the street. Here is one of my "signature looks" a top and black leggings. When Roger invited me to join him for lunch, I threw on the jacket and booties. While we may not be having many of those "run out to lunch" moments for a while, I like to have a few cute jackets and sweaters to throw on.

As I sign off today, sending love and prayers to you and your family. I'm changing my slogan for a while, to Make Each Day Special. Last week, as we were walking in the park, I realized that we only really have now. I know I've talked about this topic before, many of us have, but it really hit home. We don't know what the future will bring. I make a point of trying to do my best, add a sprinkling of prayer in the mix and move forward. I've been trying not to look too far ahead.
If you watch my Insta Stories, I will be featuring a highlight each day. Some will be simple; my life is always pretty quiet; I want to remember these moments and honor them. #simplepleasures #makingtodayspecial
Sometimes, we need help working our way through various issues in our lives. I have turned to therapy several times along my path to healing. Recently, I learned about Better Help, an online non-emergency mental health program that pairs you with an online therapist. It's completely confidential and because it's all done online you don't have to worry about going in for an appointment. Click HERE for more information. *this is an affiliate link
Shop this post: