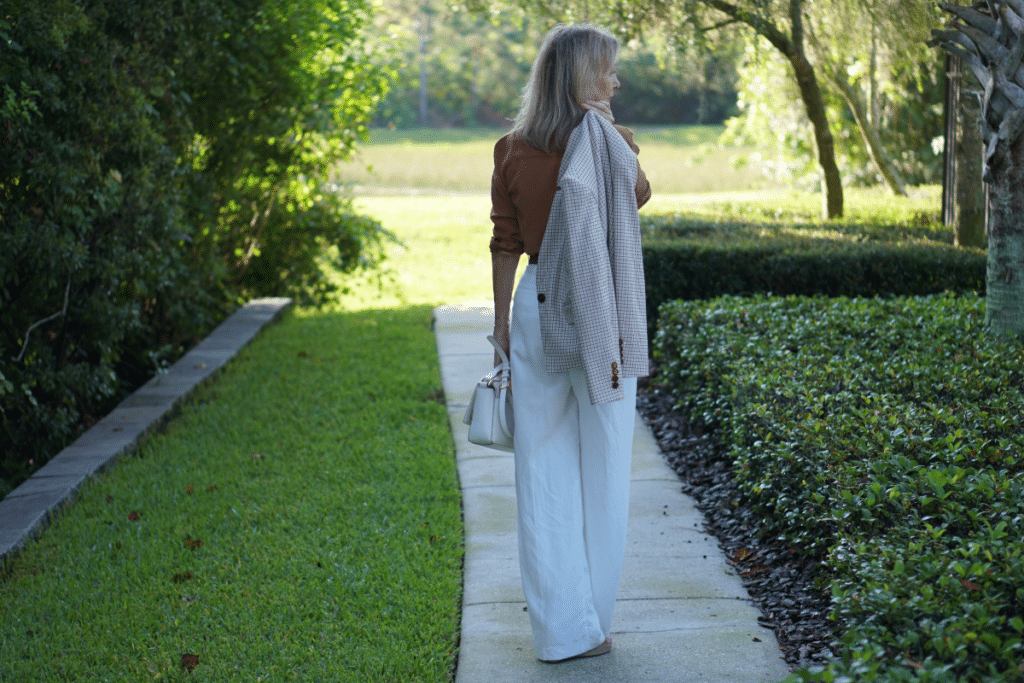 When people move from the North to the South, they are thrilled to shed their winter clothing. Out come the shorts, tank tops and flip flops in favor of Florida transplant/vacation style. We see this not just at the beach, but at church, nice restaurants, and the theater—here in Florida, there is virtually nothing one needs to get "dressed up" for. I've even seen people wear scruffy shorts and t-shirts to formal weddings.
While I get the comfort of this look—I miss seeing people looking nice and making an effort—especially as we are watching a television series set in the 1980 and 1990's when people still "dressed" for work, going out to eat and getting together with friends. During that time, no one would ever consider shorts and a t-shirt an acceptable outfit to wear anywhere but the beach and at BBQs.
As long time readers know, I am that Floridian who loves dressing up, and who especially enjoys dressing for the seasons. I don't wear winter coats, but I do wear light weight layers as the weather cools, adding cute booties, blazers, and cardigans to give those cozy vibes. Yes, I stick out like a sore thumb in the sea of pastels, graphic t's and baggy cargo shorts, but I enjoy dressing up.
In recent years, the weather has stayed warmer longer, and we have been spending more time eating out of doors, making some of my outfits less comfortable at this time of the year. You can imagine that I am really sad about this unfortunate fact!
However, I have come up with a solution—this is for all you southern and southwestern girls who love seasonal dressing—color. Obvious, and simple, color gives can give us just the vibes we are looking for while staying comfortable.
I purchased two pair of linen trousers at the beginning of summer and pared them with tank tops when the thermometer peaked over 90. In fall, I switch out the tank top for a silk blouse in a warm caramel color. This chic look is comfortable in 80 -85 degree weather. Add a blazer and the look is perfect for temperature dips into the 70's.
Near the end of summer, I began looking for sun dresses in darker colors (not easy BTW)—navy, beige, copper and browns. I found this one from CamyNYC—which is perfect for fall dressing in warm climates and it's still available! It is gorgeous on it's own, it is shockingly versatile. It can be layered with a silk blouse or cardigan as the weather cools. For the really cold days, I pop on a pair of booties and a leather jacket for a great "street style" chic look.
And that brings me to the next thing: accessories—shifting from flip flops to a sandal—to a shoe then bootie—well it's an easy, impactful way to shift the look of an outfit—we talk a lot about this in "transitional" dressing—I know. Simple tweaks allow us to look great, stay comfortable and get those wonderful seasonal vibes those of us who grew up in the north still love.