For many of us, what to wear to work is a challenge. Gone are the days of strict dress codes, and clear direction as to what is considered "professional". Today's workplace and how to dress for it has become nuanced. This is a guide to looking chic, professional, and appropriate no matter the work environment.
Figuring out your office's dress code:
Your first step to creating chic work outfits is to understand your office's dress code. Understanding office dress codes can be a bit tricky as lower-level employees tend to dress more casually while those in higher positions tend to dress in a traditional classic style. This can be formal or casual depending on your workplace culture.
For a formal environment, opt for tailored suits, pencil skirts, or structured dresses paired with classy accessories. If your office leans towards the casual side, your wardrobe might include a wider variety of combinations like jeans paired with blouses, or sweater dresses with chic ankle boots. But remember, even with a casual dress code, your outfit should be neat, clean, and respectful. The key is to interpret the dress code in a way that aligns with your personal style while maintaining a professional appearance.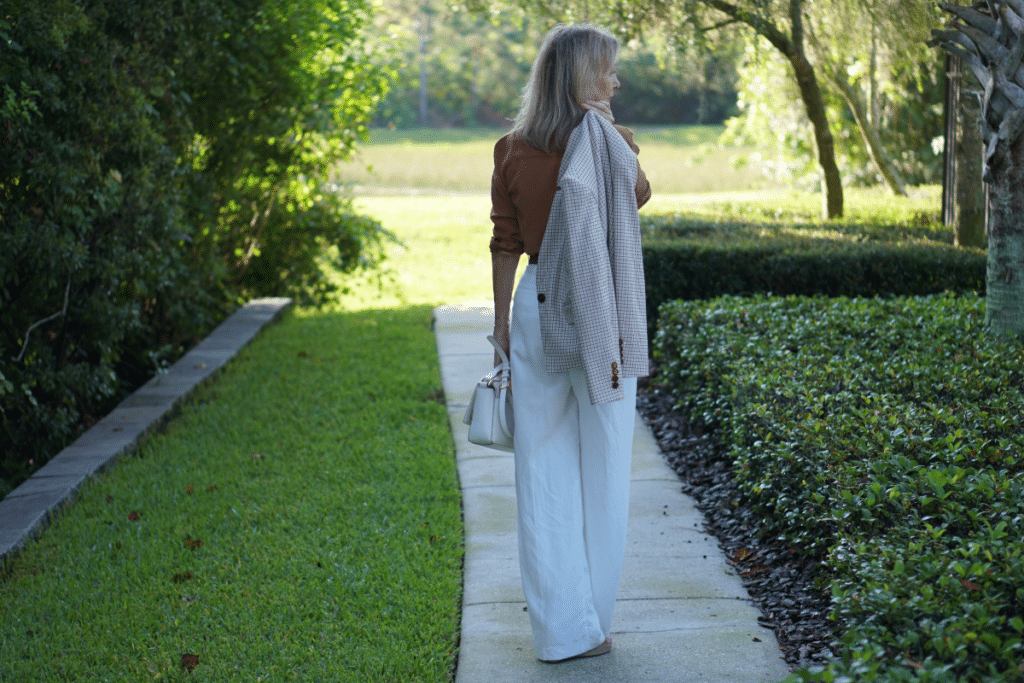 Consider your Personal Style:
Your personal style is a powerful tool in defining your professional image, and it should not be disregarded when curating your work outfits. Whether you gravitate towards casual outfits, bright colors, love chic monochrome, or have a flair for vintage, your style can be incorporated into your work wardrobe effectively. Dressing for work doesn't mean sacrificing your personal style – it's about adapting it to your professional environment. For instance, if you love bold colors, consider incorporating them in a tasteful way such as a vibrant blouse under a tailored blazer or a bold statement necklace with a classic dress. If monochromes are more your style, you could opt for a sleek black pants suit or a crisp white shirt paired with charcoal gray trousers or a skirt. The key is to balance your individuality with the professionalism your office dress code demands.
Dressing for Your Body Type:
Understanding your body type and what looks good on you is an important consideration when creating your work outfits. Remember, the goal is to feel comfortable and confident in your attire, and this can only be achieved when your outfits flatter your body shape.
For example, if you have a pear-shaped body, you might want to balance your proportions by wearing darker colors on the bottom and lighter, attention-grabbing colors on top. A-line skirts and dresses can also be very flattering. If you're apple-shaped, focus on drawing attention to your legs and arms – consider tailored trousers and blouses with interesting sleeve details.
For those with an hourglass figure, highlight your natural curves with fitted dresses or high-waisted trousers and a belt. And if you have a rectangular body shape, creating curves is key – think about adding a belt to accentuate your waist or opt for peplum tops or dresses.
No matter your body type, the most important thing is that you feel comfortable and confident in your work outfits. Your personal style and body type can both be celebrated within the framework of your office's dress code.
Identifying the Colors That Look Best on You:
The colors you choose for your outfits can make a significant impact on your overall look and how you present yourself. They can enhance your complexion, make you look more vibrant, and even affect your mood. Your skin tone plays a crucial role in determining which colors can make you shine brightest. Color can help achieve the perfect balance in our work style.
If you have a warm skin tone, colors like rich earth tones, mustard yellow, warm reds, or olive green can look fantastic on you. On the other hand, if you have a cool skin tone, you might be more suited to colors such as bright blues, emerald greens, purples, or any shade of grey.
For those with a neutral skin tone, you're in luck, as you can easily pull off both cool and warm colors. Your best bet would include muted or dusty colors like soft blues, light peach, or dusty pinks.
The good news is, these are just guidelines, not rules. Don't hesitate to experiment with colors that you love and feel confident in. After all, your work outfits should be a reflection of your personality and individual style.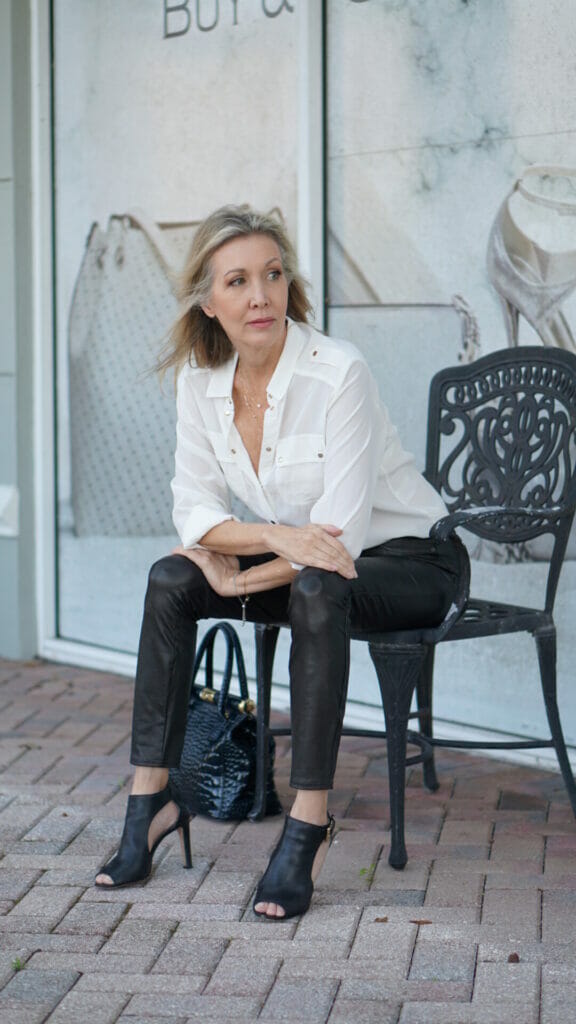 Understanding the Hidden Clues: How to Know if You're Dressing Appropriately
Decoding whether your work outfits align with your office environment can sometimes be challenging. However, there are hidden clues that can serve as indicators of whether you're on the right track or if some adjustments are needed. While we may think that the receptionist in her mini skirts and casual pieces leaves a less than desirable statement, older women who haven't updated their classic wardrobes can be perceived as not being with it anymore. It's important to take the pulse of your company and it's changing culture no matter how long you have been there. Remember, what we wear leaves a lasting impression.
Are your colleagues' outfits similar to yours in terms of formality? If you notice a stark contrast between your attire and that of your coworkers, it might be a sign to reassess your work wardrobe. Also, pay attention to any feedback, both explicit and implicit, from peers or superiors regarding your outfits. Positive comments on your style are a good sign you're in line with the office dress code, while a lack of such feedback might imply a need for changes.
Another important clue lies in your comfort level. If you find yourself frequently adjusting your clothes or feeling self-conscious about your outfits, it's a sign that something might be off. Your work attire should enhance your confidence, not diminish it.
Lastly, consider the events and meetings you attend. Are you often over or under-dressed compared to others at the same function? This might suggest a need to modify your work outfits to better match the occasion.
Remember, dressing appropriately for work is a balance between fitting in with the office dress code, expressing your personal style, and feeling comfortable and confident. Making subtle changes requires minimal effort, but can make a huge difference in how you are perceived in the workplace.
Keeping Your Classic Wardrobe Current:
A classic wardrobe is timeless and can serve as a solid foundation for your work outfits. However, it's imperative to avoid looking dated when opting for classic pieces. To ensure your style appears fresh and updated, here are a few tips:
Firstly, pay attention to contemporary trends and incorporate a few key pieces into your classic wardrobe. Keeping up-to-date with seasonal color trends, for instance, can easily freshen up your look. For example, try an oversized blazer if you normally wear a structured blazer. Try fun prints in lieu of a white button-down shirt.
Secondly, pay attention to the fit. Modern silhouettes often lean towards a more tailored fit. Even classic pieces like suits and blouses should be well-fitted and flattering to your specific body type. Consider a modern midi skirt or a pair of wide-leg pants in place of classic trousers.
Another way to keep your classic wardrobe current is by accessorizing. Do not underestimate the power of accessories. A simple necklace or a stylish handbag can instantly elevate a classic outfit and give it a contemporary touch.
Lastly, your shoes can make or break your outfit. Invest in good-quality, stylish footwear that complements your classic attire and ensures you always look put together.
By carefully curating your classic wardrobe with these tips in mind, you can ensure that your work outfits are always current, stylish, and aligned with both your personal style and your office dress code.
Five Work Outfit Formulas:
The Power Suit: Nothing says business like a well-fitted suit. Choose one in a neutral color like black, navy, or grey. Pair it with a crisp white blouse and finish off the look with a pair of heels and simple, elegant jewelry. This is a simple formula but is tried and true and is especially good for job interviews even in a casual environment.
The Dress and Jacket Combo: A simple, well-cut dress paired with a tailored blazer is a great outfit formula for the office. You can play around with the colors, but make sure the dress and jacket complement each other. Try an interesting jewel tone such as emerald green. Add some heels and you're ready to conquer the day.
The Tailored Trousers and Blouse Ensemble: Opt for a pair of tailored trousers in a neutral color and pair it with a blouse in a pop color or print. This creates a balance between formal and casual work outfits. You can finish off the look with a pair of comfortable ballet flats or ankle boots.
The Pencil Skirt and Sweater Combo: A pencil skirt is a versatile piece that works well in an office setting. Pair it with a cozy sweater in the winter months and a light blouse during the summer. The outfit can be completed with a pair of pumps or stylish flats.
The Jumpsuit Power Look: A carefully chosen jumpsuit can be a chic and easy work outfit. Opt for one in a solid, muted color and make sure it fits well. Pair it with a cardigan or blazer and finish off with some high heels for a stylish, office-ready look. It's important to balance the casualness of the jumpsuit with more formal pieces to maintain an appropriate level of professionalism.
Modifying Your Work Outfit for Summer:
Switch to Lightweight Fabrics: As the temperature rises, choose lighter, breathable fabrics like cotton or linen for your work outfits. These materials will keep you cool and comfortable, even during the warmest days. Avoid polyester or other synthetic materials, as these tend to trap heat.
Opt for Lighter Colors: Lighter-colored clothing can help reflect the sun's rays, keeping you cooler. Whites, pastels, and other light colors are ideal for summer work outfits.
Layer Wisely: While it's hot outside, often offices crank up the air conditioning. A light blazer or cardigan can be a lifesaver when moving between the sweltering outdoors and a chilly office. Choose pieces that can be easily removed or added as needed.
Summer Footwear: Swap your closed-toe shoes for open-toe sandals or peep-toe heels. Not only are these styles more comfortable in warmer weather, but they also add a touch of summer to your work outfits.
Accessorize Appropriately: Use accessories to inject some summer fun into your work outfits. Delicate, minimalist jewelry, a lightweight scarf, or a chic summer bag can all add a summery touch to your work outfits while still maintaining a professional appearance.
Navigating a Casual Workplace While Maintaining a Professional Look :
In the modern working world, more and more workplaces are adopting a casual dress code. However, even in a casual setting, it's important to maintain a level of professionalism in your attire. Here are a few tips to help you strike the right balance:
Quality over Quantity: Even if your workplace has a casual dress code, prioritize the quality of your clothes. Well-made, durable pieces look more professional and last longer than cheap, poorly-constructed garments. Think timeless, quality essentials that can be mixed and matched for endless outfit options.
Avoid Overly Casual Attire: Items such as ripped jeans, flip flops, overly revealing pieces or workout clothes are usually not appropriate, even in a casual office. Always err on the side of being slightly overdressed rather than underdressed.
Play with Colors and Prints: A casual workplace is a great place to express your personal style. Don't be afraid to incorporate colors and prints into your work outfits. Just remember to balance them with neutral pieces to keep your overall look professional.
Smart Layering: Layering can elevate your outfit and make it more polished. For instance, you can layer a blazer over a casual t-shirt and jeans for a professional yet relaxed look.
Accessorize: Use accessories wisely to pull together your look. A statement necklace, a chic handbag, or a pair of stylish glasses can add a trendy touch to your outfit without overdoing it.
Footwear: While casual workplaces often allow more flexibility in footwear, it's best to avoid overly casual options like flip-flops or worn-out sneakers. Opt for stylish flats, loafers, or clean, minimalist sneakers for a comfortable yet professional finish.
Remember, the key to navigating a casual workplace successfully is to balance your personal style with a sense of professionalism. You can enjoy the flexibility of a casual dress code while still presenting yourself in a manner that commands respect and showcases your competence.

Building a Versatile Work Wardrobe: Key Pieces
A versatile work wardrobe is built on a foundation of key pieces that mix well and match effortlessly. These pieces can be combined in numerous ways to create both formal and casual work outfits. Here are some essential items to consider:
A Well-Fitted Blazer: A tailored blazer in a neutral color can instantly elevate any outfit, whether it's paired with a pencil skirt, dress, or even jeans in a more casual office.
Neutral Trousers: A pair of trousers in a neutral shade such as black, navy, or grey can be paired with a variety of tops. Opt for a tailored fit for a sleek, professional appearance.
Pencil Skirt: A pencil skirt is a versatile piece that works with a multitude of tops. Choose one in a neutral color for maximum versatility.
White Button-Down Shirt: A crisp, white button-down shirt is a classic work wardrobe staple. It pairs well with nearly everything and can be dressed up or down.
Versatile Dresses: A couple of well-fitting dresses in solid colors can serve as the base for many different outfits. Opt for styles that are flattering and office-appropriate.
Quality Knitwear: A few quality sweaters can add warmth and style to your office attire during the cooler months. Choose classic cuts and neutral colors for maximum versatility.
Classic Pumps: A pair of classic pumps in black or nude can complement most work outfits. They add an element of sophistication and professionalism to your look.
Smart Flats: For days when comfort is the priority, a pair of smart flats can pair well with skirts, dresses, or trousers.
Quality Handbag: A single, high-quality handbag in a neutral color can enhance your professional image. Look for one that's big enough to carry your daily essentials but still sleek and structured.
Simple, Elegant Jewelry: A few pieces of classic jewelry can complete your office look. Consider a nice pair of stud earrings, a delicate necklace, and a timeless watch.
Remember, these are just the basic building blocks of a work wardrobe. Feel free to add pieces that reflect your personal style, but keep in mind your office dress code and aim for a balance between professional and stylish.
Top Ten Designers for Chic Work Outfits:
Diane von Furstenberg: Known for her iconic wrap dress, Diane von Furstenberg offers sophisticated work attire with a playful twist.
Tory Burch: Tory Burch offers a range of workwear styles, from brilliantly colored blouses to sleek trousers and tailored dresses.
Theory: Theory is recognized for its minimalist aesthetic and exceptional tailoring—perfect for professional settings.
Hugo Boss: Boss offers a wide range of impeccably tailored pieces, including blazers, trousers, and pencil skirts.
Brooks Brothers: For classic, timeless styles, Brooks Brothers is a go-to. Its selection includes tailored suits, crisp button-downs, and polished dresses.
Armani: Armani offers a range of luxurious, well-cut pieces that exude professional elegance.
Ann Taylor: Known for its versatile pieces, Ann Taylor offers a wide range of office-appropriate options, from pantsuits to sheath dresses.
Ralph Lauren: Ralph Lauren is renowned for its preppy, polished styles suitable for many different work environments.
Michael Kors: Michael Kors offers a range of chic, versatile pieces perfect for the office, from tailored dresses to stylish blazers.
J.Crew: J.Crew's workwear line includes a variety of pieces from tailored pants and skirts to cashmere sweaters and silk blouses.
These designers offer a balance of style, quality, and sophistication, making them excellent choices for building a work wardrobe that aligns with your personal style and the office dress code.
Transitioning Your Work Outfit to Happy Hour
It's not uncommon to head directly from the office to happy hour, and with the right planning, you can easily transition your work outfit to suit a more casual setting. Here are a few ideas:
Swap your Blazer for a Leather Jacket: A leather jacket can instantly give your work outfit an edgier, more relaxed feel. This works especially well if you're wearing a feminine dress or a blouse and skirt combo.
Add a Statement Accessory: A bold necklace, a pair of chandelier earrings, or a handbag in a bright color can quickly transform your office look. It's a simple change that makes a big impact.
Change into Heels: If you've been wearing flats or sensible pumps at the office, switch into a pair of stylish heels for happy hour. They'll instantly elevate your outfit and add an element of sophistication.
Add a Pop of Color: A vibrant scarf, a brightly colored clutch, or bold lipstick can make your outfit more festive and suitable for an evening out.
Loosen up: If you're wearing a button-up shirt, consider unbuttoning it a little and rolling up the sleeves for a more relaxed vibe. If you're wearing a pencil skirt, you can swap it for a more comfortable option like a flowing maxi skirt or stylish culottes.
Remember, the key is to strike a balance between your professional work outfits and a relaxed, happy hour-appropriate look. With a little creativity and planning, you can easily make the transition and enjoy your post-work activities in style.
Incorporating Trends into Your Work Wardrobe
It's essential to strike a balance between maintaining a professional image and expressing your personal style at the workplace, and one way to achieve this is by incorporating trends into your work outfits. However, it's important to do this thoughtfully and sparingly. Here's how:
Choose Classic Over Trendy: Trends come and go, but classic pieces are evergreen. When shopping, prioritize timeless items that you can mix and match with various other pieces in your wardrobe. You can then incorporate trendy elements through accessories or smaller pieces.
Focus on Accessories: One of the easiest ways to incorporate trends into your work outfits is through accessories. A trendy handbag, scarf, pair of shoes, or jewelry piece can instantly update your look without overwhelming your professional attire.
Opt for Trendy Prints and Colors: If your office dress code is more casual, you can experiment with trendy prints and colors. For example, you can pair neutral trousers with a blouse in a trendy color or print or add a pop of color with a trendy shoe or bag.
Invest in Quality over Quantity: When it comes to incorporating trends, it's better to have a few high-quality, trendy pieces than a closet full of fast-fashion items that may not last. Invest in pieces from designers known for their quality and craftsmanship.
Stay True to Your Personal Style: Trends should not dictate your wardrobe. Instead, they should complement your personal style. If there's a trend that doesn't resonate with you, feel free to skip it.
Remember, a trendy work wardrobe is not about wearing the latest fad from head to toe. Rather, it's about subtly incorporating elements of these trends to freshen up your work outfits while remaining professional and true to your personal style.
Crafting your work wardrobe is an exciting endeavor that allows you to express your personal style while adhering to your office dress code. By striking the right balance between classic and trendy, formal and casual, you can create a multitude of work outfits that are polished, functional, and uniquely you. Remember, fashion is about individuality, so don't be afraid to experiment and have fun with your work attire. After all, when you dress confidently and feel good in what you're wearing, it reflects positively in your professional life.