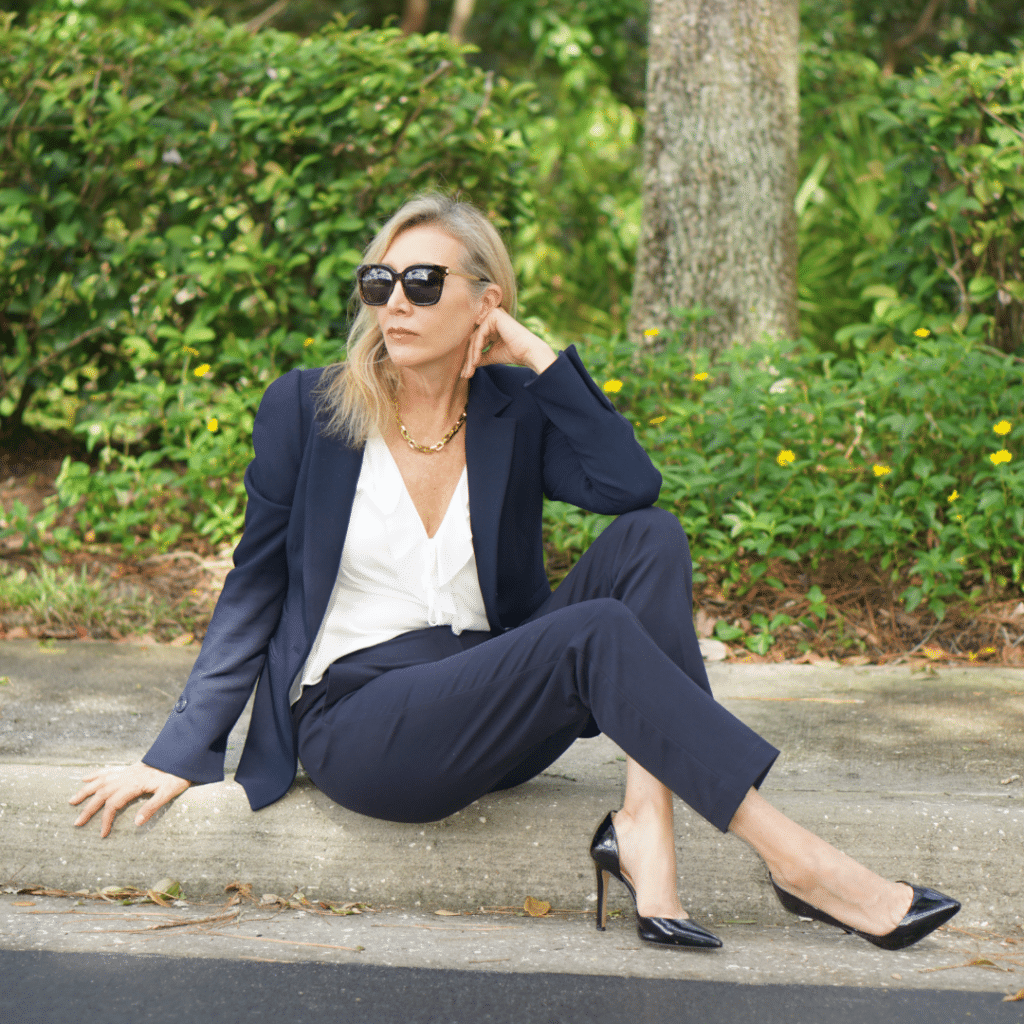 What is Modern Classic Fashion?
Modern Classic Fashion style is a blending of classic style–or classic shapes, (think Ralph Lauren, or Coco Chanel) with modern silhouettes, color palettes and trends to create modern takes on classic items to create your own personal style.  While I am a classic style devotee, I know that the style can easily take on a "dated" or "frumpy" look, especially on mature women.  Yet, when we look to style icons, we can see the timelessness of classic items.
When blended with the modern aesthetic, the modern classic fashion style is polished, and sophisticated and looks spectacular on women of all ages and body types.  The classic lines elongate, and shape a woman's body type, making it a great choice for plus size women too.  
Modern classic style is versatile, and can be styled into a casual chic or an elegant and sophisticated look. In addition, only few key classic pieces are needed to create a modern classic wardrobe.
Some equate classic dressing as "formal" "stuffy" or "boring" but that needn't be the case; classic fashion looks can be comfortable and relaxed as well. I will share some tips, style inspiration and where to shop to put together an amazing modern classic wardrobe.
Don't forget to start with your closet though, you will likely find a treasure trove of modern and or classics you can put together to create stylish looks. I've written about shopping your closet and how to make sure you have a shapable closet—don't for get to check out the post when you are finished reading here.
Why is Modern Classic Style Ideal For Women over 50?
Women over 50 look amazing with the casual elegance of a modern classic wardrobe. Often we have collected beautiful pieces through the years which can be blended into our current wardrobes creating a unique polished style.
The elongated simple lines often a feature of classic style are slimming; and the fabrics drape and wear well. Classic pieces are often a bit pricy, but will be long standing workhorses in your closet.
When it comes to modern pieces, depending on the item, I may seek a lower price point, especially if I don't think I will wear the piece beyond the season. However, I will invest in longer term trend pieces especially when I love or feel inspired by the piece.
Whether you want to cultivate a casual chic look or a sophisticated style, don't be surprised if you already have some perfect pieces in your wardrobe to create the kind of looks to which you aspire.
Finding Style Inspiration
I find great inspiration from Europe — English, French and Italian style specifically and often shop from European retailers to pull together my modern classic look.  Here in the United States, we dress regionally and based on the weather where we live.  If you come from the North East and New York, your classic wardrobe will contain beautiful wools and cashmeres, blazers, as well as classic plaids and tweeds.  One of the things I love about this way of dressing is that you can find inspiration in every age group.
Moving to the south east, you will find brighter colors and light weight fabrics. In the southwest, you will note a flair to the American west, with cowboy boots and big belts. The west coast classic style will have lighter brighter colors but will be more body conscious, while in the mid west, you will find women taking a more modest approach to fashion, and you will see more sweaters and heavy clothing to help cope with cold winters.
While fashion magazines don't feature modern classic style, we can find it on Pinterest and Instagram, as well as checking Google Images to get photos of regional classic style as well as the women who wear it.
Is classic style boring?
Classic style can be boring and can become a uniform, just like all styles.  Fashion is constantly evolving, and ones' style should evolve with the times.   Because pieces in a classic wardrobe are often well made and expensive, women who wear classic clothing can forget to update their outfits season to season.  To keep classic style from being boring, it's a good idea to add trend pieces and focus on adding extra dimension to your outfits. Don't be afraid of self expression when you put your outfits together. Done correctly, your look and investment will stand the test of time.
We should be changing experimenting with our style, which is sometimes forgotten by classic dressers. Updating one's wardrobe can be done by simply adding some modern touches, or adding trend pieces. Simply changing accessories can easily and relatively inexpensively shift an outfit from boring to classic elegance.
How do you get a classic style?
Getting a classic style wardrobe is simple and can easily be built at all price points.  A few key classic pieces blended with modern pieces you already have—or adding a few modern pieces to your classic wardrobe  is enough to create a chic modern classic style.  Look for natural fabrics such as cotton, silk, wool, linen, leathers and suedes.  Look for high quality pieces in solid colors to create this timeless style.
Consider neutral colors including black, navy, charcoal, dark brown, and Burgundy; as well as creams, khakis and beiges. Using a neutral color palette will allow you to mix and match pieces to create your own style. Add a few of your favorite colors or a classic pattern such as stripes or a teddy item to create your own style.
Consider structured handbags, simple gold or silver jewelry, scarves and hats with structured brims. Invest in a few luxury pieces like a Louis Vuiton or Chanel hand bag as these classic items can be a good investment as well as
Key Pieces for A Modern Classic Wardrobe:
Jackets and coats: Blazers, and dusters are elegant classic pieces that add a sophisticated and polished flair to an outfit.
Dark Wash Jeans: Jeans have become a staple of the modern woman's wardrobe, and look great with blazers, dusters. Dark washes and colors are elongating and slimming to the body and give that simple yet elegant vibe to another wise casual outfit.
Cashmere Sweaters:  Whether you go for twin sets, turtle or cashmere pullovers in unusual colors,, beautiful cashmere sweaters are a stunning addition to a modern classic wardrobe. Adding sweaters with modern silhouettes is a great way to update your wardrobe and add a modern twist—look for interesting sleeves, tunic styles and interesting color ways.
Button Down Shirts: Button-down shirts are a wardrobe workhorse. They an be used as swimsuit cover ups, be worn in the board room and everywhere in-between. Having a white, light blue and a striped button down will take you a long way.
Ballet Flats: Frankly, I am not a fan of flat shoes, nor of rounded toe shoes, but ballet flats are a common part of many women's classic wardrobe. I would look for slides with a pointed toe and kitten heel, a Chanel slingback, or an interesting loafer instead. Part of developing your own still is going with what you love, and if you love ballet flats, be sure to add them to your wardrobe.
Classic Pumps: Now pumps are a completely different story in my book. I love a pointed toe pump!
Trousers:  Having nice fitting trousers that can be worn with flat shoes and heels. Trousers are one of those great clothing pieces that can create a stylish look when you don't want to wear blue jeans–or you'd like to wear lighter weight pants on a warmer day. Capri pants cut just above the ankle bone are super elegant in a woman's wardrobe
Pencil Skirts: If you are wearing skirts (I find that while I love them, I don't reach for them at all any more—because I have a much more casual lifestyle) look for beautifully fitting pencil skirts paying attention to the length—not too long, not too short—and the waist line. You would choose a higher waist if you have an hour glass or pear shape, and a lower waist if you have a straight, or inverted triangle shape. Make sure the skirt does't cup your behind or pull across your hips.
Little Black Dress: Here, a dark, simple dress made of beautiful material that fits like a dream is a must even if you only wear dresses a few times a year.  The right dress is an important investment and will last you for years and take you elegantly through all of life's ups and downs.
Trench Coat– A good trench coat is a great addition to a modern classic wardrobe, especially if you live in a moderate climate. Trench coats look great over a pair of skinny jeans or a dress, and can be a chic addition to your wardrobe. Trench coats can be used to create formal elegant outfits as well as casual chic outfits.
A Denim Jacket is another great item to have and can be worn almost year around. I have found that both a blue denim jacket and a white denim jacket-these are key pieces that can be used to create a variety of outfits.
Classic Loafers are a great and comfortable addition to your shoe wardrobe–perhaps add a pair with a thick vibrate sole-loafers look great with a pair of jeans and a long wool topcoat in fall. Mix in a few trendy pieces, and you will have a great casual look.
Modern Classic wardrobes lend themselves well for a capsule wardrobe–I've written several posts about capsule wardrobes so be sure to take a look if you'd like to learn how to combine this style into a capsule. Key things to look for are classic cuts, feminine details, mens wear inspiration, quality fabrics, and pieces that can be great for both formal and casual wear. Luxury brands are a great place to start, but with come careful shopping, you can find beautiful pieces at a fraction of the cost.
Modern Classic Style Setters
For classic style inspiration, we often look to movie stars such as Grace Kelly and Audrey Hepburn, or  to Jacqueline Kennedy and Princess Diana.  However a number of today's young stars and celebrities can provide great inspiration as they interpret classic silhouettes to create polished, sophisticated, modern outfits that look great on women of all ages.
Many pieces in a modern classic wardrobe come from men's fashion. Menswear is often made of quality fabrics and if you think of men's wardrobes, they stay in style for a long time–much to the dismay of the fashion industry.
I put together a list of five women I really love to follow because of their take on modern classic style.
Amal Clooney is one of my favorites-I love her ability to combine clean simple pieces into stunning elegance. There is something indescribable about her style.
Kate Middleton has mastered modern elegant style. Her clothing emphasizes her waist and is tailored to fit her body with perfection.
Gabrielle Union is another who always looks elegant and polished. She proves that curvy figures look amazing in a classic wardrobe.
Olivia Palermo leans more toward modern styling with a nod to classics. She combines modern shapes with interesting colors and textures to create her signature look.
Lucy Liu experiments a bit more that some of the others listed here, she works with patterns combined with clean lines to create her look.
How to put together a modern classic wardrobe
Modern classic style is a blend of old and new; such as styling a gorgeous vintage blazer with modern style blue jeans, or adding classic accessories to a modern silhouette.
Blazer + white shirt + flair jeans Try this look with sneakers for the ultimate modern look.
Classic sundress + white sneakers or combat boots Adding the unexpected in footwear adds a modern street style vibe to your look
Interesting jacket + Cigarette style trousers + square toe slides You will note that creating a modern classic look is often in the details such as shoes and handbags.
Long Line duster + joggers + square toe slides Paring casual joggers with an elegant duster or kimono and throwing in a pair of heels is a great way to create a modern classic look.
Best Places to Shop for Modern Classic Style:
I am sharing a blend of retailers, because it takes a blend of retailers, as well as consignment shops to create a modern classic look that is unique to you.
I've found

Everlane

has some beautifully made basics at a very reasonable cost.  I purchased several cashmere sweaters last fall/winter as well as cotton tanks I wear frequently in the summer.  Their jeans are very popular as well.

Ralph Lauren

is king of modern classic style—it's easy to find beautiful, classic styles.  While the brand offers clothing at several price points, I go for their mid level line (though I do have a beautiful Black Label jacket). There was a point where the Polo shirt became over saturated, and the polo line in particular missed the boat as far as quality was concerned.  I have been looking at the website and found several items I love so a shopping haul may be coming in the near future.

reiss.com

is an English brand I shop very frequently.  It does a beautiful job of interpreting classic styles in a modern way.  I shop dresses, sweaters, and evening wear; and find their quality and fit to be really great.

J.Mclaughlin

is an American company with a classic, preppy vibe that is fun-I've ordered several pieces for the summer, for the first time.  As I have had my eye on this brand for a while, they have a preppy vibe, and I saw a number of great classic pieces made in interesting prints—kind of a southern vibe.

Veronica Beard

is an American design duo that makes stunning jackets and jeans and just about everything in between.  I have purchased several blazers—which have the unique addition of a zip in dickey which expands the look and styling of the blazers.  They are wonderful for people looking to style a classic blazer several ways.  It's one of my go to shops at the beginning of each season, for their modern take on classic pieces-and beautiful quality. 

Brooks Brothers

is where I get my button down shirts.  They have beautifully made classic clothing  whichI love to pair with trendy items from my closet—for my style aesthetic wearing Brooks Brothers head to toe has a corporate vibe, but when a key piece is  worn with a pair of great jeans,  the look and quality can't be beat.  Brooks Brothers has great blazers. cashmere and classic style accessories.  It's well worth a look, especially when they offer a sale.

Zara

is a great place to grab trend items to spice up your otherwise classic outfits.  Zara often plays with both classic and modern styles, bold prints and interesting textures.  The price point is slightly lower—and is a great way to play with trends.
Mango is fairly inexpensive and has some interesting silhouettes that blend beautifully with classic style items.
J.Crew is a good place to look for classic styles as well.
Modern classic style offers lots of room for creativity, and the opportunity to continue to explore modern fashion without slavishly following trends.  It encourages finding many ways to style beautiful well made long term investment pieces rather than consumer driven fast fashion.  
Learning to dress in this style can work well with minimalism, though it needn't-I don't consider myself to be a minimalist, but I do consider the items I add to my wardrobe. I want to ensure the items I choose will go with what I already have, and will be able to go the long haul—many of the pieces in my wardrobe have been cherished and loved for many years.
I hope this will inspire you to go through your wardrobe and try different combinations, and to keep your wardrobe fun by adding a few new pieces each season to keep your wardrobe interesting and current.