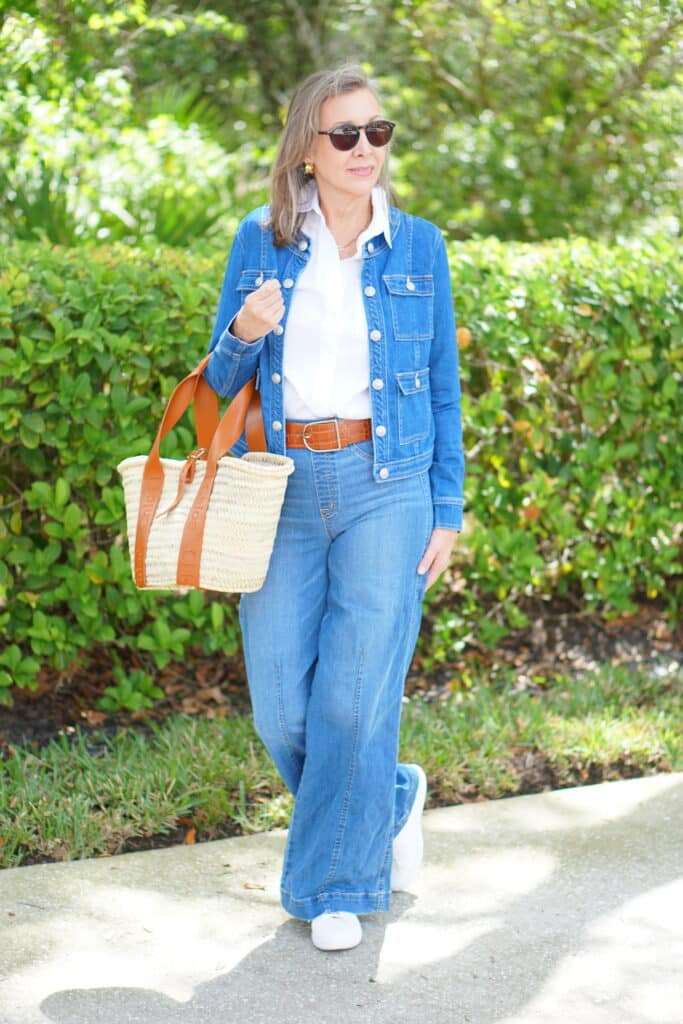 Styling wide-leg pants
It hasn't been hard for me to say goodbye to skinny jeans, as soon as I saw wide-leg pants and wide leg jeans beginning to trend in 2021, I purchased two pairs and have been enjoying styling them ever since. I chose high-quality linen that works well, especially in Florida's heat and humidity. I love the way these trousers elongate my legs, and how they create that effortless elegance I adore. Wide-leg pants are sometimes called palazzo pants, or trousers depending on the details–a trouser will often have belt loops, slash side pockets, and may have pleats at the waist. Palazzo pants may be gathered at the waist and sometimes have an elastic waistband–the legs can be wide enough to look like a skirt. No matter what you call them, they are a great option for warmer weather, and once you understand how they should look, it's not hard to find a perfect fit. Plus, they are a great option for an older woman, and couldn't be happier that they are back in the fashion trends at least for now. I plan to channel my inner Katharine Hepburn and get as much wear out of them as I can.
Mother Hustler Denim Jeans Veronica Beard Lilli Platform Sandal, Tom Ford Soleil De Feu, J. Crew Odette Sweater
What to look for in this season's wide-leg trousers?
Look for lightweight fabric like cotton, linen, or raw silk for spring and summer. Like me, you might want to try different colors when considering wide-leg trousers I was surprised at how comfortable I was in my linen pants even in high humidity. I would veer away from rayon or synthetic fabrics, as they tend to trap body heat. If you are looking for a more tailored, elegant look, go for high-waisted styles with pleats and belt loops, as adding a belt helps pull the look together for a modern look. Neutrals and denim are top of the list when looking for wide-leg pants. The best wide-leg jeans for older women are the Spanx wide-leg jeans–I recently purchased a pair and love them. While you are shopping, try the Spanx flare jeans as well, both are winners if you are looking to create the look of long legs at good prices.
The combination of the high rise and wide leg trousers is great for both a dressy and casual look. Plus the relaxed fit is super comfortable.
Panier Straight Leg Pants, White Linen Blazer, Veronica Beary Champlain Loafer, Scarf Sicily Satchel, Tom Ford Eye Quad
Which figure types look best in wide-leg pants?
Wide-leg pants look great on many different body types, but they are particularly flattering on women who have an hourglass or pear-shaped figure. This pants style can balance out a curvy lower half and create a long lean line. Women with a straight or athletic build can also wear wide-leg pants but may want to choose trousers with a high waist and add a belt to create the illusion of curves. Petite women may want to avoid wide-leg pants that are too voluminous and may want to opt for a more fitted style. Trying on a few different cuts and styles will help you zero in on the right pair for your body type and body shape. If you have a pear shape, you will want to look for tops that give the illusion of a broad shoulder to help balance the look, as well as looking for a longer length. Shorter women may want to consider a cropped length that elongates the leg of a petite woman.
How long should the pants be?
This season's wide-leg pants should rest on the top of the shoe and be about a half inch above the heel of the shoe this makes the leg look longer, especially when worn with heels or platform shoes. Cropped wide-leg pants look great on shorter women.
Alice and Olivia Cargo Pants: Veronica Beard Hula Suede Sandal, Le Panier Seau Straw Bag J.Crew puff sleeve top in blue, Dior Gift with $30 purchase
What are the best shoes to wear with wide-leg pants?
The best shoes to wear with wide-leg pants for women can vary depending on the length of the pants, the occasion, and your personal style. Here are some general guidelines to follow:
High heels: Wide-leg pants look great with high heels, especially if you want to create a longer, leaner look. Pumps, sandals, and wedges are all great options.
Platform shoes: Platform shoes can also work well with wide-leg pants, adding extra height while still being comfortable. You can go for a chunky or sleek style depending on your preference.
Flats: Flat shoes can work well with wide-leg pants if you are looking for a more comfortable option. Loafers, ballet flats, and oxfords are all great choices. Flat sandals are also an easy way to create a casual chic look, especially when paired with a white tee, or a simple white shirt.
Sneakers: Wide-leg pants can also be paired with sneakers for a casual, relaxed look. You can choose white sneakers or opt for a bold-colored pair to add some personality to your outfit.
Tops to wear with wide-leg pants:
Tom Ford Mini Tara Crossbody Bag, J. Crew blue and white striped shirt, Veronica Beard Lilli Platform Sandal
Max Mara Wide Leg Pants in White
J. Crew puff sleeve henley, Tory Burch Black Jelly Slides, J. Crew V-Neck Cardigan, Theory Black Wide Leg Pants
I like to style a fitted top with my wide-leg pants—I add chunky jewelry and a pair of oversized sunglasses to create a very chic look.
I also like adding a button-down shirt—this one is in silk with utility-style pockets and epaulets for a different look. As an older woman, I am not keen on crop tops, but a shorter top or jacket helps elongate the leg and look great with a wider leg.
Both blazers and cropped jackets look great with wide-leg pants. A cropped jacket elongates the leg, blazers create elegance and structure to your look. Consider a head-to-toe jacket and trousers look for a work or chic date night look. We are seeing the denim jacket making a comeback, so be sure to try a look with a denim jacket–as everyone has one tucked away in their closets.
One of my favorite ways to style my wide-legged pants is to add a belt to accentuate the waist and further accentuate my hourglass shape. The long lines create a chic and elegant look that enhances my figure in all the right places.
Wide-leg trousers or jeans are a great option for your wardrobe in 2023 and I hope this post has inspired you to venture into the world of wide-leg pants!