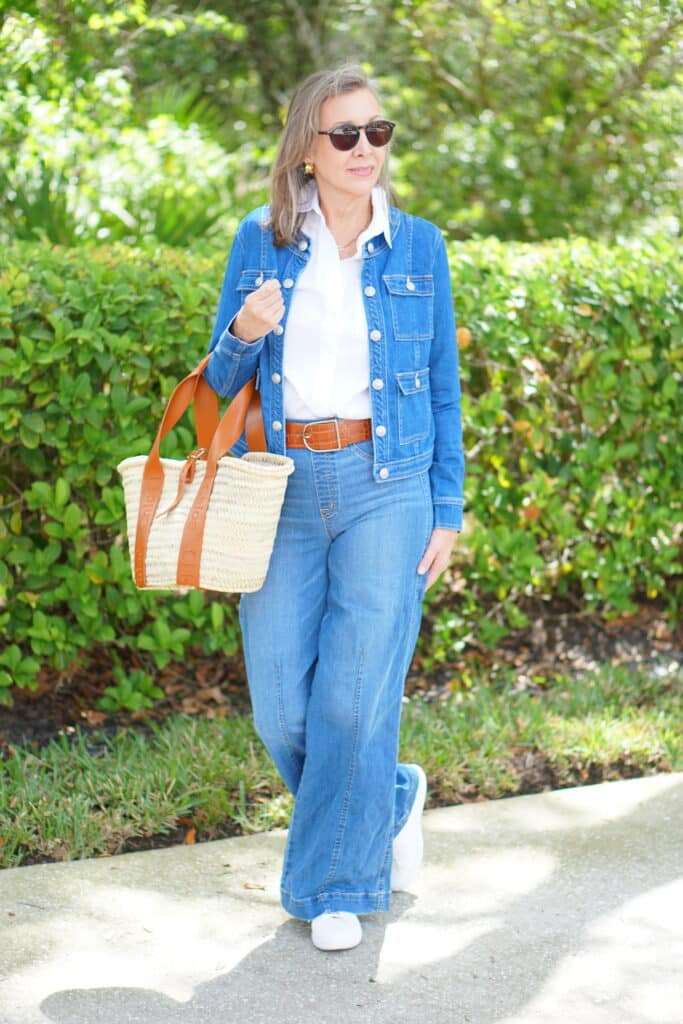 Whether you're planning an exciting adventure abroad, visiting family in another state, or taking a short staycation nearby – there is one key factor that will make all the difference: having the right pieces in your fall travel capsule wardrobe.
With so many fashion trends (as well as lifestyle/comfort) continually changing, it can be difficult to know what exactly should be included. Stay ahead of the fashion curve this fall 2023 with our guide on how to pack the perfect capsule wardrobe before hitting the road.
Let us show you how denim skirts over 50 are completely versatile must-haves that can help create endless fashionable look combinations fit for any occasion whether casual or dressy. Before starting, make sure you take a look at the weather report, make a list of the activities you will be doing, and create a packing list. As you put your list together try on the pieces and create different looks so you can take fewer clothes.
Be sure to consider your shoes so that you don't need to take as many pairs of shoes. If you are at a loss for outfit inspiration, check out social media for some great options.
Choose five basic pieces for your fall capsule wardrobe
Fall weather can be unpredictable, so it's important to have a versatile wardrobe to handle any temperature or occasion. When creating a capsule wardrobe for fall, start with five basic pieces in neutral colors that can easily mix and match to create multiple outfits. The jacket: for some, a leather jacket adds a bit of edge to any look and pairs perfectly with jeans or dresses.
Others will want a classic trench coat is the perfect layering piece for chilly mornings and evenings. A dress, a pair of jeans, and button down shirt, or merino wool t-shirt, and comfortable shoes or boots. A roomy tote bag is a must-have accessory for carrying all your essentials.
With these basic pieces, you'll be ready for whatever fall has in store and you will have the elements of a perfect travel capsule wardrobe. With a few core staples, you will have many outfit options. Not having enough or the right closet essentials is the biggest challenge for women who like to travel, especially in the cooler temperatures.
a. A Classic Trench Coat
A classic trench coat is a timeless piece that belongs in every capsule travel wardrobe. Its classic style never goes out of fashion, making it a smart investment for any wardrobe. The best part about a trench coat is that it looks amazing on any body type.
Whether you are tall or short, skinny or curvy, a perfectly fitted trench coat will accentuate your body in all the right places. Not only is it a fashion staple, but it serves a practical purpose, keeping you dry in rainy weather. Upgrade your wardrobe with a classic trench coat and make a statement wherever you go.
b. A pair of Comfortable Pants or Jeans
Finding the perfect pair of pants or jeans can be a daunting task. We all want comfort, style, and versatility in our denim choices. Luckily, there are options out there for everyone.
Skinny jeans are great for a sleek, modern look paired with a blouse or tunic top. if you are looking to be super current, go for a straight leg or wide leg jean. For those looking for a classic look, boot cut jeans or straight leg jeans are the perfect choice. And for those who love a little extra movement and flow, wide leg jeans are a great option.
But let's not forget about the edginess that comes with leather pants or the elegance of a good pair of black trousers if you don't like jeans. With so many choices, it's easy to find a pair of comfortable jeans that fit our personal style and give us the confidence to conquer the day. Putting some effort into finding a comfortable pair of pants or jeans is important for a fall and winter capsule wardrobe.
c. A Lightweight Dress
When it comes to effortless style, a lightweight dress is just what you need in your wardrobe. A slip dress, for example, can be dressed up or down depending on the occasion. Paired with strappy heels and a clutch, it's perfect for a night out with your girlfriends.
On the other hand, layering a long cardigan dress over it makes for a comfortable yet chic look for running errands or a casual lunch date. It's always good to have a little black dress waiting in the wings for an unexpected happy hour, or for evening wear. Investing in a versatile dress is always a good idea, especially since it can be worn year-round with the right accessories.
d. A Versatile Top
Having a versatile top is essential for any wardrobe, and a white t-shirt is a great place to start. But why stop there when you can have options? A turtleneck sweater is perfect for chilly days, while a white button-down shirt can be dressed up or down for any occasion.
The best part? These tops can all be worn while traveling, making them a practical addition to your suitcase. Whether you're exploring a new city or relaxing on the beach, having a versatile top means you'll always look and feel your best. Plus, they are perfect for layering
e. An Accessorizing Scarf
Accessorizing with a scarf is the perfect way to add your own style to any outfit. A plain outfit can be transformed with just a pop of color or a bold pattern. Experiment and play around with different ways to wear your scarf, whether you go for a classic looped style or a more modern knot.
You'll be amazed at how one simple accessory can completely change the look of your outfit. Plus, one scarf can be worn with so many different outfits, making it a versatile addition to any wardrobe. Don't be afraid to mix and match patterns and colors to create your own unique style. A scarf is the perfect finishing touch to any outfit.
Mix and Match Pieces to Create Multiple Looks
Expressing your own style while owning fewer clothing items has never been easier thanks to mix and match pieces. A black blazer, for example, can be dressed up with a blouse and skirt for a professional look or paired with a graphic tee and jeans for a casual vibe.
Add in a few versatile accessories and you have endless outfit possibilities. By creating multiple looks from just a few items, you not only save money but also reduce your environmental impact. So let's get creative and start mixing and matching to create a wardrobe that truly reflects our unique style.
Layer and add texture with statement pieces, like modern jewelry or an eye-catching belt
When it comes to elevating your outfit, statement pieces can make all the difference. For a look that's both layered and textured, consider incorporating some modern jewelry or an eye-catching belt. These accessories can instantly add depth and interest to an otherwise simple outfit.
A chunky necklace or bold cuff bracelet can complement a basic top or dress, while a statement belt can cinch in a flowy skirt or pants and give your waist some definition. Don't be afraid to mix and match different textures, colors, and shapes to create a unique look that reflects your personal style. With the right statement pieces, you can take any outfit from ordinary to extraordinary!
Incorporate denim for a timeless look that will stand the test of time
Denim has been a fashion staple for decades, and there's no doubt that it will continue to be just as relevant for years to come. Incorporating denim into your wardrobe is a fashion decision that's always a safe bet – not only does it look great, but it's also durable, comfortable, and versatile.
Whether you're sporting a classic pair of jeans or experimenting with a denim jacket, vest, or dress, denim is a fabric that's capable of elevating any outfit to the next level. So if you're looking for a timeless, stylish, and reliable option for your fashion arsenal, denim is a material that you should definitely consider incorporating.
Invest in quality staples that will last many seasons to come
When it comes to building a wardrobe that will stand the test of time, it's all about investing in quality staples. While it may be tempting to opt for fast fashion pieces that are trendy and inexpensive, these items often don't last past a few wears. That's why it's important to focus on purchasing timeless pieces made from durable materials.
Think classic denim jeans, a well-tailored blazer, a versatile trench coat, and a high-quality leather handbag. By choosing carefully crafted items that you truly love, you'll not only look and feel your best, but you'll also be doing your part to reduce wasteful consumption and support sustainable fashion practices.
Keep comfort in mind; pack items that you can move around easily in while traveling
Traveling can be an exciting adventure, but it can also be a little stressful if you're not prepared. When it comes to packing, it's important to keep comfort in mind. You don't want to be weighed down by heavy bags or feel restricted in clothing that doesn't allow you to move around easily.
Instead, choose items that are both comfortable and practical for your journey. Loose-fitting clothing and shoes that are easy to slip on and off can make all the difference when you're on the go. With a little bit of planning and careful packing, you can ensure that your trip is both enjoyable and comfortable.
Taking the time to invest in quality, timeless pieces for your fall capsule wardrobe has never been a better choice. By focusing on comfort and wearing classic items such as a trench coat, jeans, dress, top, and scarf – you can mix and match to create exciting looks that transition seamlessly from day to night.