Updated 4/21/2022
I'm past sixty now. I wonder, should women still wear shorts after 50?
I don't know if this is a thing for you or not, but I find myself asking questions like: Should I still wear shorts? If I do wear shorts, how should I style them? Here in Florida, I see a lot of shorts, and, while most older women wear them here. Unfortunately, often the look is less than flattering. The word frumpy comes to mind…
Perhaps the  question is not "Should I still wear shorts over 50?" But "How can I avoid looking frumpy in shorts?"  or "How to look stylish in shorts?"
I am, for the record, a believer we should wear what we like but I want to look good, so there's that.  You won't hear me saying women over 50 shouldn't wear shorts.  Besides, it's hot in the summer and many people find wearing shorts comfortable. 
I personally don't find shorts cool or comfortable, so I don't wear them often. It is difficult to find shorts that are both flattering and comfortable, but I am taking one for the team here in an effort to elevate shorts-wearing for all of us.  I even bought a new pair to style for this post and have been wearing them around to see how it feels.  (I usually wear dresses in the summer).
The main concern for middle-aged women is finding great-looking shorts, styling them in a way that has that casual chic vibe-or an elegant vibe-or maybe a boho vibe-but, not that ill-fitted, matching Geranimals kind of look that is designed to cover everything.  This type of look screams "matronly" and "frumpy" which often leads us to question whether women should still wear shorts after 50.
I see lots of shorts "outfits" which consist of shorts and a matching oversized T-shirt, often with a large appliqué matching the pattern in the shorts. Another common look is an "artistic" tunic over shorts, peddle pushers or pants.  Along with looking contrived, they often fit poorly.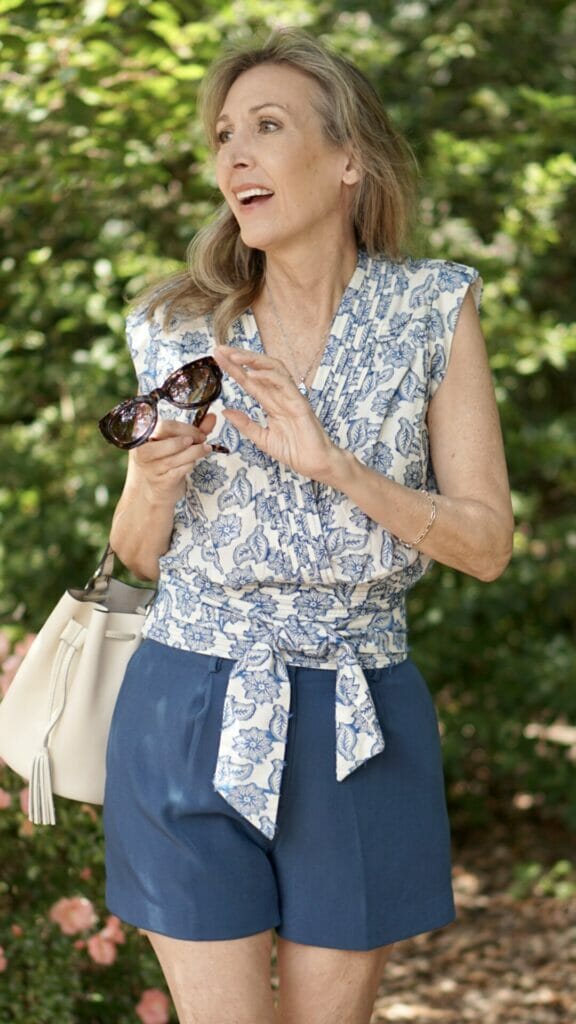 Many women buy these types of outfits because mix-and-match sets are practical and don't require a lot of thought.  You just buy the outfit already styled—only, hundreds of women are wearing the exact same outfit and, the look doesn't have your personality anywhere in it.  It's as if someone took the ugliest clothing and said, "This is what older women should wear.  It covers most "sins" and if we tell them it's appropriate they will wear it."
Cargo shorts are another difficult-to-wear look I see often.  Polyester and elastic waistbands are also very popular in segments of the over-50 age group.  I see shorts that don't fit well, sometimes too tight, too long, ( and occasionally too short) but most of the time older women wear their shorts too loose.  Occasionally, I see women wearing shorts that are way too short, and too low on the hips, but that's much rarer in the 55-60+ community.
The final piece that ruins almost all shorts outfits for women 50 and over is the footwear. Those orthopedic sandals that are ever so comfortable but do nothing for the look of our outfits or how our legs look—well, we definitely have to work on this shoe thing. I know they are comfortable, but I think with a little effort, we can find fashionable alternatives that are comfortable too.
In any event, I am going to share all you need to know about shorts, (for women over 50) so you can choose them confidently and enjoy wearing them in the hot months, especially July and August when it is searing hot. We don't want you sweating it out in long pants all season. There comes a point when even linen pants are hot in the summer. And who knows, maybe you'll love wearing shorts—maybe you already do.
How to look good in shorts over 60:
Be mindful of the fabric you choose.  100 percent cotton, linen or chino shorts look more stylish and are cooler than synthetic fabrics.  Denim shorts are a staple in many women's wardrobes, but they can be hot.  If you love a casual look, they are a good choice.  (A little further down, I am sharing a few styling ideas, so if you are unsure how to style your shorts, I got you.)
Pay attention to your backside.  Take a look at yourself from behind and make sure your shorts are neither too baggy nor tight in the back.  It's also a good idea to sit down to make shorts comfortable while sitting.
Finding the perfect length can be challenging; some years longer shorts are in fashion, and other years shorter shorts are in.  Get to know the length that flatters your leg and body type the best.  It will save time when shopping—you will be able to rule out shorts you know don't look good on you.  
Avoid shorts that go down to your knees.  On most people, this shortens the look of the leg and can make the hip and thigh look much larger.  Long shorts are often tempting for women over 60; we are worried about whether our legs still look toned, or we may have spider veins or scars.  Keep reading, I have some tips for that too.  
Consider your body type when choosing shorts.  Throughout these tips, I refer to body type so you will have an idea of which types of shorts you are most likely to look good in and love.  I would recommend trying on a variety of shorts styles to find the styles that look best on you.  It's time-consuming but worth it.
Take note of the silhouette (Yes, shorts have a silhouette!).  A-line shorts tend to be very flattering on many figures and are "in" right now.  Camp shorts tend to flatter most figure types, but Bermuda shorts can be a bit trickier as are really short shorts.
Are you a high-rise, mid-rise, or low-rise girl?  Curvy, pear, and hourglass figure types look good in a high rise, inverted triangle, apple, and straight figure types look better with mid-rise and lower.
Take the time to really look at yourself in the mirror, or better yet, have someone take pictures of your front and back.  I have learned so much about what looks good on me from seeing photos.  Plus, as we get older, our bodies change, and clothes don't always fit the same as they did when we were younger, even if we are wearing the same size.
Avoid baggy shorts—it's a temptation I know, but for most people baggy shorts, and cargo shorts only add weight to your silhouette.
Women over 50 are sometimes worried about spider veins, and that's why we don't wear shorts.   A little leg makeup can often blur or soften the look of the veins.  While we are on the subject of leg problems, another concern is cellulite.  Lotions of caffeine can reduce the look of cellulite temporarily.  Lymphatic massage can, over time improve cellulite as can dry brushing your legs before your daily shower.  I recommend adding these modalities to your routine—but talk to your healthcare provider first.
Make sure the pockets don't pull or gap at your hips, and make sure the zipper lays flat. Make sure that the zipper isn't too short, (you don't want camel toe in your shorts, right?) and, finally, make sure the waist doesn't roll, nor do the shorts pull up between your legs when you walk. That's a lot, but fit is so very important.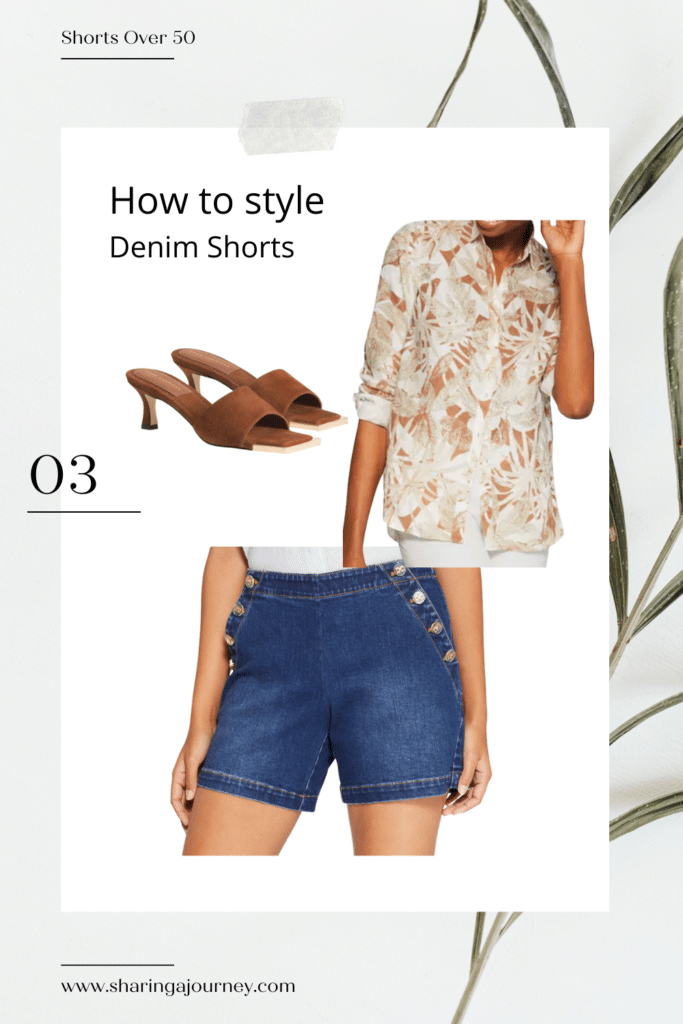 ---
Shop this look: Dominica Shorts Britt Shirt in Palm Print and Good American Square toe Mules
Putting together an "elevated" shorts outfit:
Button-down shirts with shorts always look classy, as does a classic white T-shirt or a good tank shirt. 
Be mindful of your footwear; wearing a cute wedge or clean white trainers is a great look as do stylish sandals. Cowboy boots and booties can also be cute, but be sure to stand back to see the proportions of your look. Make sure, if you wear boots with your shorts, that they flatter your leg and the boots don't make your legs look shorter.
Add a linen blazer to create a classy vibe.
A touch of jewelry such as a simple gold chain and hoop earrings or a nice belt finishes the outfit.  Don't forget a good straw bag.
Look for the "third piece" a denim jacket, a cute cardigan, or a pretty kimono can add that bit of flair that takes your look to the next level.  When we look amazing in shorts, there is no question that women should still wear shorts after 50.
Here's what to avoid:
Polyester shorts," tunic tops with "dramatic flair" such as bold prints, a knot in the middle, or boxy tops that add width to your hip area or create a rectangle. Avoid anything that falls at, or draws attention to the widest points of your body.
Unflattering, orthopedic-style footwear.
Loose, poor fit, especially in the back.
Short shorts—Shorts that are too short, and in general outfits that "show too much" (If you wear a shorter pair of shorts wear a more modest top, and vice versa.
If you wear sandals make sure your toenails are trimmed and shaped.
Add a little self-tanner,  leg makeup, or moisturizer to your legs to give a healthy sheen to your skin. It will also help your legs look toned.
Avoid large tunics over shorts.
Avoid matched sets—they are very dated-looking.  Unfortunately, stores catering to mature audiences often sell matched sets, and we often buy them because they are "easy" already styled, and because we figure that if we are buying new clothes, they are likely "on trend".  Trust me, in the mature market this is not always true.
When not to wear shorts:
Florida is a very casual place to live, and we often see shorts worn to formal restaurants, churches, the theater, and even to special events like weddings.  Call me old school, but I'm a believer in dressing for special events. Unless you have put together a very chic shorts outfit-like linen shorts with a beautiful blazer, shorts should be worn to casual events only.  If you are a person who doesn't like to wear dresses, a nice pair of linen or cotton trousers are best for more formal occasions, even here in Florida. 
Styling Shorts By Style
You may have gathered that I'm not a fan of cargo shorts— they add extra bulk where we least need it.  That said, we have seen cargo shorts outfits that look really good, so if you are wondering how some cargo shorts outfits look better than others, remember the proportions rule.
Wear a more body-conscious top with a fuller fit on the bottom or vice versa.  This is a great way to style cargo shorts and look trim and stylish. Look for slim "cargo pockets" preferably without pleats or oversized flaps, and add a nicely tailored otherwise smooth cut-in for your top, consider a bodysuit or a slim-fit t-shirt on top.   Avoid having bulk on both the top and bottom of your outfit.
Denim shorts are a staple of young women's wardrobes, but sometimes as we head into middle age, we may not feel comfortable or not be sure of how to style them.  First, avoid the temptation to wear short shorts.  You may also consider avoiding "cut-off" or distressed style jean shorts and go for a more tailored style instead.  This will give you a more elegant and elevated look. 
If you like casual chic and want to wear the cutoff style, perhaps go for a 5" inseam and avoid too much distressing.  To really elevate the denim shorts look, consider wearing a lightweight cardigan or a kimono.  These types of looks are a great way to enjoy wearing denim while still keeping your look more refined.
Chino shorts and stretch cotton crew shorts are a great preppy style,—they are a great choice for older women who want a more elevated look.  Consider wearing a long-sleeve button-down with the sleeves rolled up to three-quarters length or an all-American polo-style shirt. Both are such classy looks.
I also think linen shorts in the trouser style are super elegant, especially when worn with a blazer and a simple T-shirt underneath.  Higher waist shorts are a great choice for this look, especially when you find the perfect length for your leg. 
If your linen shorts are pleated or gathered, be sure to wear a tighter and simple top-a-body suit is a great choice because it stays in place and gives that streamlined look that is so chic.  
Speaking of bodysuits, they are a great choice for cargo shorts and other more voluminous styles of pants.
Women over 50 often go for longer Bermuda shorts, which as stated above, can be really tricky to style.  If they are a straight cut you will want to go with more volume in your top, consider an off-the-shoulder top or a peplum top—both are great choices to offset the straight line of the shorts. 
If they are fuller in the leg, go for a bodysuit or smooth trim top.  Also, be sure to play with the length of your Bermudas, and see if they would look better taken up a little above the knee.
---
Shop this look: Cargo Shorts Orange Shirt and Kate Spade Tahiti Espadrille Sandals
---
What shoes should you wear with shorts?
Cole Haan Grand Pro
White sneakers are still having a moment. I love these because they have a little extra detail and will look great with all types of shorts.
Cole Haan Cloudfeet
Who doesn't love a comfortable slide? This pair has a lot of styles and is super comfortable. I love them.
Castanier Wedges
You may notice I rarely wear flats. These wedges are right up my street, I wear them with dresses and shorts for a more polished look.
Day-to-day, cute sandals, espadrilles, low heal, or flat slides are great choices.  Fresh white sneakers are a great choice as well.  Delicate feminine sandals can elevate the look, while more rustic-looking flats and sneakers send casual vibes.  Orthopedic-style sandals should be avoided; yes they are comfortable, but they scream "frumpy" and we don't want that.  
I always like to take the activities of the day and my general mood into account when choosing which direction I want to take my outfit and use my shoes, handbag, and sunglasses to finish off the look. Adding a hat is always a good idea too.
I love adding a few simple accessories to elevate my shorts outfits.  Summer-weight leather totes, straw bags, or a cute crossbody bag are great ways to add a stylish flair to your shorts outfit.  Avoid nylon travel-style bags—they may be practical, but they scream tourist or "old person".  I'm not sure where they came from, but it seems like many women carry them and they just don't look good.
Jewelry trends come and go, but I like to keep things light in the summer. I will often focus on a great pair of earrings and a light chain at the neck or a couple of great bangle bracelets. And, as mentioned above, I love wearing hats to finish off the look if I am going to be outside.
Take some time and shop your closet, try on some fresh combinations with what you have.
See what your current shorts would look like if they were tailored or shortened a little.  Look for style inspiration from Pinterest and Instagram. 
Don't be afraid to try copying some of the looks to see how they work on your body type.  Try on a variety of styles and sizes of shorts to find the style and fit that is perfect for you.  Once you know what works, you can begin creating your own unique style rather than going the matched set route.  
If you are working with matched sets, why not try mixing them up with other pieces in your closet? Choose a button-down and add a camisole instead of wearing the matching shirt.
I've mentioned before that having my photo taken front and back has taught me a lot about what works for me style-wise.  It has been a real eye-opener too.  There have been many books I thought really worked for me, only to see, after looking at photos, that it wasn't as cute as I thought.  
I also use the photos to inspire different ideas for outfits.  So if you can get some photos of you wearing your favorite shorts outfits, it will really help with your outfit styling.
Getting back to the beginning:  To answer the question, "Should I still wear shorts, especially over 50 or 60?"  I say, a resounding yes, definitely enjoy wearing shorts. 
Take a bit of time to style some shorts outfits so you look casual chic, boho, or elegant— anything but frumpy.  
Play around and try different short styles, shoes, and tops to create a stylish look.  Fashion should be an expression of who we are, it should be comfortable and fun.   We are still the same people we've always been, we just have a little more life experience and a few wrinkles. 
It doesn't mean that we should be wearing "old" peculiar styles someone who probably isn't old thinks is a good idea.
I've put together some cute short ideas for you to try, but don't forget to try Pinterest and Instagram for inspiration.
---