For many women over 50, casual date nights can be some of the most enjoyable and relaxed times spent with a partner or potential partner. There are no rules about what to wear, and definitely no dress code, but there are some great options for a perfect date night outfit that will help you look and feel your best. Whether it's a casual first date, and you want to make a good first impression (first impressions are everything), or you've been together forever and enjoy a chic casual look, we have lots of cute date night outfits for you.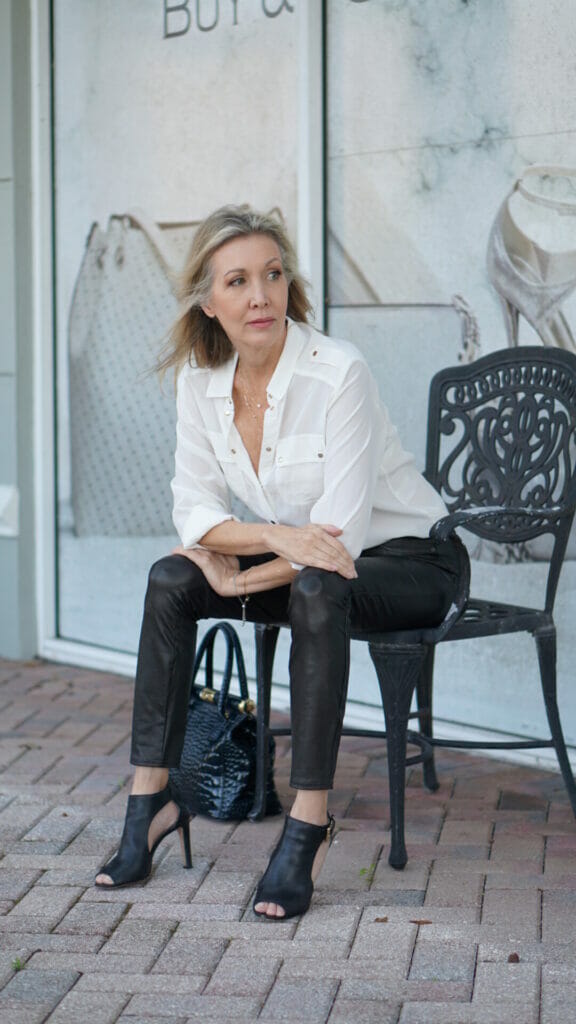 What to consider when choosing casual date night outfits:
First, where you are going. Knowing where you are going and what you are doing plays an important role in choosing the right date night outfit. If you are going to a casual restaurant, you can dress down a bit more than if you were going to a nicer establishment. You also want to take into account the weather and the season. If it's summertime, you may want to wear something light and airy; in the winter, layers can help you stay warm while still looking stylish. When in doubt, there is always a little black dress in the back of your closet. I'd love to encourage you to try something more interesting though!
Next, think about your own personal style. Do you prefer casual or dressy looks? Something in between? Once you have an idea of what kind of outfit you want to wear, it will be much easier to put something together. If you need some inspiration, take a look at some of your favorite fashion bloggers or celebrities – checking out style makers is always a good idea, they are sure to have some great casual date night outfit ideas. You can check out Pinterest or do an image search of your favorite celebrity for great outfit inspiration.
Finally, don't forget about comfort! Even if you are dressing casually, you still want to feel comfortable in what you are wearing. Choose an outfit that you know you will be able to relax and enjoy yourself in – it will make the whole evening that much more enjoyable. Looking great gives you a boost of confidence, whether you choose an outfit from your closet or buy a new outfit, especially for the date.
With these guidelines in mind, putting together the perfect casual date night outfit should be a breeze! And who knows – maybe your casual date night will turn into something more…
Think about the impression you want to make, do you want to show a little skin, or be a bit more demure?
Your casual date night outfit should be reflective of the kind of person you are. If you want to come across as fun and easy-going, choose something that is a bit more playful or flirtatious. If you are looking to make a more serious impression, opt for something a little more subdued. At the end of the day, just wear something that makes you feel confident – that is sure to impress anyone you are on a date with. While we are talking about date night outfits, the looks we are sharing below are great for daytime dates as well.
The most important thing to remember when choosing a casual date night outfit is to have fun with it! There are no hard and fast rules, so experiment with different looks until you find one that feels right for you. With a little bit of effort, you are sure to.
Your casual date night outfit should be reflective of the kind of impression you want to make. If you are looking to impress your date, then you will want to choose an outfit that is stylish and flattering. On the other hand, if you are just trying to keep things casual, then you can choose a more relaxed outfit. Either way, it is important to dress in something that makes you feel confident and comfortable – that is sure to impress anyone you are with.
A few items you may want to skip when choosing a date night outfit might be skinny jeans, crop tops, or mini skirts as they can come across as a bit too try-hard and they really aren't on-trend right now. You also want to avoid anything that is overly casual, like sweats or yoga pants as a casual date outfit–these options aren't great for a first date outfit. Instead, opt for something slightly more dressed up, like dark wash jeans or a flowy dress.
Lastly, make sure your outfit is appropriate for the venue.
This may seem like a no-brainer, but it is always important to make sure your outfit is appropriate for the place you are going. If you go to a casual bar or restaurant, you can get away with wearing something more relaxed. However, if you are going someplace nicer, you will want to dress up a bit more. No matter where you go, though, you should always feel confident and comfortable in what you are wearing.
Choosing the perfect casual date night outfit doesn't have to be difficult – just use these guidelines and let your personal style shine through. With a little effort, you are sure to find an outfit that is both comfortable and stylish – perfect for any casual date night!
Now that you know what to wear on a casual date night, have fun putting together the perfect outfit and enjoy your evening!
Shop These Ideas:

– A cute dress or skirt with a fun top.
This is a great way to show off your personal style while still looking put together. Add a cardigan or denim jacket if it's chilly out. In the winter you can choose a leather jacket in the winter months. Add a pair of white sneakers to create a great casual outfit.
-A blazer, white t-shirt, and white or blue jeans are great for any type of date.
– Jeans or black leather pants with a nice blouse or sweater. Again, comfort is key, but you want to avoid looking too sloppy. Statement earrings or a pair of dressy flats or heels can dress up this look.
– A casual skirt or shorts with a cute top. This is a great option for warmer weather. Add a jacket or scarf if it's cooler out. Add a pair of great over-the-knee boots or booties to create a memorable look..
-For a romantic date, you may choose a shirt dress or a comfy-cozy sweater dress–date night dresses can be any length from a mini dress to a maxi dress, depending on the type of date.
The key to any casual date night outfit is to be comfortable while still looking your best. With these outfit ideas, you'll be sure to make a great impression and have a good time. What is your favorite thing to wear on a date?