It's Nordstrom's annual sale time!
Just for you—and to satisfy my own curiosity, I spent practically the whole day last Sunday combing through sale items. I went category by category marking things I love and wanted to share how good the items are-because I already use them, and things that I don't have but love and really want to get my hands on.
About half way through the process, I decided to create a wish list on the Nordstrom website, then put together outfits and groupings. I came up with ten groups of things I really love, and plan to purchase some of the items when the doors open on Friday July 16th.
Each year, the sale seems to change and over the last couple of years I found fewer things I really love. For example, the dresses were almost completely dismal. I love dresses and really wanted to add to my collection.
Some have complained that the quality has gone down as well—especially with favorite brands such as Barefoot Dreams and the athletic wear. I've seen videos documenting the differences between the "sale" quality and "regular" quality. I can't really speak to that, but it is no secret that companies produce lower quality items for outlet stores so it wouldn't surprise me if retailers ordered special runs of items for a sale.
A few years ago, there was such fervor over sale offerings that the site crashed and my cart crashed with it–I never did check out that year-and lived to tell of it. Yes, I lived without $1,500 worth of purchases I thought at the time I thought couldn't live without, and I have come to see that it's a good thing. Which brings me to this post I wrote about sale shopping. If you struggle with shopping sales or need some fresh strategic moves, it's a great post to read.
Each year I wonder whether I should jump onto the sale fervor train-I see post after post about what to buy and it sort of drives me crazy and that's why this year you will only see one post about the sale–and these are things that I am personally interested in. I'd love to hear your thoughts-do you like the same things I like? Did I miss something you think is a really good deal? Let's talk!
Since it's super hot here in Florida, I decided to create a couple of looks I could enjoy now. While we were on vacation, I saw a woman with a similar white cotton eyelet top. It was crisp, fresh and feminine. She wore the top with a pair of cut-off shorts and a pair of simple sandals.
I love the simplicity of the look, it was polished yet casual and the details of the shirt really elevated the look. I fell in love with the simple slides-I love slides in the summer but they were sold out everywhere. I'm glad I waited because the ones I had my eye on were over $200 and these are considerably cheaper so I they are definitely on my purchase list.
Shop the look:
Brand Aurora Cotton Eyelet blouse https://rstyle.me/+7AIbZn1ctl60GiPnYSrCkw
Lana Slide Sandal https://rstyle.me/+Ew1iG_J9RsL0L5uUqS55jA
Le Brigette Cutoff Denim Shorts https://rstyle.me/+HuVX8NmGQQ8bRAJ8vaG-pw
It's My Way 61MM Gradient Cat Eye Sunglasses. https://rstyle.me/+sWTq_ijYRMQ2_8KNxbsfsQ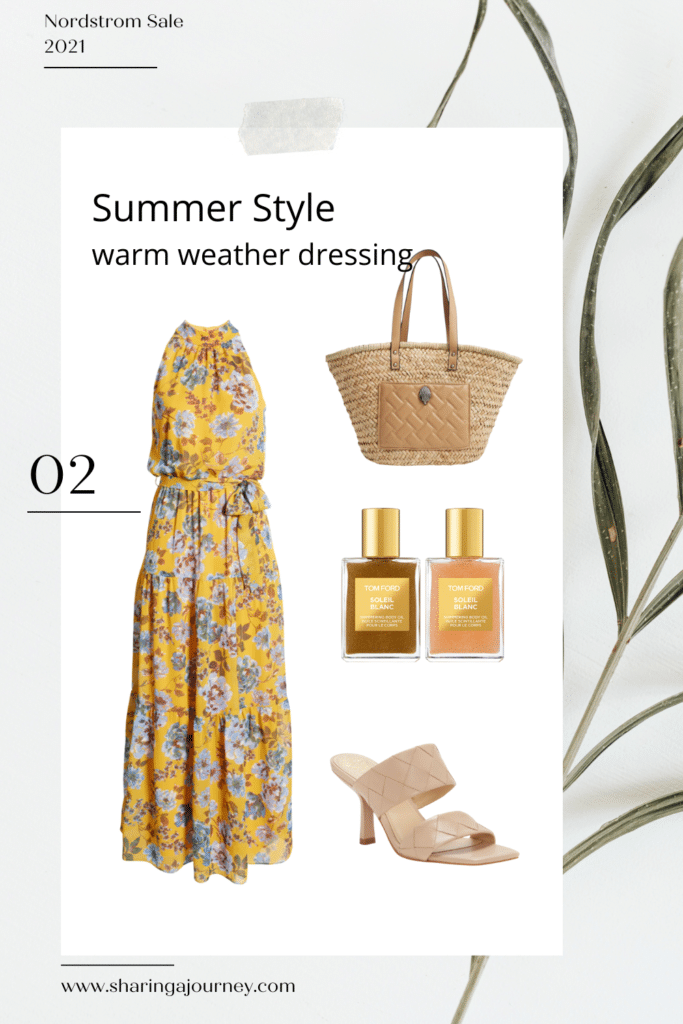 I am a dress girl through and through-and you might recognize that I have a dress very similar to this one–though the price was considerably different. I also have a pair of slides that are very similar to the ones shown above. Everyone needs a cute straw bag, and this one is a classic. Another thing I love is a good body oil with a little shimmer in the summer. I just love Tom Ford's Soleil collection for summer.
Shop this look:
Floral Halter Neck Maxi Dress https://rstyle.me/+0k0STSrsBVXeMehVsxcDeg
Candialia Sandal https://rstyle.me/+e495_tR_QXW5uaH0t2wULA
Travel Size Soleil Blanc Shimmering Body Oil Set https://rstyle.me/+KOSv965dB5Xrclu1wyqXTA
Kensington Woven Straw Tote https://rstyle.me/+MIEwkCSy-F1FZC3c_yaojw
As we head into fall–one of my favorite seasons, I love the cognac which has been trending for the past few years. Here I've found a faux leather coat which I styled with a pair of high waist flair jeans-another thing I absolutely love-and a pair of cognac suede booties with a cap toe. It's those little details that really elevate an outfit. I am so tempted to buy these boots even though I just got a pair of cognac boots last year!
Double Breasted Faux Leather Trench Coat https://rstyle.me/+MytfAu4iBsMY9nyoU-YpXg
Kara Cap Toe Bootie https://rstyle.me/+sl8wSOt08LkBJqCtkPzs4A
Tom Fort Cognac Rose Eye Color Quad Set https://rstyle.me/+fFMDjftPj-TlzOnqc8FJVQ
Riess is one of my favorite brands–I shop with them frequently. I have had their beautiful camel smoker style coat on my wish list for years. I am always game for a cream sweater, and love the zip detail as well as the pattern in the knit. The booties come in several finishes, but these are striking and are perfect with black, brown and navy. That's always a dilemma with boot colors. This color and finish ticks all the boxes.
Rita Quarter Zip Pullover https://rstyle.me/+NjGEwyVQ5-3jpVbqlUgI4w
Leah Wool Blend Wrap Coat https://rstyle.me/+_0elrhmEk9MLPQCoO8dPgw
Lenah Square Toe Bootie https://rstyle.me/+SGJLa3Dw-m6xbhH2RkxZjg
Soft Glow Eye and Cheek Set https://rstyle.me/+TlWS8gBUgwk4__Yb1aSZPw
Ok, I am in need of a rain jacket. I think about getting one every year, and never do. I love this navy rain jacket because its in the classic details! And yes, I am paring the navy with black-it does work! Especially when tied together with this beautiful Veronica Beard ruffled blouse. And another brand I love is Briggs and Riley. I was turned on to the brand years ago when my former husband's Tumi luggage had to be sent back for repairs. Briggs and Riley had a better quality rating and I have bought their luggage ever since!
Water Repellent hooded Jacket https://rstyle.me/+_JOYPjPCTBuJ0VWNjuqhbQ
Hunter Original Tall Rain Boot https://rstyle.me/+A7alsBFwCsq4WAo7wdBacQ
Abra Floral Print Ruffle Blouse https://rstyle.me/+Md55zWGUI2AZlgh8kIBsFg
Leather Brim Baseball Cap https://rstyle.me/+22dFjfqbUAF5fEpc_E6hBQ
Briggs and Riley 21" suit case https://rstyle.me/+DHpqaysgNe6qzvilpafNLg
One category that is always a pretty good place to save some money on the Nordstrom sale is in the skin care area. Here I did break down and select the super soft Barefoot Dreams socks, I wear these socks constantly when I am at home. Now, on to the spa stuff. If you watch my YouTube channel, you will know that I am a skin and hair care lover and try many devices on my channel. I LOVE my LED mask. It has been clinically shown to improve collagen production–and I use mine almost every day. I also have a Nuface which is great for temporary firming and lymphatic draining. Steaming the skin is a great way to prep it for skin care–and I am dying to try the Perricone neck firming treatment-mine definitely needs some help.
Dr. Gross Skincare Pro Facial Steamer Set https://rstyle.me/+_YaLKtubnb79p95sx8CuuA
Dr. Gross LED Light Mask and Collagen Boosting Kit https://rstyle.me/+ovG3c4Ccqy_ujoOvbHdEDg
Pericone MD Cold Plasma Neck Kit https://rstyle.me/+nQcoNueIeXUAjiw-sTncRg
NuFace Mini Kit https://rstyle.me/+VodxY4LYTXeUoIsCCd5WGg
Barefoot Dreams Socks https://rstyle.me/+LXOC2kbAGHcgvPM6eJAOYA
I love a cozy throw, a girl can never have too many in my book. Last year I shared the Barefoot Dreams throw, but I loved this throw because it is super soft and comes in many colors. The Larq bottle is super cool, it is self cleaning so you never drink gross water. That's pretty cool in my book. I have a Simple Human makeup mirror and I couldn't live without it. Yes they are pricy, but I use mine constantly and I love it. I also love this soothing ginger body scrub I always have some on hand. If you love room scent defusers, this one is so beautiful!
Ginger Body Scrub https://rstyle.me/+nDM-_w8ButaBiUcJpgl94g
Simple Human Mirror https://rstyle.me/+Gt7lh6n7BP8ONDLtqnNL1Q
Briggs and Riley 21" suit case https://rstyle.me/+DHpqaysgNe6qzvilpafNLg
Larq Self Cleaning Bottle https://rstyle.me/+aI0syaRenw0P_1Q9TU0wiA
Nova Ultrasonic Diffuser https://rstyle.me/+Xi9H4JxvBLF4eSthmrzbsw
I haven't shared this publicly until now: In April, I had another hair disaster. I had massive breakage across the front of my hair-I am not entirely sure what exactly happened-but I have spent the past three months using OlaPlex to nurse it back to health. In addition, I use silk hair ties and pillow cases, and allow my hair to air dry before finishing with my blowdryer. With the damage issues, I have reworked my entire routine and these are some of the products that I've used. What's great is that you will be able to get them on sale.
Slip Silk Pillow Cases https://rstyle.me/+1Mut5lTr7BUOtCum-9k-yA
Ola Plex Hair Maintenance Kit https://rstyle.me/+3PXFwt32KNOBKbuiV3J0EQ
T-3 Luxe Hair Care Set https://rstyle.me/+1lQkIbM_gzprKsmoyVyBCQ
Rapid Dry Hair Towel Duo https://rstyle.me/+ycMbHB6ut0UFwQL-2ZPJzA
Silk Hair Tie Set https://rstyle.me/+EU-UMOw5hZ-GYYKsce6hOA
Two years ago, I purchased an electric kettle which I love and use all day every day. When I saw this beautiful white one, I was tempted to buy it even though I have one already! These beautiful Viking steak knives would make a beautiful gift-they also come in brown wood tone-but I'd be tempted to keep them for myself they are so good. Also on the potential gift list are these brushed gold cheese knives. Though with our making so many charcuterie boards, I could make a reasonable argument for keeping them. It might be a good idea to update your pots and pans with these beautiful coper pots. I think they are stunning. Finally, for those of us who live where it's too hot to garden outside – or maybe you just don't want a big garden but you do want fresh vegetables, this indoor garden is so stylish and it practically does everything but cook.
Smart Garden https://rstyle.me/+pFZsMnMlDrnEkZoL_4OocQ
Viking Steak Knife Set https://rstyle.me/+MPTIwfUcTqYtiuGVe7gfIw
Copper Bond 3-Piece Cookwear Set https://rstyle.me/+MPTIwfUcTqYtiuGVe7gfIw
Brushed Gold Cheese Knives https://rstyle.me/+PNQYmkjlki-Q3WFnybLh0w
Stagg Electric Kettle https://rstyle.me/+hxsxK5GO8jSNMQh28wZUCg
I'd love to hear your thoughts on this year's Nordstrom sale-do you usually shop the sale? Have you been happy with your purchases? Did I miss a good deal? Inquiring minds want to know!