Looking for a new hair stylist can be a huge deal! Whether you moved to a new city or had a bad experience with your last stylist, we understand that choosing a new stylist or salon is really important to you. There is no single best way to find a good hair dresser, unfortunately, but with these tips, you will be able to find a new hair salon and the right hairstylist who will give you good hair days for years to come.
We have all had at least ONE bad experience with a stylist, whether it be a bad haircut or some crappy color. I was so devastated the first time I got highlights done and they ended up being bright orange stripes on my nearly black hair. I paid full price, AND tipped the stylist afterwards, but was in tears by the time I got home.
The salon refused to refund me but offered to fix my hair for free. By that point my trust was broken, and I didn't want to go back to the stylist who messed up my hair. I ended spending another $250 (I was $500 in at this point) to get it fixed by someone else. It was much better, but still not exactly what I wanted. A month or so later, I decided to just have my hair dyed all-over black again.
I swore I would never allow something like this to happen again, and since then have gotten my hair dyed all-over chocolate brown every time by really good stylist named Ari. I know Nina has also had her fair share of expensive and traumatic experiences with hairstylists too. There is nothing worse than a bad hair cut!
When your hair doesn't good, it can really impact your self-esteem and make you feel pretty terrible. If you're trying to find a new stylist and you're anxious about finding a good one, try these tips. We want to help you avoid a bad experience at your next hair appointment.
Get Specific about What You're Looking For
The first step in finding a great new stylist is getting specific about what kind of services you want and what qualities are important to you in a stylist. For example, do you want someone who is up on current trends, or is an expert colorist? Are you looking for a full service salon or a quiet solo stylist? Are you interested in hair extensions, or scalp massage? Do you have thin hair, or is it thick or curly? Hair dressers tend to specialize, so it's really important that you know what you need and want.
Look for inspiration photos online check social media platforms like Pinterest and Instagram —they are great places to look for hair styles and colors. Check fashion and hair style magazines. Dissect what you like and don't like. While it's best to show your stylist what you like, you can show your stylist what you don't want, so they know about any specific concerns before they get started.
Pay close attention to the photos—Nina liked a hair color in a photo and thought it would be colored that way from root to tip .But the stylist colored the top two inches several shades darker. It looked like she hadn't had her hair done at all. When the two discussed the outcome, the stylist pointed to the top of the photo and said she had just duplicated what she saw. Not exactly the new look Nina was going for!
Photos on the internet can be misleading in more ways —if the photo has a filter over it, or is taken in certain lighting, the color can look totally different than it did in real life. Try to pick out multiple pictures that shows the hair color you want in different lighting settings, #nofilter.
Word of Mouth Recommendations
Once you've decided what you want to do with your hair, you can hit up your friends and family for suggestions. It's best if you ask people with a similar hair type, style or color to what you are looking for for best results. Collect the names and use those as a starting point for your research.
Just a note, make sure the friends you ask have good hair ☺
Research by Specialty
Are you looking for great blonde highlights? Do you need someone who specializes in curly hair? Do you want a stylist that uses or sells specific products, such as Aveda, Olaplex, or Kevin Murphy? Picking a stylist with a specific skillset to what you want will help to ensure you'll leave the salon happy. Once you know what you want, you can search for a stylist that specializes in the color, cut, product line or service you're after.
Check Reviews
This is probably a no-brainer for most of us, but still extremely important. Check. The. Reviews. On Google, you can even search the reviews for specific keywords, like "curly hair", "blonde", "short hair" etc. Take a look at what other people have said about the stylist or salon and focus your search on the most recent reviews. While you will likely see some complaints that aren't rational, often you can see patterns, such as complaints about specific stylists, the manager or the owner. You can also get a sense for how the salon handles problems—as sometimes the salon will respond to the review. Just remember, even the best hair salons occasionally get bad reviews.
Look for Photos of The Stylist's Previous Work
Another important piece of your online research is looking at the salon's or stylist's Facebook or Instagram pages to see photos of their work. Look through the posts and see if the stylist has done something in the past that's similar to what you want. This can also act as a great reference photo for the stylist. They can often recreate a look they've done before easier than doing something completely new. Also take note of the hair textures they show are similar to yours. Also, if you are interested in a specific style, you can see whether the stylist has experience in that hair cut. Pictures of their work is pretty important, but remember they are only photographing the best examples—you can bet the stylist who gave me orange highlights didn't take a picture!
Book a Consultation First
If you've really been burned in the past and don't want to commit to a stylist until you've met them first, try booking a consultation, a trim, or a style appointment. Some stylists are happy to do a 15-20 min consultation even if you don't get any services done (however it may cost you for their time). I
f the stylist doesn't do standalone consultations, you could book yourself for a simple haircut/trim or have a blowout. This is a great away to get the vibe of the salon and get to know the stylist before you commit to a major color change or haircut. The best part is that bad blowout can be easily fixed by shampooing at home. Be sure to get a copy of the service menu and check out the reception area.
What To Watch For
The salon is not clean: dirty floors, surfaces, and/or filthy bathrooms.
The Stylist's licenses and continuing education courses are not maintained.
Stylist doesn't employ hygienic practices.
Look out for Red Flags
It's important to keep an eye out for red flags when you're researching a new stylist or walking in for your consultation appointment. Here's a list of some things to look out for:
The stylist doesn't have much experience (young, fresh out of cosmetology school) Years ago, Nina's hair was badly damaged by a brand new hair stylist who recommended a perm but didn't have enough experience to know that her fine hair could not take a strong perm.
The stylist is experienced but out of touch with current techniques, products and styles
The prices are significantly higher than other salons in your area
Unfriendly or poor service–from the front desk to the shampoo bowl, guests should be treated well–and guests should treat stylists and their teams well.
Stylist/staff tries to upsell you or pressure you into buying products or add-on services you do not want.
The stylist does services for you or uses products that cost extra and charges you without asking for your permission/being transparent about the price.
The stylist does or tries to impose on you what they think will be "best" for you, completely ignoring what you asked for.
The stylist tries to impose their own beliefs about what is appropriate on you (for example, saying that mature women cannot have long hair, or cannot have fun colors)
power tips
Be sure to check these things
Find out what the salon's policy regarding refunds or corrective services when something goes wrong. An honest stylist will let you know she's made a mistake, and will offer to fix it for free. A good salon will correct problems or offer a refund. It is important to note that many salons will not provide refunds.
A good hairstylist will discuss services and prices with you upfront and will work with you to get as close to your goal as possible and will let you know their concerns if they don't think a certain cut or color will work with your skin tone or face shape. You can tell the difference when a stylist is trying to convince you to agree to something different because they don't have the skillset, or if they are letting their own beliefs dictate what they think is appropriate for you or your age. Use your best judgement, your stylist should make you feel safe, heard, and understood.
Finding a new stylist can feel overwhelming or even scary for some of us. However, there are a lot of ways you can help prevent having a traumatic experience. There are tons of good hairstylists and great salons in every city. If you do your due diligence, you'll likely find a great stylist that listens to your needs, does a great job, and could even become a friend over time.
We hope our tips and tricks were helpful! Be sure to check out our other blogs on haircare for women over 50 here.
Cheers,
– Brooke
Our beauty editor, Brooke Bandoni is a beauty devotee from way back who loves sampling beauty products, research, and writing. She is a recent graduate of UCF's Advertising and PR program, with a minor in Writing and Rhetoric.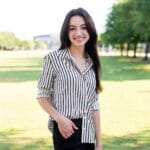 Brooke Bandoni
Beauty Editor