As we age, it's natural for our hair to begin to thin—especially if we have fine hair, to begin with. All my life I've envied women with thick hair and have looked for ways to make my hair appear thicker. As Nina has gotten older,
There are a lot of ways that we can combat this natural thinning, from the way that we get our hair cut and colored, the products we use, and interesting new gadgets, to products that can help with the appearance of thicker hair. If you're interested in learning some ways you can make your hair appear fuller and thicker, keep reading!
How A Good Stylist Can Help
The road to thicker hair starts at the salon, as your hair cut and color can make a huge difference in how thick your hair appears.
Wear your hair at the right length
Often, especially as we get older, we don't want to cut our hair short and let go of that extra length. It may seem counter-intuitive, but a shorter and blunt cut can make your hair appear thicker. When we have a long weight on our ends, it can pull down on the roots, making the top of the head lose volume.
Our ends are often thinner than the midsections of our hair as well, as the ends of our hair have been with us the longest and have the greatest opportunity for damage and breakage from normal styling, wear and tear, and environmental factors. Going for a blunt shoulder-length cut, or even a bob can create a lot more fullness and thickness as all those thinned and dead ends are cut off. If your hair is long, full, and healthy, don't be afraid to keep it long! There is no rule that says women of a certain age have to have short hair.
Layers and bangs can also help make your hair appear fuller if done correctly by a professional stylist. Talk to your hairdresser about your hair concerns and goals and find a new haircut and style that suits you and helps with hair fullness.
To determine the best length for your hair, here are a few factors to consider. 1. Your hair type —if your hair is damaged, trim to the length where your hair is thickest. 2. Your face shape: our faces change as we age, and the cut, even if you wear long hair, the cut plays an important role in helping to create the illusion of thicker hair. 3. The length of hair you like. Nina likes to wear her hair long and has worked hard to keep her hair healthy—and works with the stylist to build in layers to create lift around her face. 4. Work with hair's natural texture. This is the best way to create a look that works with your hair type, its condition, and what looks best on you. Remember—you don't have to have short hair unless you want it. You can trim it up, work on its health then grow it longer to see how it works.
Use color to make your hair appear thicker
Hair color can also be used to create the appearance of fullness. Highlights or balayage highlights create contrast in the hair, which creates the appearance of depth, and you guessed it, volume and thickness too. Highlights don't necessarily mean that you have to go blonde, but any kind of variation in the color and tone, even if it's still dark, can create beautiful layering and depth to any haircut or hairstyle.
If you have silver hair, you may consider dark lowlights to add dimension to your hair. The good news is that low lights done underneath the hair don't require much maintenance.
Bear in mind that while color can do a lot toward helping your hair look fuller, it can be very damaging over the long haul, especially if you are going blond.
Try hair extensions
I'm pretty sure everyone reading this article has considered hair extensions at one point or another. They can be expensive, and they also can cause damage to your hair if they're not the right kind of extensions or are done incorrectly. The least intrusive and least damaging option for hair extensions is clip-in extensions. You can get some very nice quality clip-ins and have your hairstylist match the extensions to your hair color perfectly. These can be the same length as your natural hair to provide thickness and fullness, or they can be a little longer to provide some length as well. Your hairstylist can help teach you to style them in a way that blends your natural hair with the extension hair and help you keep your extensions in top shape.
Things You Can Do to Create Thicker Hair At Home
In addition to getting your hair done at the salon, there are additional things you can do at home to help improve your hair's thickness and fullness.
Focus on healthy hair growth
The best way to get fuller hair is a natural way —keep your scalp clean and healthy. If you use dry shampoo or hair spray, make sure you give your scalp a break. A gentle scalp massage is also great for stimulating blood flow. It also feels amazing. Our diet, medications, and our health can play a role in the health of our scalp and the condition of our hair. Nina focuses heavily on diet and exercise both of which contribute to hair health, strong nails, and glowing skin. For healthier hair, be sure to consume healthy fats and enough protein as both play an important role in hair health.
Use the right shampoo and conditioner
Choosing the right shampoo and conditioner can be tricky and expensive. I know that this one can be hard for some people – why would you want to spend $30 on a bottle of shampoo when I can get one from Target for $4.99? The ingredients and formulation of professional haircare make a significant difference in your hair. Yes, the price tag can cause sticker shock for some, but you will notice your hair looking fuller, feeling softer, holding a style longer, and being more manageable. Olaplex, BrioGio, and Bumble and Bumble are some great professional haircare lines with great ingredients. Look for a thickening shampoo.
Prep your hair properly before styling
Another mistake people may make when trying to style thinning hair is not prepping your hair properly with heat protection and volumizing products before going in with the blow dryer or a heat tool. For best results, start blow-drying when your hair is damp. Wait until it is 98% dry before styling.
When blow-drying, start by using a good root booster. Bend over to blow dry volume into the roots before working on the rest of your hair. Add a few curlers to the front and crown while drying and styling the rest of your hair.
Look for volumizing mousse and styling cream, these will not only protect your hair from heat damage from styling but also help with creating Lucious, bouncy style that adds volume and holds all day. It's definitely worth investing in some really nice professional haircare for this, especially if you style often. Even if you style daily, these products often have enough product to last you for 6-9 months.
Learn to style your hair for added volume
Learning what hairstyles make your hair appear fuller will also help you with creating more fullness and thickness in your hair. One trick that is coming back in popularity these days is using rollers for luscious blowouts that flip your ends and accentuate your layers, which really help with the appearance of thicker, fuller hair. Dry shampoo can also work wonders in making your hair appear fuller, as can hair spray when used on the underneath sections of your hair.
Try a crimper
If you remember the crimped hair trends from the late 90s and early 2000s, you'll remember those funky crimping irons that created tons of tiny waves in your hair. Now, people have brought them back, but to use at your roots underneath your top layer of hair for added volume. By hiding the crimps underneath a layer of smooth-styled hair, you don't even see the bumps. This is such an easy way to get great volume without teasing your hair (which can be extremely damaging!). Add a spritz of hair spray to the crimped sections for extra hold. Try the Babyliss Pro Nano Crimper
Try a hair serum
When combating thinning hair, it's never a bad idea to go the pharmaceutical route and find a product that doesn't just help with the appearance of thickness but helps hair growth, reinforces the cuticle, and actually creates thicker hair. Vegamour, The Ordinary, and Ouai have some cult favorite thickening products to help with boosting growth helping to prevent additional thinning. See our easy on the pocketbook favorite below.
Try a laser band
Red light therapy, also known as low-level laser therapy, can help encourage hair growth and decrease shedding and thinning hair. In theory, this laser treatment can help invigorate circulation and encourage hair follicles to grow hair and hold onto strands for longer. It has been deemed safe and effective and, in a study, done in 2013, laser therapy provided a 39% increase in hair growth over 16 weeks. These at-home treatments are painless, have no side effects, and are a noninvasive procedure for hair growth. However, it's important to note that red light therapy can interact with certain medications, so be sure to discuss this with your doctor before beginning red light laser therapy. Nina uses the HairMax and has had excellent results.
11. Consider a curly hairstyle.
Adding waves or curls is a great way to give finer hair a mega-voluminous look. While straight smooth hair can look amazing, flat hairstyles can make thin hair look even thinner, and of course, that is the last thing we want!
Part your hair in different ways, middle parts, off-center parts, and deep side parts can make your hair look fuller. Plus changing your part helps create fullness around your face.
These days, getting help with thinning hair is easier than ever with the number of products, procedures, and options to create thicker, fuller hair. If you're interested in more hair tips, beauty guides, and lifestyle ideas for aging gracefully, be sure to check out the rest of the blogs on sharingajourney.com here!
Shop our Tried and True Hair Care Products Here:
Initialiste Hair Care Set
This shampoo, conditioner, and serum work to plump hair and nourish the scalp. It is a favorite.
Densifique Mousse
If you are looking for loads of volume but don't want the dryness that usually comes with moose, this is it.
Gro Serum
A cult favorite for nourishing the scalp and thickening hair. Reduces shedding within 90 days and is a vegan product.
The Ordinary Multi-Peptide Serum
Another great and inexpensive treatment for the scalp–Nina has used this and loves it.
Oribe Tres Set Structure Spray
This is a new product to Nina's hair care routine–it provides great hold without the need for hair spray. Hair is full, voluminous, and with no frizz.
OlaPlex Bonding Oil
This lightweight oil is great for fine hair. Nina uses it on her ends to keep them healthy. It helps repair hair bonds and adds shine.
Our beauty editor, Brooke Bandoni is a beauty devotee from way back who loves sampling beauty products, research, and writing. She is a recent graduate of UCF's Advertising and PR program, with a minor in Writing and Rhetoric.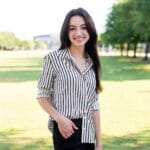 Brooke Bandoni
Beauty Editor