Sunscreen is a debated topic in the skincare world, top dermatologists recommend we use SPF to prevent premature aging, wrinkles, and dark spots. Sunscreens help reduce free radicals that damage the skin caused by sun exposure. Another camp believes ingredients like Zinc and Titanium Dioxide are toxic and shouldn't be applied to your skin. While I tend to fall with the former belief that we should all be wearing SPF, especially on our faces daily, I also use a prescription retinoid that requires that you wear SPF to protect your skin. Since I wear sunscreen daily (with the exception of days I truly don't plan to go outside/it's raining), I've tried a ton of different sunscreens, tinted and un-tinted, to find the best sunscreen for all skin types, including those of you with sensitive skin and acne-prone skin. I've taken a look at the active ingredients, the type of sunscreen, as well as how the sunscreen performs with makeup and the average skincare routine. I looked for products that are good for everyday use, products that could be used in lieu of daily moisturizer, as well as those with broad-spectrum coverage for days spent doing outdoor activities with high UV exposure, like beach days or at an amusement park.
There are two different kinds of sunscreens, physical sunscreens, and chemical sunscreens. Chemical sunscreens block the UVA and UVB rays with chemicals while mineral sunscreens block the sun's rays with minerals such as zinc oxide. You will also note that many sunscreens include skincare ingredients such as hyaluronic acid, vitamin c, vitamin e, and lactic acid to help improve fine lines, and skin texture as well as to prevent age spots. In addition to blocking harmful UV rays and skincare ingredients, I considered a few additional details, like whether or not the product left a white residue, whether or not it had a lightweight formula, and whether it contained natural ingredients.
Here's my review of three different popular tinted sunscreens and five clear/un-tinted sunscreens (my winners are at the end)!
Tinted Facial Sunscreens
CeraVe Hydrating Mineral SPF 30 Sunscreen Sheer Tint
Pros: Pigmented, hydrating, no white cast
Cons: Greasy, heavy
I have been a longtime fan of CeraVe, it's recommended by many dermatologists including my own, and has a great line of affordable and accessible products that are sold at most drugstores and supermarkets. The ingredients are good quality and keep your skin clear if you have sensitive or acne-prone skin. Now with that said, I hated this sunscreen. I really tried to like it and tried it multiple times, but this truly is a foundation that has SPF, not SPF that has a tint. Many people may actually prefer that the tint isn't sheer, it provided medium coverage in my opinion, and blended easily, however it is not lightweight and sat heavily on the surface of my skin. It seemed to do alright when it was set with heavy translucent powder and used like a foundation, but it does poorly on it's on its own. I smoothed it on planning to jump in the car and run some errands, and my face was sticky and wet feeling all day. It never sunk in or melted into my skin. If I bumped or touched my face, the product would move and break apart, get all over my clothes and hands, and was just a complete mess. I was not wearing any moisturizer, SPF, or primer underneath, just for additional context. I would only wear this underneath powder as base makeup if I was to ever wear it again. I rate it 3/10, too heavy and thick to be considered a sheer BB cream sunscreen.
Australian Gold SPF 50 Botanical Tinted Face BB Cream
Pros: Matte finish, great value, good for oily skin
Cons: Too sheer, clung to dry spots, silicone-like texture
Unfortunately, I didn't love this sunscreen either. The bottle is huge (3oz, the largest of any of the full-size sunscreens I tried) and could probably last you a really long time. This one is pretty light weight, and the tint is truly very sheer and has a matte finish. It almost has a bit of a gel-like application. I think this sunscreen could be great for people of color or those with tan and darker skin tones since it did not give off any of that whitish case that many sunscreens have. However, this sunscreen is truly meant to be worn on its own. Its matte finish does not do well with other products or makeup on top. This is definitely not a good fit for anyone with dry skin or who likes to layer concealer or face makeup on top of their skincare. Other than those complaints, it seemed to do well as a facial sunscreen all and all. I would rate this one a 6/10 depending on your skin type, I'd wear it by itself to the beach with no other makeup on.
La Roche Posay SPF 50 Tinted Mineral Anthellios Light Fluid Sunscreen
Pros: Pigmented, good for tan skin, lightweight
Cons: A touch greasy
I saved the best-tinted sunscreen for last, but truthfully this one still isn't my #1 favorite of all the sunscreens in this article. La Roche Posay is another dermatologist favorite that's a bit more expensive than CeraVe but is usually its close neighbor on the shelf at your local Target or Ulta. They have some great high-quality products and have helped my skin through a lot in high school. This sunscreen truly is a "fluid", it's very thin and watery. It was extremely lightweight, but I also felt like it clung to the dry spots on my face and didn't play well with my makeup. I'd wear it on its own perhaps, but not with makeup on top. I'd give this one a 7/10 since it was so lightweight and sunk in, and the color was strong enough to be noticeable. This one would be good for those with tan or darker skin tones as well.
Untinted Sunscreens
DRMTLGY Broad Spectrum SPF 45
Pros: Moisturizing, skincare ingredients
Cons: Little bit heavy, hard to remove
DRMTLGY has been my go-to facial sunscreen for years. I really loved it and thought it was the one for years, but since trying a few other sunscreens I've found that I actually like some of the sunscreens mentioned below more. I'm still going to use up the bottle I have, the packaging is really nice and they recently changed the lid to be more secure as I and many other users found that the old lid was flimsy and cracked easily, making it difficult to pack in a bag. Their formula is a little higher end but not terribly expensive and is moisturizing, however, it's not the lightest weight option. I also find that I feel it gives off a white cast, especially after application, so lately I've been letting it sink into the skin for a while before layering makeup on top. I also find that it's difficult to cleanse off, even with a double oil and water cleanse that I do, I still find that I can see it sitting in my pores, especially around my nose. I'd give this one a 7/10, solid choice but there are others in this price category that I'd recommend more highly.
CeraVe Facial Moisturizing Lotion SPF 30
Pros: Hydrating, affordable
Cons: Little bit heavy, nothing exciting, strong sunscreen smell
The CeraVe Facial Moisturizing SPF 30 is nothing to write home about. It's a facial sunscreen and that's all I can really say about it. It does have a really strong SPF scent, to the point where one time in college I put it on before heading to work and my coworker immediately said, "you smell like the beach!" which was not meant in any kind of malicious way, but it definitely made me feel a bit self-conscious that my face smelled so strongly of sunscreen. It does well underneath makeup but does leave a bit of a white cast. I'd give this a 5.5/10, good for an entry-level sunscreen but there are better options with better ingredients.
La Roche Posay Anthelios HA Mineral Sunscreen SPF 30
Pros: Lightweight, moisturizing
Cons: White cast
The La Roche Posay Mineral Sunscreen is moisturizing and sinks right into the skin. I don't have anything particularly exciting to say about this sunscreen. It does have a significant white cast, unfortunately, and takes a while to sink in. I'd give this one a 5/10, there are better options.
Supergoop! Play SPF 50 Sunscreen
Pros: Hydrating, soothing, skin-improving
Cons: I personally don't like the scent
I have to be honest, I had this brand mixed up with Gwyneth Paltrow's "Goop!" which had me very confused, as Gwyneth is notoriously anti-sunscreen (to many dermatologists' chagrin). I've since learned that SuperGoop is in fact not owned by Paltrow and is its own different sunscreen company. It probably doesn't come as a surprise that SuperGoop made my top two out of all the sunscreens I tried based on the amount of hype this brand has online. This sunscreen was so lightweight, moisturizing, worked perfectly underneath my makeup, and actually made my skin feel soft and clear at the end of the day. This was the only sunscreen that actually made my skin good and not clogged. My only issue with the "Play" one, in particular, was the scent. I really wasn't a big fan of the citrus scent this one has; it reminds me of citronella candles or bug spray to the point where I looked up if it can double as a bug repellant. It's not advertised that way, but I'd definitely try their other unscented offerings (once I finish the bottles of all these other products I've tried). I give SuperGoop a 9/10.
Dermalogica Dynamic Skin Recovery SPF 50
Pros: Lovely scent, hydrating, lightweight, no white cast
Cons: Not as lightweight/skin improving as SuperGoop
The Dermalogica Dynamic Skin Recovery SPF 50 was a great option. It has a really lovely spa-like scent and went on like a dream. I'd absolutely repurchase it. However compared directly to the SuperGoop, my skin felt a little sticky and clogged at the end of the day with this one unfortunately, however it definitely takes second place. It's lightweight, hydrating, sunk right into my skin, doesn't leave a white cast and I actually have gotten compliments on the fragrance. Even though I love the scent I'm not the biggest fan of scented products on the face. Not only are fragrances usually harmful to the endocrine system but they can also cause scent overload when mixed with the smells of my hair products, deodorant, and perfume. I don't like everything to have such a strong scent all the time, so I usually try to pick up as many unscented skincare options as possible so I can only smell my perfume on me. If you don't mind that, this one could be a great option for you. I'd give Dermalogica an 8/10.
Conclusion
While the title of this post indicated there would be one favorite, I actually have two. The top two are SuperGoop and Dermalogica, I do hope that this article helps you make an educated decision on what facial sunscreen to use this summer. Do you have a favorite sunscreen? If so, let us know in the comments.
In this Video
Nina shares Her favorites
In this video, Nina shares her favorite sunscreens and styles summer shorts.
Our beauty editor, Brooke Bandoni is a beauty devotee from way back who loves sampling beauty products, research, and writing. She is a recent graduate of UCF's Advertising and PR program, with a minor in Writing and Rhetoric.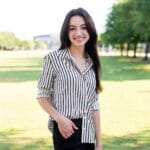 Brooke Bandoni
Beauty Editor