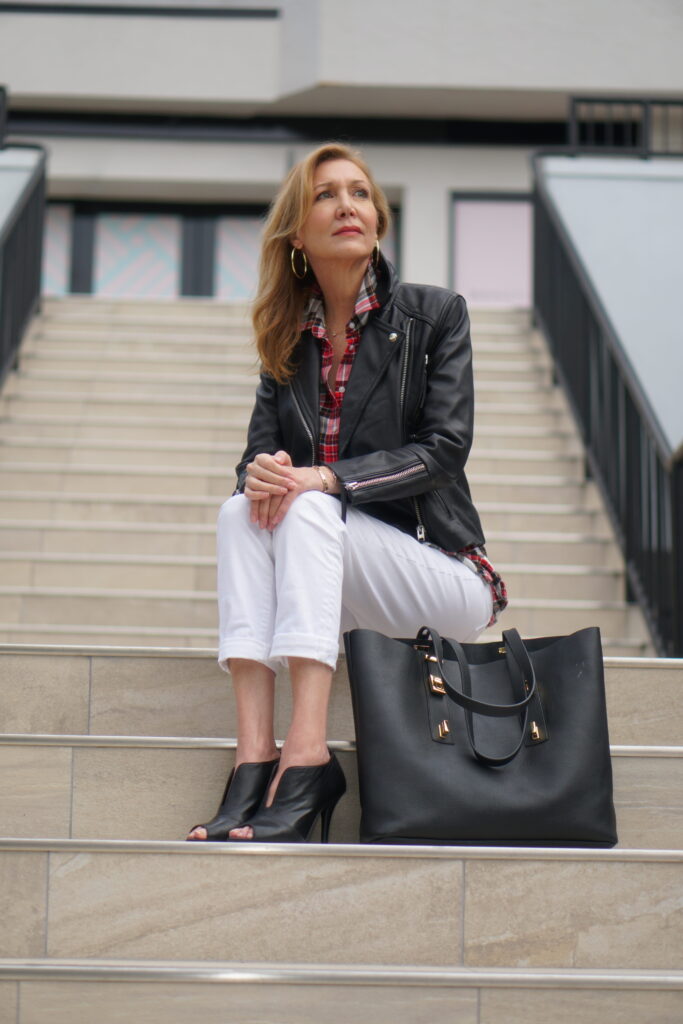 A cold front raced through the state yesterday, massively cutting the growing heat and humidity (it was beginning to feel like summer); we awoke this morning to sunny skies and a thirty degree drop in temperature. Excited by the cool weather, Roger and I spent the morning sipping coffee in Hyde Park people watching.
Young women, kids and dogs in toe, wore lean puffer jackets over their black athletic wear, women my age tended to wear bulky sweaters, layered over puffer vests, with equally bulky pants and small round toe shoes. While a few fashionistas took advantage of the cool weather by sporting a variety of boots and booties, skinny jeans, moto jackets and fur vests. Tourists wore shorts, tee shirts and flip flops; you can always tell those who live in Florida year around from those who don't, especially in the winter months.
I live for this time of year in Florida when I can wear soft cashmere turtlenecks, flannel button down shirts, and leather jackets. I can't stop myself from picking up jackets during the winter season, even though we wear them for only a few weeks out of the year.
Mastering cozy chic vibes can be a bit of a trick, especially because we want to be comfortable and warm at the same time and that means mastering the fine art of layering. As I looked around at the of variety cool weather outfits in Hyde Park this morning, I came up with a few suggestions to consider when styling cozy chic.
4 Top Tips to Elevate your Cozy Chic Style:
Keep it simple; allow one piece to be the standout. Better still, go for a monochrome look.
Keep layers thin; look for "silks" undergarments to keep your silhouette streamlined and warm at the same time.
If you wear one large bulky piece, keep the others sleek to avoid too much bulk.
Pointed toe shoes and booties help create a chic vibe. But if you decided to go round toe, make them a statement.
Are you on Pinterest? I am loving it right now! I've got all sorts of boards going from decorating to my favorite fashions. I love saving posts and pictures. I hope you'll stop by SharingAJourney on Pinterest and do a little pinning. Plus if you want to keep this post handy, just use the pin below.
It's Stylish Monday, my favorite time of the month. This is when I get so see how my blogger friends style outfits across the country. This month's theme, Cozy Chic is one of my favorites, check out looks from Florida to Alaska and Across the Pond! I'd love to know which look is your favorite!
Let me introduce my friends: Next to me is Suzanne Bell from California, Nicole from High Altitude Style in Alaska Nancy from Nancy's Fashion and Style hails from the Netherlands, Emma Peach from Style-Splash is from England, Andrea from Pearls and Pantsuits is from Louisiana, Julie from FashionTrends and Friends is from Chicago and Cindy from Middle Sister Blog is from Colorado.
Mature Style: Summer Shapewear for Women Over 50
Spring Dresses for Women Over 50