I have great news for you, my middle aged friend! You can have beautiful hair through out your years, even if your hair isn't quite the same as it was in your youth. There are many things you can do to transform the health, thickness and volume of your hair these days. If you are looking to elevate your hair game, you've come to the right place. Today, I am going to share the secrets of transforming your over 50 hair by helping you choose the best shampoo for your one 50 hair—plus I will be throwing in a few great bonus tips to elevate your hair game right to the top.
While diet, medication and health play an important role in the health of your hair, hair products have come a long way toward improving hair texture and encouraging healthy hair growth. It's important to take note of changes in your hair— sudden shedding, hair breakage, brittle strands or excessively oily scalp can be signs of health problems. Be sure to get with your physician straight away. It's amazing how clearing up health problems can lead to more beautiful hair and skin. (This coming from someone with a thyroid issue—getting that sorted played a huge role in the health of my hair)
A Healthy Scalp
Plays a key role…
Recent research has shown that a healthy scalp plays an important role in beautiful hair. Thus, focusing on the scalp is a great place to start encouraging new growth and overall hair health. Before shampoo shopping, you need to get a sense of both what is going on with your hair and your scalp. Note any problems and again, get with your doctor. Also note how dry or oily your scalp is. Are you developing product buildup or excess oil?
Using scalp serums, such as rosemary oil, or The Ordinary's Multi-Peptide Serum for Hair Density packed with vitamins and essential oils help with a healthy scalp, plus it doesn't cause excess oil on the soap. Between the ingredients in the serums and massaging them into the scalp, they help increase blood flow, which enhances hair growth. Keeping the hair and scalp clean is an important and simple first step to transforming your hair.
Product build-up not only dulls the hair, it can also lead to shedding. Removing build-up with a periodic clarifying shampoo is key. This helps hair follicles grow. Also, avoid hair products such as dry shampoo and styling aids such as hairspray which can irritate the scalp and negatively effect healthy hair growth. A good clarifying shampoo should be in everyone's beauty cabinet—though they not for every day use and can be drying to the hair and scalp. I like Moroccan Oil Clarifying Shampoo and use it periodically, especially if I have used a lot of product or have gone longer between hair washing.
Taking a look at your hair care habits can make a huge difference in the overall look of your hair as well. It's no secret that heat can significantly damage your hair, no matter the hair type. Avoid hairstyles that require lots of heat styling and be sure to use a heat protectant when styling with a blowdryer, curling irons or flatirons. Good quality haircare products and tools will help hair look it's best, and can help reduce styling time, which will in turn, save your hair from the cycle of continuous damage.
If you color your hair, there are also several things to consider if you want to maintain your color between hair appointments. Hair dyes can strip natural oils, and can be dehydrating to you hair Damage and dehydration can cause the hair to look dull, and lifeless. You will want to find a shampoo that will protect the color and keep it vibrant.
We all know that the vibrancy is a sign of great hair. If you have blond hair, you will definitely want to look for shampoos that prevent your color from brassy tones. If you have white hair, you will want to look for hair care products that keep the hair from yellowing or looking dull. You may want to consider these factors even if you have natural hair.
To level up your hair game, the first step will be finding a great shampoo that addresses your hair's needs. Understanding the current state of your scalp, hair type and hair texture are paramount to choosing the perfect shampoo.
Remember, we are changing, and the products that worked for us 10 years ago might not work as well for us anymore. Advances in hair science, the environment, diet, using the wrong products, heat styling and the natural aging process can cause stress to the hair and follicles and can cause a myriad of changes in texture, color, and thickness of your hair.
As we age, our hair can become more fine and thin, while others may find that their hair is becoming more coarse, thick, or wiry. Sometimes these changes happen gradually—we don't notice until we look in the mirror one day and wonder what happened. Now the perfect time to give your hair the once over and consider changing shampoos.
Many products have more natural ingredients, which is an important consideration as you choose the right shampoo. Looking for products with coconut oil, jojoba and argon oils as well as vitamins such as vitamin e, and b vitamins such as vitamin b5 are great ingredients to look for in an anti-aging shampoo. A sulfate-free shampoo should be high on your list as well.
Since everybody's hair types and needs are different, we've compiled a list of the best shampoos for mature hair based on your hair's texture and type. Read on to find out the best of the best! Take a few minutes to give your hair the once over— take a moment to check your hair's health-take a mirror and sit in a well lit spot and look closely at the condition of your hair. Then, write down how your hair has changed, and the types of improvements you would like to see in your hair. The list below has the best of the best shampoos to transform your hair.
Best Shampoo for Thick, Coarse, or Dry Hair
Redken All Soft Mega Shampoo – $23
Redken is a leader in great quality haircare products, and their All Soft Mega Shampoo is perfect for those with extremely dry and coarse hair or thick hair. This shampoo claims to add softness, shine, and manageability. It's infused with Aloe Vera to help lock in moisture and smooth the hair follicle. The reviews speak for themselves, and the price point is accessible compared to many of the luxury haircare brands. Nina has become a huge Redken fan-check out her video here.
Best Shampoo for Thin/Fine Hair
If you have fine hair, you know the struggle of getting volume on top while still looking silky and shiny. Many volumizing products dry and dull the hair. The Ouai Fine Hair Shampoo is safe for dry and damaged hair but still pumps up the volume and density. The formula is cruelty free and doesn't include any sulfates. It's color safe, appropriate for straight, wavy, curly hair and coily hair, and it's key ingredients are biotin, chia seed oil and hydrolyzed keratin to strengthen, thicken, and soften hair.
Best Shampoo for Hair Loss
Clinical Effects Hair Therapy Shampoo – $16.66
If you are suffering from hair loss, this shampoo from Clinical Effects is supposed to help jump start hair growth and help reduce shedding and fallout. This shampoo contains Baicapil, which is comprised of extracts from soybeans, wheat sprouts and Skullcap which shortens the hair-loss phase of your hair growth cycle. It also contains AnaGain, which is engineered from pea sprouts and promotes hair growth. The formula is all-natural, plant-based and has lots of 5-star reviews online. Some reviewers said it took a month or so to start seeing changes, however they were very happy with the progress long term. At this price point, it seems like a no-brainer to try it out and see if it works for you.
Best Volumizing Shampoo for Mature Hair
Kerestase Densifique Bodifying Shampoo – $35
If you're struggling with fine, limp hair, this shampoo from Kerestase will help plump and densify your hair. It is a gentle cleanser that adds lushness and fullness to the hair with hyaluronic acid, gluco-peptide, ceramides and intracylane for thickness. This shampoo has a pretty strong perfume however, so be careful if you don't like heavily scented products.
Repairing Damage
Dry, Damaged Hair is a top concern
Avoid Heat Tools
Wash less frequently
Use moisturizing products regularly
Leave protein building treatments to the professionals–too much protein can cause further damage.
Best Shampoo for Repairing Damaged Hair:
Redkin Acidic Bonding Concentrate Shampoo $30.00
From first hand experience, this shampoo was, for me, a game changer after a color disaster five months ago. I left the salon with hair that looked and felt like straw. In researching hair care products, I found Redkin's Acidic Bonding Concentrate shampoo and immediately saw results. My hair is shiny, hydrated and actually has a bounce to it!
This product hydrates, strengthens and restores damaged hair strands. Its a sulfate-free shampoo that strengthens, conditions, and protects against color fading. It has 7% citric acid which is the actual acidity level for healthy hair.
Our hair can still be our crowning glory even as older women. Healthy vibrant hair is definitely achievable—it can just time a bit of time and experimentation to get your hair in tip top shape. Starting with a clean healthy scalp and the right shampoo for your hair type—your hair will be manageable, and healthy. Having healthy shiny hair feels amazing and if is definitely something you can do.
We hope you found our list helpful as you endeavor to find a great new shampoo that will support your hair's needs. If you're looking for more haircare or skincare recommendations for women over 50, take a look at our other blogs here on SharingAJourney.com.
Cheers,
– Brooke
Our beauty editor, Brooke Bandoni is a beauty devotee from way back who loves sampling beauty products, research, and writing. She is a recent graduate of UCF's Advertising and PR program, with a minor in Writing and Rhetoric.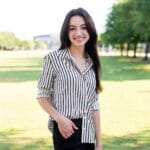 Brooke Bandoni
Beauty Editor