This post was updated May 21, 2023
French women seem to instinctively know how to look chic and stylish as they age. The reason older women might want to take style cues from French women is that they have mastered a functional wardrobe made up of chic basics that are timeless. Today I'm exploring how to dress like French women when we are over 50.   As we head into our middle years and beyond, how to dress, over 50 and over 60 become THE question women ask. Intrigued by the chic older Parisian women, and their style, I began to research how to dress like a French woman.  The French wardrobe is classic, stylish, modern, and chic.  The focus of the French wardrobe is on high-quality, classic pieces that fit impeccably.   The look is ageless, which makes it ideal for women over 50.  
One of the interesting aspects of French women is that they take aging in stride.  Their focus is not to look younger but to look their best at their current age.  This doesn't mean they don't have their beauty secrets, French women are well known for their elaborate skin care regimens and are careful with their diets. Because of this, they can get away with very little makeup, sometimes it's only a simple red lip.
What is French style and What is Parisian style?
French style is centered around eight basic principles, ensuring the ageless and tasteful style many French women wear.  When talking about French style, we are often referring to Parisian style, which is also called French Girl Style–whatever you call it these women have great style.
High-quality timeless pieces.  French women often invest more in single pieces in their wardrobes.  They care for their garments so they can be worn and enjoyed year after year. Choosing items intentionally with long-term use is key.
 Personal style is also valued over fashion trends.  
<!– /wp:list-item –> Another key is the ability to make many different outfits from a few high-quality pieces, like a little black dress or a cashmere sweater they know will last in their wardrobe for many years.
Impeccable fit. French women are particular about the fit and proportions of their clothes.  They will often arrange for tailoring to ensure the perfect fit.  Rather than wearing many different styles like many American women, the Parisian look is built on a classic style and is based on the woman's body type.
They avoid logos and noticeable "designer" wear.  While the French love their designers, it is uncommon for a French woman to wear clothing with logos, or anything that draws attention to itself.  The outfit enhances and celebrates its wearer, not the other way around.  
French women will buy one or two new pieces each season to keep their wardrobe current, rather than tossing everything to follow each season's trends.  When she adds to her wardrobe, a French woman will choose only items that look good on her and will stand the test of time.
French women have a clear idea of the colors and styles that look best on them.  As the years go by, her look becomes more and more a reflection of her unique style.
What is worn under one's clothing is as important as what is seen by the world.  French women love their intimate apparel.  Feeling beautiful is as important as looking fabulous.
French women focus on a signature look that is theirs alone and focus on timeless pieces they keep in their wardrobes for years.
Focusing on the little things, details such as buttons, stitching, the line and drape of clothing, and the way the garment is finished is key to stylish women in France.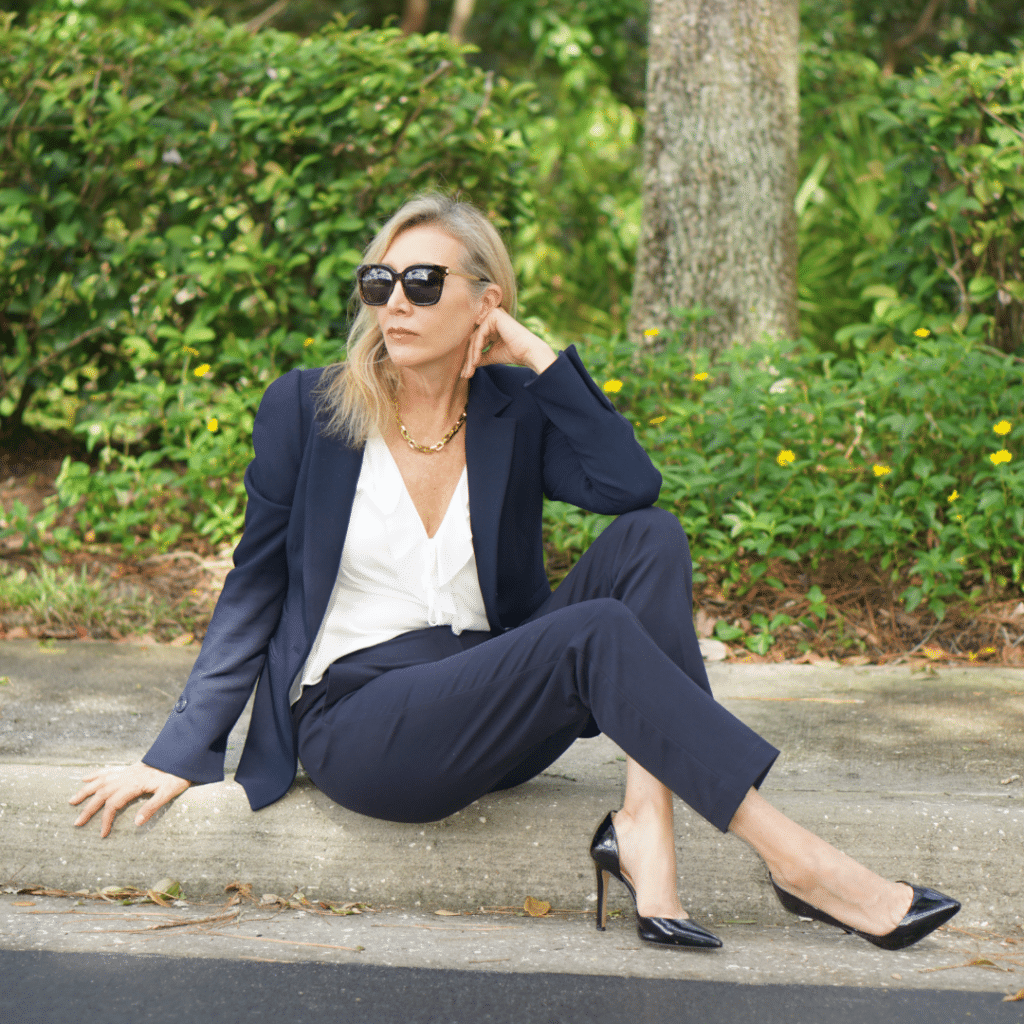 How To Dress Like a French Woman?
You probably have many pieces in your current wardrobe that can be put together to create a French-inspired look. Here's a style guide:
French women dress with a casual chic style day to day, with looks centered around jeans, a simple t-shirt or blouse, oversized sunglasses, and a well-cut jacket. She may add a beautiful scarf or a hat.  Shoes are classic, whether a well-styled loafer, a pair of sneakers, or the perfect boot. 
A French woman's wardrobe is built on a color palette that suits her individually but usually contains neutral colors such as navy, black or charcoal grey as the base, cream, beige, and or light grey as a secondary colorway, and a "pop" of color that suits the woman. While patterns are popular among French women, though they often choose solid colors to form the basis of their wardrobes.
Today's French woman often wears jeans, black leggings, trousers, or skirts in the winter, and adds skirts and dresses in the summer.  Depending on her lifestyle, dresses, and skirts may play a larger or smaller role in her wardrobe. One of my favorite looks is the white blouse with leggings and ankle boots.
Emphasis is placed on tailored pieces such as blazers, jackets, and coats which are worn over a  pair of beautiful trousers or jeans, and a simple top, such as a t-shirt, a white shirt, or an oversized sweater.
Accessories are kept simple, a beautiful handbag, simple jewelry, and boots, shoes, or trainers to finish off the look in great style.
Creating A French Capsule Wardrobe:
French style lends itself well to being a capsule wardrobe because care is taken in choosing the key pieces and the intention is that the pieces will go together and can be worn in several different ways and across the seasons. Even though most French women have certain "essentials" they manage to create looks that emphasize their personal sense of style. The key pieces in a French woman's wardrobe are as follows:
Key French Girl Essentials
Black, Blue, and White jeans
Black pants, often velvet or leather
Simple Black Dress
Pencil skirt
Black, beige, and cream oversized sweaters, turtle and round necks
White button-down, striped button down
Black leather jacket, black or white blazer, pea coat, trench coat, tuxedo jacket
Loafers, high heels, ballet flats, black heels, combat boots, ankle boots or booties.
Good handbag, preferably structured such as a saddle bag.
Classic, simple jewelry.
How to Dress Like A French Woman Over 50?
The good news is that the overall aesthetic is ageless, chic, and stylish.  Best of all, we have most of the pieces in our wardrobes, so dressing like a French woman over 50 is easy.
French Style Resources:
As I began researching French style, I looked to a couple of books to learn more, and for outfit inspiration.  The Parisian Chic Look Book is great because it has a list of clothing items and outfit "prescriptions" with photographs.  This makes it easy to experiment with your wardrobe and helps you determine what you might want to add to embrace the French style. These books have been a source of great inspiration.
Shopping French Fashion On-Line:
For some months now, I have been enjoying Sezane, a French shop that sells beautiful clothing sustainably made.  I have been very pleased with the quality and great style.  Here are a few shops to try:
Similar Posts:
How to Dress like French Women When You Are Over 50
What's Wrong With American Style?