From our beauty editor:  Since I started playing with makeup when I was 12, I was always intrigued by the idea of filling in my brows. I loved how my eyebrows looked when they were perfectly filled, fluffed, and gelled in place, and I had many different eyebrow styles throughout the years (but let's just forget about the blocky brow and pointed brow phases I had). Since making the switch to clean makeup and beauty products, I've been looking out for the best brow products possible. Below are a bunch of great options if you're looking to switch it up!
Brow Makeup Types:
If you are new to brow makeup, there are three basic options—eyebrow pencils which are used to shape the brows and to create the appearance of fullness by using hair-like strokes.
Brow powder is used to darken brows and create the look of fullness.
Brow gels and liquid pomade help define brow hair and hold the look you have created in place. Gels come in tints to match your brow hair, but if you are in doubt, opt for a clear gel with natural ingredients.
What to Look for in Clean Brow Products:
When choosing eyebrow products, we want to make sure they are flake-free and budge-proof—the last thing you want is for your brows to appear as if they are shedding or worse, having the color run.  We try to avoid toxic chemicals, especially around the eye area.  (And if you are interested in the best clean mascaras, check out this post.)
If you are interested in making your brows look fuller, you may want to choose a gel with a buildable formula.
When choosing the perfect natural eyebrow products, you want a blend of clean ingredients, strong hold -especially if you have full brows, a flake-free formula, organic botanicals, aloe vera, plant fibers shea butter, and green tea.
Master theTechnique: Getting the Perfect Brow
Getting a great brow is a multi-faceted process—I like to start by plucking away any errant eyebrow hairs, then I  fill in sparse areas with one of my favorite eyebrow pencils.  Because I like defined brows,  I then turn to one of my favorite gel formulas to smooth my sometimes unruly brows. 
For a natural look, simply use a clear gel—it's the easiest way to get started.  Using the wand, brush your brows in short upward strokes.  This look is super simple, and you don't have to worry about finding the right tint for your eyebrow color or drawing precise lines—we've all seen eyebrows that are eerily too precise or over drawn. 
If you have sparse browns, you will want to experiment with brow powder, to help create the look of full browns, followed by a clear brow jell for a natural look.
For a dramatic look, outline your brows with a brow pencil, fill in with brow powder then add gel and brush the brows in an upward motion, then press in place to create a laminated brow look.
It is important that your brow makeup matches your brow color unless your brows are very light—in that case, you will want to go darker so your brows show up.
In all cases, be careful to blot away excess product to ensure you don't get a crusty look as the gel dries down.
Eyebrow Trends:
Eyebrow makeup trends have gone from pencil-thin to bushy brows and back again.  My mother warned me not to pluck my brows too thin because they don't always grow back.  Luckily recent trends have centered around a thicker, more natural brow.
The Best Clean Brow Gels and Why:
This is my current go-to brow gel. I switched over from my old standby E.L.F. Wow Brow. If you like ultra-full-and-fluffy look, this one's for you. I use it on it's own on the days I just want a bit more color and structure in my brows, or use it as a topper over a brow pencil if I want that extra fluffy look. The formula is vegan, doesn't contain any silicones, and does contain Castor Oil, Panthenol Pro Vitamin B5 and Biotinoyl Tripeptide-1, all of which are great for stimulating hair growth, shine, and volume.
Saie Brow Butter Styling and Volumizing Eyebrow Gel – $20 Sephora
Saie is not only a clean brand but also eco-friendly and sustainable. They do not formulate their products with ingredients that are harmful to human health and the environment, such as parabens, phthalates, formaldehyde, oxybenzone and more. They also have responsible packaging and sustainable sourcing for all their products. This brow gel is an oil-based pomade that is buttery and sheer, perfect for those with lighter hair colors or that just want ultra-natural and feathery brows. It contains cacao seed butter, jojoba oil and candelilla wax which helps keep brows moisturized and nourished. If you have sparse brows, you're going to want to use a brow pencil to fill in your brows first.
Milk Makeup KUSH Fiber Eyebrow Gel – $20 Sephora
Milk Makeup is a great brand if you like that sheer natural look with a great lineup of clean ingredients. Their KUSH line uses hemp-derived cannabis seed oil which conditions your brows and helps the fibers adhere to your brows to create that full look. This product excludes a long list of nasty ingredients and is vegan, gluten and cruelty free. This gel is great for filling in sparse brows and getting you out the door without needing to fill them in with a pencil or pomade first.

MERIT Brow 1980 Volumizing Eyebrow Pomade Gel $28.00 Sephora
MERIT has a lovely tinted brow gel that grooms shapes and adds long lasting hold. It contains Vitamin B5, which plumps and volumizes the brows as well as Kaolin Clay and mineral pigments that build natural looking color. Their packaging is recyclable, and their products are vegan, cruelty and gluten free. MERIT doesn't have many colors available, only three, so if you're struggling to find your match, another gel might offer a better shade range. 

Rose INC Brow Renew Clean Clear Eyebrow-Growth Gel – $26 Sephora
If you're struggling with sparse brows, this one's for you. The Rose INC Eyebrow-Growth Gel acts as makeup and skincare in one to help strengthen brow hairs with squalene, vitamin E and pea sprout to enrich and strengthen the hair follicles. Their packaging is recyclable, and the product is non-comedogenic, dermatologist tested, and safe for sensitive skin. This gel is buildable and great for sculpting your brows in the perfect shape. It is smudge proof and long wearing to keep everything in place.
Final Thoughts:
Regardless of your eyebrow goals, there's a great clean beauty option for you. I found that products like eyebrow gels are easy to switch, as most clean alternatives hold up quite well to their traditional counterparts. If you're interested in learning more about clean makeup and skincare products, check out our other articles at sharingajourney.com. Happy shopping! 
Our beauty editor, Brooke Bandoni is a beauty devotee from way back who loves sampling beauty products, research, and writing. She is a recent graduate of UCF's Advertising and PR program, with a minor in Writing and Rhetoric.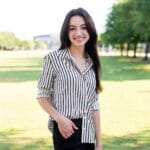 Brooke Bandoni
Beauty Editor