The Best Clean Moisturizers for Women Over 50
Finding great skincare is already a difficult task in and of itself but finding skincare that's formulated with clean ingredients and doesn't contain phthalates, sulfates, and synthetic fragrance is a whole other feat altogether. 
I always am quite nervous about trying new skincare, I like what I have and don't want to rock the boat, (if it isn't broken, don't fix it!) but there's always that fear that I might be missing out on a really great product that I'm just too timid to try.
After some deep digging on the internet, I've found these products come up repeatedly as the industry standards for not only great skincare but clean, toxin-free, and fragrance-free skincare. I've done the hard part for you and compiled this list of the best clean moisturizers for you to try, no matter your budget or skin type.  I've also included active ingredients so you can choose the best moisturizer and skin care products for your needs.
When it comes to mature skincare, there are a number of key ingredients to look for, such as vitamin c, vitamin e, glycolic acid, lactic acid, salicylic acid, amino acids, ascorbic acid, shea butter, green tea extract, naming a few.  These ingredients help address many different needs, such as brightening and improving uneven skin tone, lightening dark spots and hyperpigmentation, and adding additional moisture to mature sensitive skin.  As much as possible, we look for natural products to prevent skin cancer, irritation and protect the skin's natural barrier, fight free radicals, and enhance collagen production.    
As women of a certain age, we begin to notice our skin has different needs, and often the best products to use change significantly in just a few short years as we go through menopause. Starting with our skin type—which often moves from oily to "normal" or combination skin from normal to dry and from dry to dryer. We also have a variety of new skin concerns as we notice the appearance of fine lines, deep wrinkles, and sun damage. In addition, if we haven't begun using sun protection, now is the time.
We have put together the best skin care products and moisturizer products with clean and or natural ingredients.  
The List:
Glow Recipe Plum Plump Hyaluronic Acid Moisturizer – $39 Sephora
This moisturizer is best for those with dull, dry skin and/or uneven texture. This moisturizer draws moisture into the skin with hyaluronic acid, it also brightens and balances skin for a smooth, dewy finish. This product is vegan, gluten, and cruelty-free, and has earned Sephora's "clean" designation, meaning that is free of phthalates, formaldehyde, or formaldehyde releasers, oxybenzone and octinoxate, hydroquinone, triclosan, coal tar, methylisothiazolinone and methylchloroisothiazolinone, insoluble plastic microbeads, and more.  It is great for all skin types and can be used on a daily basis.
Summer Fridays Cloud Dew Oil-Free Gel Cream Moisturizer – $17 Sephora
Good for all skin types, Summer Fridays is a great option if you want to feel luxurious but don't want to drop hundreds of dollars on your skincare routine. This one contains pineapple enzymes that gently smooth and softens skin, creating evenness and brightness. These ingredients aid in skin cell turnover. This product is Clean at Sephora and is vegan, cruelty-free, and the packaging is recyclable.   It's a really good option if you are looking for a product that aids in cell turnover.
Biossance Squalane + Omega Repair Moisturizer – $58 Sephora
This one is best if you're concerned about fine lines and wrinkles or have mature skin. Biossance's moisturizer plumps and replenishes skin and helps with firmness and elasticity. It's formulated with omega fatty acids that hydrate and restore skin as well as hyaluronic acid, ceramides, squalene, and acai berry sterols which mimic and support the cholesterol naturally found in the skin. It's also fragrance-free, gluten-free, and vegan.  This is one that Nina uses, she loves the lightweight moisture and anti-aging benefits.
Farmacy 10% Niacinamide Night Mask – $42 Sephora
Farmacy is a well-trusted brand for its clean ingredients and high-quality skincare. This night mask is best for dull and uneven skin. It contains niacinamide, panthenol, beta-glucan, and blueberry seed oil, all of which smooths skin, evens texture, refines pores, controls oil production, builds your skin's moisture barrier, and restores skin.  If you have dull skin, this one is for you.
Burt's Bees Renewal Firming Moisturizing Cream – $15  Target
This wallet-friendly moisturizer is formulated without phthalates, parabens, SLS, petrolatum, or sulfates, is unscented, and contains retinol to firm and smooth. It's gentle, natural, and easily found at drugstores if you're looking for an easy swap. 
Cutting out nasty ingredients from your skincare products used to mean using those weird, not so great "all-natural" products that just didn't hold a candle to the real thing, but nowadays clean formulations are more and more mainstream.  
The recipe for a youthful glow:
When washing your face, remove your makeup first, then wash your skin.
Apply serums, lightest first. Make sure that you don't use ingredients that cancel each other such as vitamin c and retinol.
Follow up with moisturizer.
Make sure you use sunscreen daily.
If you already use one of the products mentioned or decide to give one a try, be sure to leave us a comment and let us know what you think!
Our beauty editor, Brooke Bandoni is a beauty devotee from way back who loves sampling beauty products, research, and writing. She is a recent graduate of UCF's Advertising and PR program, with a minor in Writing and Rhetoric.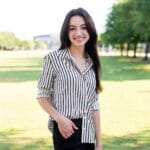 Brooke Bandoni
Beauty Editor