Whether you are married or single, you may ask yourself if you should bother dating over 50. As someone in a long term relationship, I emphatically say yes, I love our date nights and think they are an important part of keeping our relationship fresh.
When I was single, I loved the excitement of dating though there is no question that whether you are single or married, middle age and menopause can throw us off base a little. As we head into Valentines Day, I think it's important to explore date night and the idea of our dating over 50 and beyond.
I personally love Valentines Day, I love the planning, and anticipation, I love magical, romantic evenings of all sorts whether it's a dinner and special seating at a concert or an intimate home made picnic for two. I love finding creative ways to express my love and learning more about my partner and what is meaningful to him. I am especially lucky that Roger enjoys spoiling me and is always up for trying out my ideas.
This year, I have spent a lot of time thinking of fresh Valentines Day date ideas and What to Wear On Valentines Day because I feel it's more important than ever to put our efforts toward living our best lives no matter what the exterior circumstances. (In short, we should bother dating over 50). Many of us have spent the better part of last year cancelling plans and spending copious amounts of time at home. Others of us have lived our whole life in cancel mode. Now it's time to live your best life.
For people like me, being home is very comfortable, but even I want to get out and about some! That's why I tried to create some romantic date ideas, but also gave some thought to getting in the mood too.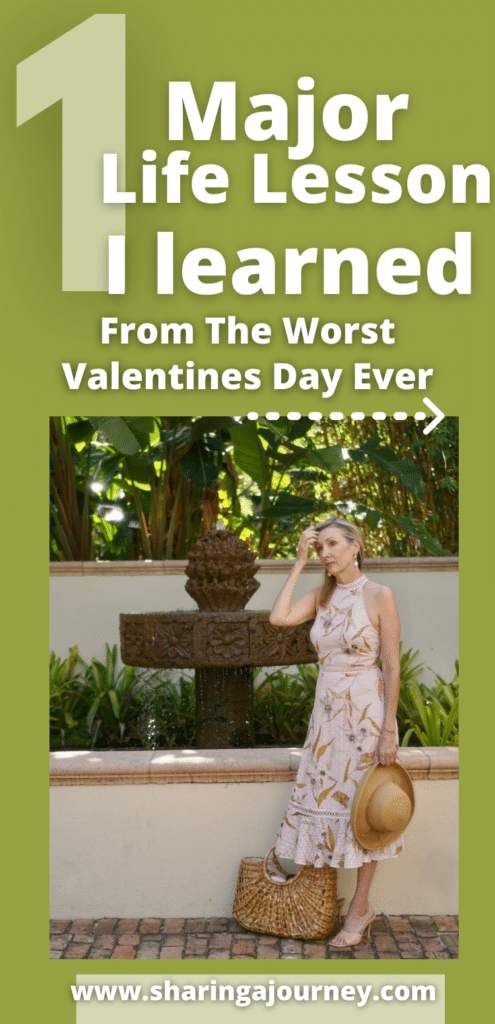 My life hasn't always been magic and romance though.
Like many of you, I have had my share Valentines Day disappointments from spending the day alone to finding out my boyfriend was cheating back in the day. During that time in my life, I wondered why people made such a fuss about Valentines Day and if that's where you are right now, I feel you!
I have found that in every unpleasant and difficult situation, there is something to be learned, or something I grew from. Take, for example, one of my worst valentines days ever. My boyfriend had been cheating and it had come to my attention just before Valentines Day. I was a complete wreck and didn't know what to do with myself.
I ended up going to the mall, where they were hosting an event for lovers with champaign, roses, and all sorts of valentines day specials. There I was in the midst of love…everywhere. What could be worse?
Probably nothing…
Only, I came away with an invaluable gift. Here's what happened: The Worst Valentines Day Ever
More Lessons on Love over 50: Can you Love Others Without Loving Yourself?
I had been taught that going for what I wanted in my life was selfish, sinful and bad. Self care including taking time out when I was sick was lazy. I literally allowed people to treat me badly! Clearly, this wasn't healthy. In order to really get into the Valentines spirit, sometimes we need to start very close to home. If you are running on empty, if you find yourself giving till it literally hurts, have I got a post for you: Can you Be in a healthy relationship without loving yourself first? In this post, I share not only why you have to love yourself before you can love others, but also what it really means to love yourself.
What if I'm Not in the Mood, for …You Know?
As we head into middle age, the bedroom can become a bit of a challenge, especially as we go through menopause, perhaps have gained weight, or have been unwell. If you are wondering how to get back your "loving feelings", you should read What your man really wants for Valentines Day. Here, we are talking about sex and middle age. While we all have different experiences when it comes to middle age, menopause and the bedroom, I am sharing a few things that might help smooth the way to a more satisfying love life…or at least get you thinking…Read What Your Man Wants Really Wants for Valentines Day
How Do I Reconnect?
When the kids are gone, and the business of life subsides, we can sometimes find ourselves sitting across the table with a stranger; we all change as we move through life. Our middle years offer us the opportunity to reconnect with our spouses in deeper and more meaningful ways. But how…
Well, do you know your love language? In 1992, Gary Chapman wrote the very popular book The Five Love Languages: How to Express Heartfelt Commitment to Your Mate. I must say, for me it was very insightful and it continues to be useful. In my post last year, I wrote about not only knowing your own love language, but also that of your mate. Yes, believe it or not, many know their own language, but not that of the people around them. Revisiting this book if you have already read it, you might enjoy this post:
Romantic Evenings
Planning a romantic evening can be so much fun. I love getting pretty dishes out, spending time pampering and dressing. Planning a nice dinner, and spending quality time with Roger. If you enjoy watching videos here's an oldie from the vault:
I think we've covered a lot of territory here, from what to wear and do, to some of the more challenging aspects of relationships and what we might do to get the love back. I hope that this post helps you have the best Valentines Day ever.
Here are a few shopping items that I've found to help me feel amazing these days. From personal care items I can't live without to a few indulgences, these are the best of the best for women of a certain age.

*This post contains affiliated links; I get a small commission for the purchases you make through Sharing A Journey. There is no additional cost to you. I appreciate your support of Sharing A Journey.