Best Clean Face Washes for Mature Skin
When I first started switching to clean products, the first items I wanted to swap out were the ones I used every day, like my face wash, skincare, and soaps. While we'll talk more about skincare and body wash in future articles, this one will focus solely on some great clean facewash options.
Personally, convenience is really important to me when it comes to my day-to-day products. I like being able to pick up my staples while I'm grabbing groceries on my normal weekly errands, so it was important for me to find some options some that were easily found at Target or your local drugstore. I also included a couple more high-end options to check out if you're interested in going to Sephora or ordering online. I also included Think Dirty's score for each of these products, as well as the price, so you can judge if the ingredients and price fit within your comfort level. It is difficult to find products that score a perfect 0, so I included a couple of options that scored a 3 and under.
When considering a face wash, you need to consider your skin type—is it sensitive? Oily, acne-prone? Interestingly natural, gentle cleansers tend to work best for all skin types. We want to avoid products that strip the skin of its natural oils, as this damages the skin barrier, and can encourage acne-causing bacteria to thrive. We also want to look at the product's active ingredients —looking for products containing vitamin e, vitamin c, hyaluronic acid, and essential oils.
If you are looking to improve fine lines, you may want to look for a cleanser, serum, or face mask salicylic acid with glycolic acid and ingredients that help fight free radicals and lift dead skin cells. Products with benzoyl peroxide and tea tree oil is good for acne treatments, according to skincare experts. Luckily, many skincare brands are making use of these ingredients, and are perfect for a strong skin-care routine.
A few tips on washing your face: When Nina was in her twenties, her skin was constantly breaking out. She was using harsh cleansers thinking that using "strong" products would help. Back then dermatologists thought that using drying ingredients helped dry out the acne. The harsh cleansers with drying ingredients seemed to aggravate her skin rather than improve it. This approach did not take into consideration the skin's ph levels and was not the best way to soothe her skin. She needed a gentle facial cleanser, but finding the right face wash proved elusive.
A few tips
How to get the most out of your wash
Remove makeup with a makeup remover first.
Use a soft washcloth and warm water when removing makeup and washing face.
Gently pat skin dry, don't rub brishlky.
Splash with refreshing cool water.
Nina met an esthetician who offered to teach her to properly clean her skin. Cleaning the skin properly would go a long way she promised. The esthetician taught Nina to "double wash"—to remove her makeup first, then wash her face. Just that one step made a huge difference. You can use your regular facial cleanser and wash twice, or you can use a dedicated makeup remover—Nina has tried a number of facial cleansers and likes Farmacy the best—it contains fruit enzymes that gently remove makeup with warm water and a soft muslin cloth. It removes makeup naturally and easily. Because it's made to remove makeup, it works better than face soap.
Burt's Bees Sensitive Facial Cleanser – $2.99 Think Dirty Score: 1
You're pretty safe with almost any of the Burt's Bees products, from skincare to makeup to their personal care products. One of my old college roommates used this cleanser as their go-to and swore by it- she had sensitive skin and liked to wear lots of face makeup, so this was great for cleansing deeply and gently. With such an affordable price, and is available at most drugstores and grocery stores, this is a great option for someone looking for a no-fuss natural facewash.
La Roche Posay Toleriane Purifying Foaming Cleanser – $14.99 Think Dirty Score: 3
I love La Roche Posay, it's easily found at Target and is a little pricier than some of the other drugstore brands. However, it's dermatologist tested and approved and has a great line of high-quality products. Some of their skincare products have some not-so-great scores, so keep an eye out when you're shopping. However, the Toleriane Purifying Foaming Cleanser is relatively clean with a 3 on Think Dirty. My roommate switched to this cleanser recently and likes that it leaves her skin feeling hydrated and not tight after cleansing, while still giving her a deep clean to remove any sunscreen or foundation from the day. Nina just started using this cleanser after reviewing the ingredient list. She loves a cream cleanser and this is a great one.
The Body Shop Aloe Calming Facial Cleanser – $18.00 Think Dirty Score: 3
The Body Shop is another great option for a higher-end clean cleanser. Their cleanser is soothing and comforting on the skin, is gentle and great for sensitive skin, but still removes all your makeup and sunscreen from the day. It is a cream consistency instead of a clear gel, there is no fragrance, color or alcohol added, and uses fair trade aloe vera from Mexico. It has some amazing reviews. This cleanser is definitely for those with dry skin, as it is extremely moisturizing and might be too much for oily skin types.
Tropic Smoothing Cleanser Complexion Purifier – £18.00 Think Dirty Score – 0
Tropic is one of Think Dirty's preferred brands, as all their products have a verified score of 0 across the board. The European brand exploding in popularity with its ultra-clean and natural product lineup. It boasts sustainable and eco-friendly manufacturing processes and premium plant-derived formulas. It contains organic ingredients and is one of the best natural products we researched. This brand is online-only, as the products have a short shelf life as don't contain any preservatives. So if getting your skincare in-store is super important to you, then this one may not be for you. However, they have a full line of other great skincare products to choose from, so we highly recommend you take a look and see if anything strikes your fancy. This is one of the best natural cleansers—especially good for sensitive skin types.
Pacifica Sea Foam Complete Face Wash – $10 Think Dirty Score: 0
Pacifica is another great drugstore/grocery store brand that has low scores across the board from Think Dirty. Not all of their products are perfect 0s, but their Sea Foam Complete Face Wash takes the cake with its clean lineup of ingredients. It contains sea algae, coconut oil, coconut water, and white tea which is great for luminous skin. Reviews say it's extremely gentle and still removes all your makeup. Plus, the price tag is pretty easy on the wallet, making it a good cleanser for people on a budget.
No matter where you are in your clean lifestyle transition, learning more about the brands and products that do a great job with their formulas is great to know as you may still be holding on to the last couple drops of your ride-or-die cleanser. I don't swap products until I run out of what I've got, because I never want to be wasteful, so transitioning fully to all clean products may take some time. All and all, I think it's worth it to re-evaluate the products we use every day and see where we can make small changes to improve our health overall.
If you're interested in learning more about the clean lifestyle, click here to view our other posts on clean makeup and household brands.
Our beauty editor, Brooke Bandoni is a beauty devotee from way back who loves sampling beauty products, research, and writing. She is a recent graduate of UCF's Advertising and PR program, with a minor in Writing and Rhetoric.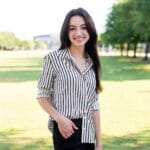 Brooke Bandoni
Beauty Editor